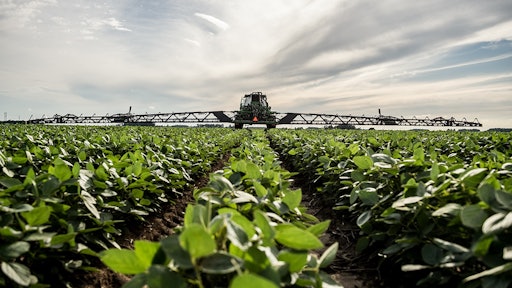 John Deere Ag and Turf Division
On November 10, the Consumer Technology Association (CTA), organizer of the Consumer Electronics Show (CES), announced the honorees for the CES 2022 Innovation Awards. Honorees include those for the general award as well as the Best of Innovation designation.
The annual award honors innovative design and engineering in consumer technology products in 27 categories. Over 1,800 submissions were received for the 2022 award. Winners are selected by an independent panel of industry expert judges which includes members of the media, designers, engineers and more.
The judges evaluate the submissions on how innovative they are, their engineering and functionality as well as their aesthetic and design. Those with the highest ratings across the various categories are named Best of Innovation.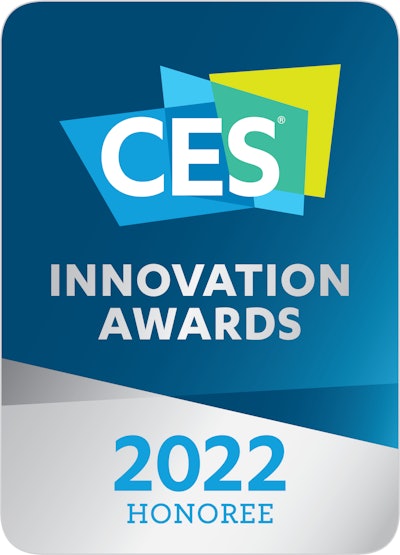 Each year CES brings together a range of consumer products and is considered one of the most influential technology events. Over the years, more manufacturers in and related to the heavy equipment industries have taken part in the event to showcase the array of technological innovation occurring. John Deere, Caterpillar, Freightliner and many other manufacturers are among those who have exhibited at the show.
In addition to exhibiting at the show, John Deere is also a past recipient of the CES Innovation Award. The company has received an innovation award the past 3 years, and is an honoree once again for the 2022 award.
READ MORE: Honorees for CES 2021 Innovation Awards Announced
2022 award honorees
John Deere selected in two categories
John Deere has been named a CES 2022 Innovation Awards Best of Innovation honoree in the Robotics category. The company is also an honoree in the Vehicle Intelligence & Transportation category.
John Deere's See & Spray technology has earned it the nomination in both categories. According to John Deere, See & Spray is a technologically advanced robot for the agriculture industry that leverages computer vision and machine learning to detect the difference between plants and weeds and target application of herbicide on the weeds. Utilizing this technology can help farmers improve their operations, as well as the community around the farm by ensuring only the necessary amount of herbicide is used.
"The opportunity for technology in agriculture continues to inspire us to develop cutting-edge smart machines, systems, and solutions to treat each plant individually and support our customers," said Jahmy Hindman, chief technology officer for John Deere, in the company's press release announcing its award nomination. "John Deere is at the forefront of innovation, and with technology like See & Spray, we're helping our customers maximize sustainability, profitability, productivity, and visibility so they can focus on the important work of feeding a growing world population."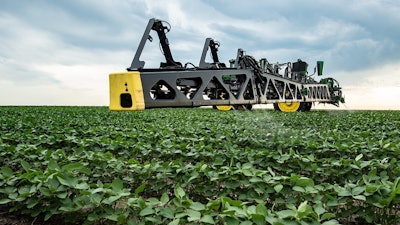 Per the company's press release, See & Spray uses deep learning, cameras, and robotics to distinguish plants from weeds. The future of this technology is key to treating each plant individually, providing only and exactly what every single plant needs at the moment, making chemical usage more efficient, protecting the surrounding soil and plants, and producing healthier, more productive crops.
John Deere says in its press release that the Robotics category of the Innovation Awards highlights programmable or otherwise intelligent machines capable of performing specific tasks or replicating human movement or interactions. Meanwhile, the Vehicle Intelligence & Transportation category highlights automotive and other transportation products and services that integrate technology into the driving or riding experience.
Doosan Robotics honored for camera robot system
Doosan Robotics, which develops next-generation technology for manufacturing operations, has been named an Innovation Awards nominee for its camera robot system referred to as "New Inspiration. New Angle. (NINA)."
The company says in its press release announcing the nomination that NINA was honored for its consumer-friendly software designed to empower anyone to adopt professional cinematography skills using camera robots.
The robot uses Doosan's proprietary software featuring a simplified user-interface to help those without robotics experience easily utilize the machine. This will be especially beneficial for manufacturers looking to advance their setups without spending a lot of time on training. NINA is capable of automatically sensing objects and calculating their distance for a smooth and accurate filming process. Simulations can be run to pre-test angles before filming to save time and production costs.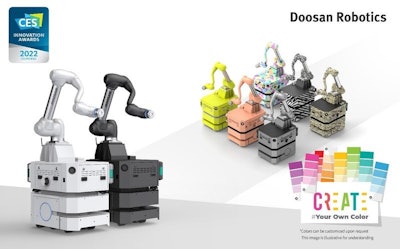 The robot itself features 360-degree rotation to allow for a variety of camera angles and is compact and ergonomically designed to further ease its use. Various safety features are included such as emergency stop functions; collision sensitivity is powered by six-torque sensors, further improving safety.
"Today's recognition marks another great milestone for Doosan Robotics and the team who have worked relentlessly to develop robot solutions used in everyday workstream," said William (Junghoon) Ryu, CEO at Doosan Robotics, in the company's press release. "We will continue advancing service robots to help people accomplish more valuable work placing safety as top priority and democratize its use by providing easier usability and wider access to all levels."
Leica Geosystems honored in Robotics category
Leica Geosystems, part of Hexagon, has received a CES Innovation Award nomination for its Lecia BLK ARC. This autonomous laser scanning module is designed for use with robotics applications.
Per the company's announcement about the award nomination, BLK ARC provides a safe and autonomous way to perform reality capture of images and 3D data of areas that are difficult or dangerous for humans to reach. Professionals in manufacturing, plants, engineering, public safety, and media and entertainment attach the BLK ARC to a robotic carrier to capture data that is used to build 3D models, create digital twins, and recreate real-world situations. The product's speed, accuracy, flexibility, and modular design provides fully autonomous mobile LiDAR scanning and helps improve robotic navigation.
This is the fifth time Leica's BLK product line has been named an honoree for the Innovation Award. For the 2022 awards, Leica BLK ARC is a Best of Innovation nominee in the Robotics category.
"We're excited to return to CES in 2022 and are humbled by the recognition for the BLK ARC's high scores across the evaluation criteria in design, innovation and engineering," said Burkhard Boeckem, CTO, Hexagon, in the company's announcement. "We look forward to showing the entire BLK series at the event and presenting our autonomous reality capture technologies."
These and several other honorees for the Innovation Award will exhibit and demonstrate their nominated products, as well as several others, during CES 2022. CTA says the full list of Best of Innovation designees as well as the full list of honorees for the 2022 award will be revealed during CES 2022 on January 3. The show is scheduled to take place January 5-8, 2022 in Las Vegas.
Companies in this article