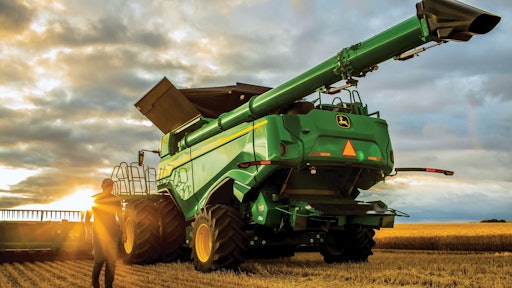 John Deere
The 2021 edition of the Consumer Electronics Show (CES)—held digitally due to ongoing safety concerns related to COVID-19—kicked off on January 11 with its media day. Press conferences from companies like Bosch, Mobileye and Caterpillar aim to show their latest technologies and trends.
Although the show has the word 'consumer' in its name, it has expanded over the years to include companies and technologies from a variety of industries which are developing electronics components and systems. In recent years, more manufacturers from the heavy equipment and vehicle industries OEM Off-Highway covers have started exhibiting at the show. Truck manufacturers such as Daimler and PACCAR have showcased their electric-powered vehicles and autonomous systems during the event. In 2019, John Deere made its first appearance at CES during which it exhibited agricultural technologies and automation features. This year, its X Series combines were nominated for a CES Innovation Award; the machines are equipped with ActiveVision camera technology that helps farmers see inside the combine's grain tank.
READ MORE: Honorees for CES 2021 Innovation Awards Announced
Though I've wanted to attend in years past due to the increasing amount of companies we work with exhibiting at the show, this is the first time I've had the opportunity to do so, partly because it is being held digitally which has made it easier to attend. I'm looking forward to getting a better sense of what technologies are exhibited during the show and what the manufacturers we work with have to say about the technologies they are currently developing, and the trends they see coming in the future. Be sure to check below for highlights from each day of the show, which ran Jan. 11-14.
Day 3 puts focus on benefits of technology
Technology is a major part of our daily lives, and will continue to do so in the coming years. According to Raj Bajaj, VP, International at Webfleet Solutions, a Bridgestone company, technology is growing exponentially and will play a major part in all aspects of our lives, including the fleet and tire solutions the company is developing. Tires, he said during a CES presentation, are an extremely important component as it is the only portion of a vehicle which touches the road. As such, it is susceptible to a lot of wear and tear; this has lead the company to develop technologies like the Tire Damage Monitoring System (TDMS).
TDMS is designed to detect tire damage issues in real time. It was developed in collaboration with Microsoft and uses algorithms and existing vehicle sensor data to detect events which may negatively impact the tire surface. Drivers are immediately alerted to any issues, helping to improve safety on roadways as well as aiding with maintenance and reducing potential downtime.
Technology was also greatly impacted when the coronavirus hit in early 2020. Bajaj said major shifts occurred, the first of which was years of digital progress getting compressed into a few weeks. The second change was the pandemic making it clear digital was no longer an option. Digital capabilities became a necessity for many people and businesses to ensure safety and continued operation.
"When this happened, we as a company asked ourselves, what can we do as a technology company; how can we help our clients navigate this crisis," said Bajaj. "What can we do with our existing technology, with the data that we have, and help our customers and society in a way that we kind of guide or help their way back to recovery."
One of the first things the company created was a commercial mobility recovery dashboard to provide fleets with insight on how the pandemic was impacting their activity and support for recovery. In addition, it provided information that would help make decisions for navigating the health crisis.
The company also launched the Safer Fleets Initiative to help fleets keep their employees safe. This included creation of a pilot project which puts a geofence around COVID-19 hotspots. Once a driver enters a hotspot, the Webfleet system creates the geofence on the in-cab dash to alert the driver so he or she can take any additional safety precautions if necessary. This also allows a fleet to monitor where their drivers have been and if they need to possibly be test for the virus.
Caterpillar demonstrates autonomous mining equipment
During one of its CES presentations, Caterpillar showed how its autonomous mining equipment works on a mine site. Mine trucks are equipped with the company's Cat MineStar Command for Hauling, an autonomous haulage solution which allows the trucks to operate on the job site without a driver in the cab.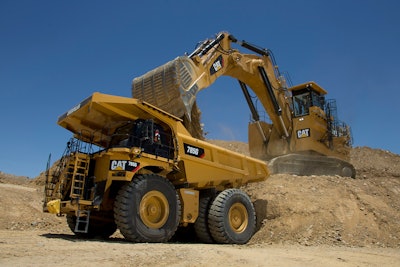 The trucks work alongside mining shovels which do have operators in them who are controlling the loading area via Cat Terrain, just like in a fully manned mining operation. This operator sets spot points using an in-cab display to direct the autonomous mine truck where to go so it can be loaded. Once fully loaded with material, the shovel operator will direct the truck to move the material to its desired location. The shovel operator can see when the next truck will arrive and how much payload may already be on the truck.
To ensure safety, all vehicles on the site are equipped with the Cat Terrain system; this enables the vehicles—manned or unmanned—to see other vehicles or people that may be in their path and take necessary actions to avoid collisions.
In addition to safety improvements, Caterpillar's MineStar technologies can also help improve productivity and efficiency. These autonomous solutions monitor all aspects of the operation and allow changes to easily be made based on ground conditions or new work tasks. Tracking how much material has been moved helps the mine site ensure it is staying on track with its production timelines.
Operator safety and health is also an important part of the autonomous systems, which was also highlighted by a demonstration of Cat Command for Dozing. This system allows operators to control the machine using a remote control console at a safe distance or from a non-line of site station in a climate-controlled room. This keeps operators safe and prevents them from being subjected to noise, vibration and fatigue common to these harsh operating conditions.
The remote-control station includes controls, cameras and alerts which replicate the experience of being inside the dozer cab. It allows autonomous control of a single dozer, as well as the capability to aid with semi-autonomous operation by monitoring multiple dozers at one time.
Autonomous transportation advancements
Caterpillar also participated in a panel discussion on the ways in which automation is being applied in various modes of transportation. The company again noted how its technology is being utilized in mining and the benefits that provides for safety and productivity. One of the questions posed to the panel was about the impact autonomy could have on jobs. Karl Weiss, Vice President and CTO at Caterpillar, said industries like mining and construction are currently challenged by the lack of skilled labor. Automation, however, can overcome this by taking on some of the tasks that would otherwise be done by a human.
In addition, he says the implementation of remote control and autonomous vehicles at some sites has helped to prolong the careers of some employees. Taking them out of the vehicle to instead work at a remote-control station improves their comfort and overall health, enabling them to continue working. Ultimately, he said the goal with this type of technology is to help customers get work done more productively with their current staff. And in some cases, it can even attract younger generations who may be interested in working with the newer technology.
Lia Theodosiou-Pisanelli, Director of Partner Product & Programs at Aurora—a company which develops autonomous systems for automotive and heavy truck applications—noted there won't be a flip switched where everything will suddenly be automated. It will be a slow transition. As such, it will be important to work with drivers to get their input on these types of systems as well as train them on how to use or work alongside the technology. She said it will be a collective effort involving industry and government to determine how this impacts the workforce. This could involve expanding the tasks required of an employee now that they don't have to do all of the driving or re-training for other types of work.
Both Theodosiou-Pisanelli and Weiss noted the impact of the current global health crisis on their businesses and development of autonomous systems. Theodosiou-Pisanelli said Aurora has a virtual testing suite which it's used since before the pandemic; it was designed because it's a good way to develop technology. The company can take advantage of computing power which enables multiple simulations and tests to be run and improve upon system developments. "Honestly this pandemic has only emphasized how big of an opportunity there is [for automation] in particular with the boon to e-commerce; goods are moving, goods are going to keep moving. That's only going to increase over time," she said.
Weiss said customer demand has shifted toward more remote working capabilities. As such the pandemic has accelerated the use of Caterpillar's remote work stations so companies can continue to operate their equipment while keeping employees safe.
Autonomy in farming
John Deere noted during its CES session its continued efforts to add more automation to its agricultural equipment to help with things like planting and driving. "We've got GPS technology and amazing controls engineers who've spent the last two decades perfecting how our equipment drives and automating the task of driving," said Deanna Kovar of John Deere. "As we look forward, we're working hard to make sure that every job our implements and equipment are doing can be automated so that someday maybe the operator won't need to be there."
She said farmers are accepting of the autonomous technology as they see the ability to reduce the number of inputs, increase their yields and lower their risks. "What we're focused on is making sure that as we bring the technology and as we automate parts of the farming operation that we do it in a way that's better than if the farmer were doing it manually themselves," said Kovar. "And so there's a lot of tasks to be done. And a lot of things for us to automate as we go."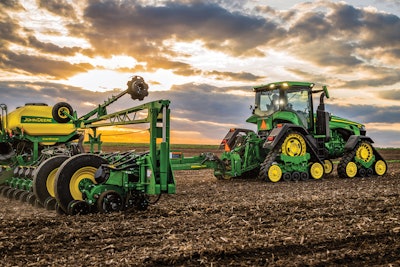 Day 2 spotlights sustainability
Sustainability was a key theme for many companies on the second day of CES 2021. The day started off with a discussion about some of the technology related initiatives of the incoming Biden administration. Brian Deese, incoming director of the National Economic Council, spoke about the administration's efforts to invest in the technology sector in the U.S. to help build economic strength. As such, there will be targeted investments in areas where there may have been less domestic investment in the past; these areas could include research and development, manufacturing and other areas to build up strength. Deese said there will be partnerships with the private sector where possible to achieve this.
"We have big structural challenges and therefore opportunities to address structural economic issues that have killed back our economy's potential," said Deese. To help overcome this and drive productivity as well as wage growth in the country, he said there is opportunity to partner with industry to build a better economy.
"We want to think about how we can approach [economic inequities] in a way that actually builds back better and more resilient, whether that's with respect to the climate crisis and thinking about how we can invest in infrastructure, create jobs but in a way where our economy is more resilient, we're reducing emissions and we are putting ourselves on a trajectory to a low carbon economy.
"As we invest to address this…how do we do that in a way that actually builds more runway to access capital in the future, to have more entrepreneurship, to have more innovation within our domestic economy? That's what Build Back Better is all about…[taking] advantage of this moment to invest in the long-term structural changes [and] positive changes we want to see in the economy," said Deese.
Bosch looks to make mobility more sustainable
Mike Mansuetti, President of Bosch North America, said during the company's session the mobility sector is one of the company's largest. And as such, it is focusing development efforts on this segment as a means of helping customers reduce their overall carbon footprint.
Mansuetti noted the transportation and mobility sector is evolving at a fast pace and being driven by three key things:
climate change,
overall market trends—almost every is OEM pushing electrification and how quickly it can bring solutions to market) and,
regulatory environment.
He said Bosch has, and continues to develop solutions, to help with all three of these aspects. The company's goal is to provide all necessary components for an electric or fuel cell vehicle so customers can get products from a single source. This helps reduce development time and costs for OEMs as they can be sure the components will not only work but work together as a complete system.
While electrification and fuel cells dominate the news, Mansuetti said there continues to be advancements in internal combustion (IC) engine technology, as well, with which Bosch is also involved. "There's been a considerable amount of improvement over the last years," he said. "We continue to see continuous improvements, driven by technology…things like gasoline direct injection or turbo charging or downsizing, there's even some exciting things coming around new synthetic fuels.
"Electronics are an enabler," for both IC engines and electrification he said, and will continue to be as technology for both continues progressing.
When it comes to sustainability there are a myriad of things that need to be taken into consideration. For an engineering company like Bosch, Mansuetti said it's an exciting time both for the company and the industry as a whole because of the amount and varied types of development currently required.
GM unveils electric delivery vehicle business
General Motors (GM) announced at CES its new business BrightDrop which will focus on electric first-to-last-mile products, software and services for delivery and logistics companies. The goal of this new business is to provide solutions which help businesses lower costs, maximize productivity and improve employee safety as well as freight security. In addition, it will help support sustainability initiatives.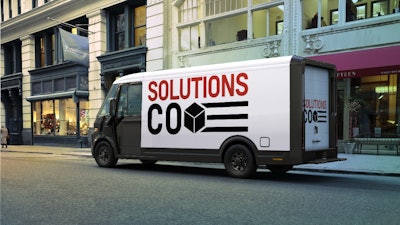 "BrightDrop offers a smarter way to deliver goods and services," said Mary Barra, GM Chairman and CEO. "We are building on our significant expertise in electrification, mobility applications, telematics and fleet management, with a new one-stop-shop solution for commercial customers to move goods in a better, more sustainable way."
GM says it estimates that by 2025, the combined market opportunity for parcel, food delivery and reverse logistics in the U.S. will be over $850 billion. According to the World Economic Forum, demand for urban last-mile delivery, fueled by e-commerce, is expected to grow by 78% by 2030, leading to a 36% increase in delivery vehicles in the world's top 100 cities. At the same time, this increase in demand is expected to cause delivery-related carbon emissions to rise by nearly one-third.
Products available from the new BrightDrop business include an electric light commercial vehicle called BrightDrop EV600. The truck is purpose-built for delivery of goods and services over long ranges, and will combine zero-emissions driving with various advanced safety and convenience features commonly found in consumer electric vehicles. Features and benefits of EV600 include:
Estimated range of up to 250 mi. on a full charge.
Peak charge rate of up to 170 mi. of EV range per hour via 120 kW DC fast charging.
Over 600 cu. ft. of cargo area.
Available at a GVWR of less than 10,000 lbs.
Standard safety features will include: Front and Rear Park Assist, Automatic Emergency Braking, Forward Collision Alert, Following Distance Indicator, Front Pedestrian Braking, Lane Keep Assist with Lane Departure Warning, IntelliBeam automatic high beams and HD Rear Vision Camera.
Additional available safety and driver assistance features include: Rear Cross Traffic Braking, Blind Zone Steering Assist, Reverse Automatic Braking, HD Surround Vision, Rear Pedestrian Alert, Enhanced Automatic Emergency Braking, among others.
Cargo area security system with motion sensors to help keep cargo secure.
A 13.4-in. diagonal, full-color infotainment screen.
Front sliding pocket doors, wide cabin walkways and a large auto-open cargo bulkhead door all contribute to optimize driver efficiency.
The first vehicles are expected to be delivered to customers by the end of 2021, with additional customer orders starting in early 2022.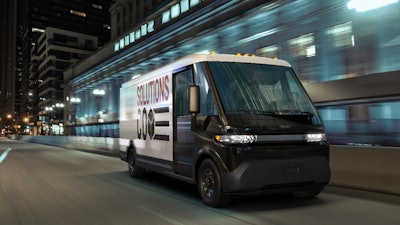 John Deere demonstrates technology's role in agriculture
This is the third year in a row now that John Deere's agriculture division has exhibited at CES. And once again, it is showcasing the various technologies it develops for the agricultural industry. Jahmy Hindman, CTO at Deere & Company, said during one of the company's CES sessions that agriculture is a high-tech industry which is why continues to attend the show.
Hindman overviewed the company's development and integration of advanced technologies such as autonomous steering and the benefits of electrification for more precise planting.
He also spoke of the company's excitement about 5G and the capabilities it will enable due to its lower latency and higher bandwidth. Further availability of 5G "opens up some opportunities for us with respect to machine control and additional data transfer that are really important."
READ MORE: 5G Enables the Next Wave of Connectivity
Increased connectivity with 5G and advanced AI algorithms will help improve data, as well. "Historically we've been data rich and insight poor, we're quickly getting to the point where we can be data rich and insight rich," said Hindman. This, like all other technology the company is developing, will help to further improve productivity and efficiency for farmers.
To further demonstrate its agricultural technology, John Deere will have a virtual reality experience available which allows CES attendees to virtually step into the cab of its 8RX tractor. This will provide a first-hand view of how the tractor works, which is particularly beneficial given the current global health crises. This, along with other information on John Deere's agriculture technology can be found on it's CES site.
Day 1 highlights include advancements in AI and automation
The first day of CES kicked off with a press conference from Bosch which highlighted its artificial intelligence (AI) and connectivity technologies. While much of the technology highlighted was for industries other than those we cover at OEM, it is still relevant to point out as it demonstrates how much AI and connectivity have become such a large part of all aspects of our life. And while the technologies may be demonstrated in one type of industry, the theories could also be applied in others, such as heavy-duty vehicles and equipment.
Bosch also discussed how technology will be key to aiding sustainability, including for the company itself. Bosch has employed its cloud-based energy platform which applies intelligent algorithms to reduce energy consumption of machines and increase the efficiency of production processes at more than 100 locations. Use of the technology is helping the company achieve its goal of cutting upstream and downstream CO2 emissions by 15% by 2030.
"We want to be the leading AIoT (Artificial Intelligence of Things) company in every area that we operate in," explained Michael Bolle, Bosch board of management member. The company says trust in AI is the most important prerequisite for it to become established, so that it can improve the lives of people and help limit climate change.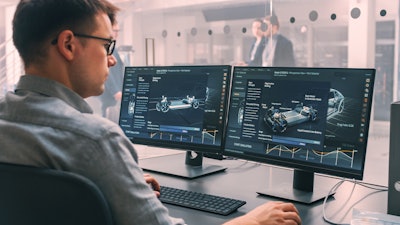 Adding more connectivity in manufacturing operations and vehicles will aid with energy efficiency and sustainability improvements, as well, the company says in its CES press release. One of the ways it is doing this in the mobility sector is through its Battery in the Cloud which uses smart software analysis to reduce battery wear by up to 20%.
In its press release, Bosch goes on to say that the combination of electrified and automated driving with personalized and connected services will open up a broad field for software applications. As such, the company is focusing on further advancing these technologies by creating a new Cross-Domain Computing Systems division. It will work to combine Bosch's capabilities in hardware and software engineering for vehicle computers, sensors, and control units for all vehicle domains to help reduce complexity in vehicle development and get new functions to market at a faster pace.
AI and advancing driver display technology was highlighted by Mercedes-Benz as well which debuted its MBUX Hyperscreen. The 55.5 in. (141 cm) wide display consists of three seamlessly merged displays to great a single human machine interface (HMI) which incorporates artificial intelligence to optimize the user experience. While designed for passenger cars, the MBUX Hyperscreen demonstrates the direction HMI designs are headed in the heavy-duty on- and off-highway industries, as well, which is to add more intelligence while also simplifying use as a means of increasing operator productivity, safety and comfort.
READ MORE: A Simplified Operator Cab Improves Comfort and Productivity
"The new MBUX Hyperscreen combines unique electrical aesthetics with outstanding user-friendliness. A decisive strength is the clever networking of all systems based on intelligent, adaptive software. This makes the Hyperscreen the brain of the car; it's connected to and communicates with all components of the vehicle," said Sajjad Khan, Member of the Board of Management of Mercedes-Benz AG and CTO.
Intelligence built into the system can help with many functions; Mercedes Travel Knowledge, for instance, evaluates map data and vehicle surroundings to provide information on the location the vehicle is at as well as any upcoming points of interest.
"When developing the MBUX Hyperscreen, the focus was clearly on the customer," said Khan. "The goal was a concept without distracting the driver or complicated operation, but one that is capable of learning thanks to artificial intelligence. The result speaks for itself: the MBUX Hyperscreen understands the customer better and better and thus delivers a customized, personalized infotainment and operating offer before the user has to click on anything."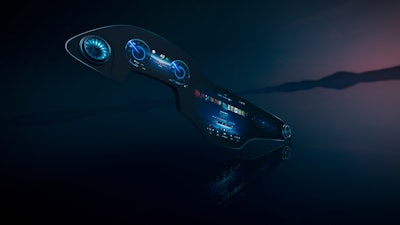 Autonomous vehicle technology
Mobileye, an Intel company, previewed its autonomous vehicle strategy and technology which has been under development for several years now. Amnon Shashua, President and CEO of Mobileye, discussed current and future technology developments, including a new lidar and software-defined radar technologies the company plans to introduce.
One of the key points Shashua emphasized during the Mobileye press conference was the fact that it will be several years yet before consumer autonomous vehicles become the norm. There is still a lot of development work needed. He said what will help progress this is robotaxis; they will remove drivers from the equation and are less price sensitive, making it easier to develop, test and eventually prove the technology.
In addition, the company is working on mapping driving scenarios around the world to help collect driving knowledge that will be built into future autonomous systems and technology. Doing so ensures the systems can meet the driving needs of the global market which has various driving styles.
Caterpillar is exhibiting at CES for the first time in 2021. During the show Caterpillar will highlight its mining technologies which are designed to help customers increased productivity and safety. The company said in its press release announcing its attendance at the show that its goal is to introduce a new audience to the importance of mining and the advanced technologies being used in the industry, as well as attract more talent for its technology team.
Caterpillar's Denise Johnson, Group President of Resource Industries, said during the company's press conference that attending CES is a way for the company to find new partners it can work with on advanced technologies like autonomous systems. Forming new partnerships can help further advance technology development and help bring new products to market faster.
Johnson also noted some of the mining technologies available from the company and the benefits they provide. To date, Caterpillar's autonomous mine trucks have traveled nearly 87 million km without a single injury which helps demonstrate the safety of autonomous systems. She said Caterpillar's detect driver safety systems helped one mine site uncover a magnitude of operator fatigue and reduced it by 94% in 90 days.
"Our MineStar health offerings make it possible for machines to tell us when there's a problem, and then make a recommendation for how to fix it, and when," said Johnson.
She said the company's newest technology, MineStar Edge, is already delivery benefits to mining customers. Because it's a cloud-based systems, it is easy to deploy and update as needed. It also requires less infrastructure and provides access to real-time data that is 97% accurate. It's already delivering results edge is cloud based solutions are easy to deploy an update and require less infrastructure, with access to real time data that is 97% accurate. "We're seeing customers who have achieved a return on their investment in just 3 months," said Johnson.
To demonstrate how its autonomous mining technology is being used, Caterpillar ended its press conference by showing a video about a Canadian oil sands mine site utilizing its autonomous systems. This case study showed what was involved with deploying an autonomous fleet in a harsh mining environment and how the technology has improved operations.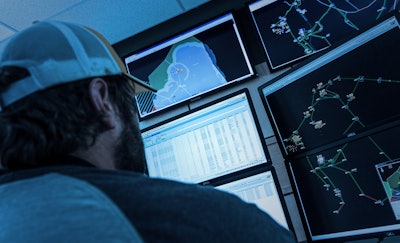 Advanced mobility offerings
During CES 2021, tire company Bridgestone will unveil Bridgestone World, an interactive city showcasing how the company's various innovations can be used for sustainable mobility. It will include live online showcases and on-demand videos demonstrating technologies it envisions for the future of sustainable mobility.
"Active, intelligent and digitally integrated technologies are critical to our goal of creating new value for society and customers through sustainable mobility and advanced solutions," said Paolo Ferrari, President & CEO, Bridgestone Americas, and Executive Vice President and Executive Officer, Bridgestone Corporation. "As we progress on this journey, we are eager to engage with other innovators and leaders to imagine a better future for mobility."
Bridgestone World will showcase technology for urban, suburban, industrial and transport settings, and overview various connectivity offerings which aim to improve the customer experience and value.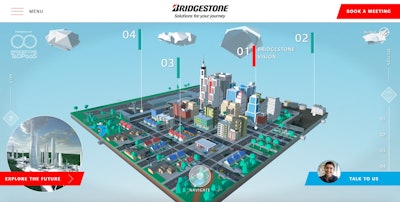 For more insights into CES 2021, check back each day this week for daily updates on the news and technology showcased during the event.
Additional CES news that may be of interest:
FPT Highlights Future Powertrain Concepts at CES 2020
PACCAR Displays Electric and Hydrogen Fuel Cell Trucks at CES 2019
PlusAI Debuts Self-Driving Commercial Truck Solution at CES
Freightliner New Cascadia with Level-2 Automated Driving Named Best Transportation Technology at CES 2019
CES 2019 Emphasizes Automation and Electrification Technologies
Companies in this article