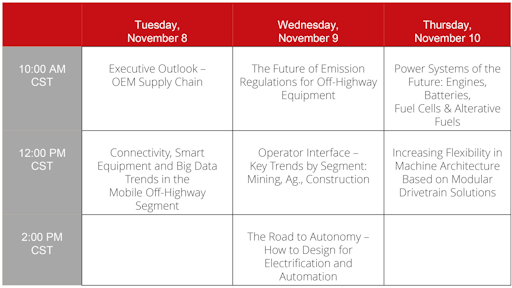 In the editor's note in the May/June issue, I discussed my excitement to be attending in-person events again. In addition to seeing and learning about new technology, educational sessions are critical to help engineers, designers and others in the off-highway industry stay up to date on their technical and industry knowledge.
However, because of the demands of their jobs, many engineers and designers do not have the time to attend live, in-person events. This is one reason that our team will launch the inaugural OEM Off-Highway Industry Summit. This is an online, educational event that we plan to hold every year. This year, the dates are November 8 through November 10. See Image 1 for the tentative schedule of presentations.
We hope that this summit becomes part of the content that you already enjoy, in addition to the print publication, including our:
Let us know what you think about this summit by emailing me at lditoro@acbusinessmedia.com. As always, tell us what you like from this issue. We love hearing from you!