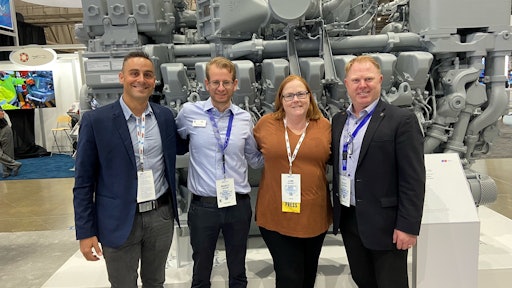 Lori Ditoro
Hello, Readers! I'm excited to discuss the May/June 2022 issue with you, particularly since it is my first official issue as editor. This month focuses on our Product Showcase that features the latest technology in these categories:
Engines
Drivetrains
Fluid Power
Electrical & Electronics
Operator Environment
Engineering & Manufacturing
Our team is thrilled to share these new products with you.
We are also happy to see in-person trade shows back and well attended. We recently attended OTC 2022 and had an excellent conversation about future technology with mtu. Some of this technology, hybrid haul truck concept is covered here. Another new technology included is from SuperTurbo Technologies. This super turbocharger includes three technologies in one: superchargers, turbochargers and turbo-compounders. It will launch in 2023.
Attending, exhibiting at and partnering with conferences and expos are important to our team. The Industrial & Off-Highway Vehicle Technology Expo (iVT Expo), which takes place on August 31 and September 1, 2022, in Chicago is our next one. We look forward to seeing you there, so visit us at Booth i711. For more information on the conference and expo, check out our preview.
Please let us know the challenges you face and what you would like to learn about in each issue and on www.offhighway.com. This publication is for you, so we need your feedback to tailor it to your needs.
Happy summer!