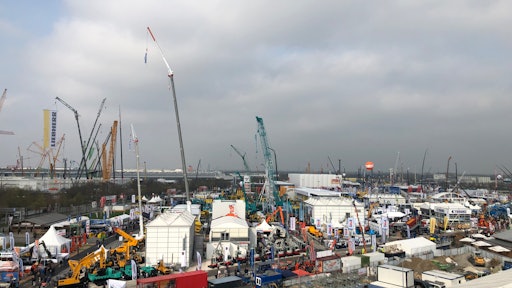 S. Jensen
This past week, JLG announced it would not be exhibiting at bauma 2022. While the past year has been filled with announcements of trade shows and conferences being cancelled due to the health concerns associated with the ongoing coronavirus pandemic, JLG's announcement was slightly different.
The company noted it would not exhibit at the triennial event—one of the largest in the world for the construction and mining industries—not because of the pandemic itself but how it has shifted the way business is done. Instead, it plans to host small, local events as well as hybrid and personal virtual experiences as part of its marketing efforts.
With this announcement, it's not hard to wonder how industry events might shift in the future. Currently many are still being held virtually—whether that be trade shows, conferences or individual company media events. For some event organizers, this capability has provided new opportunities to reach a wider audience. And for industry members—myself included—virtual events have made it possible to attend more events and even those which they might not otherwise be able.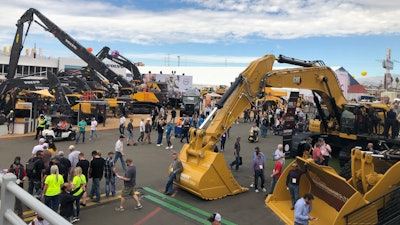 For instance earlier this year I was able to attend the Consumer Electronics Show (CES) for the first time. As more manufacturers from the industries we cover have begun exhibiting at the show, it is one I have wanted to attend for some time but had not yet been able due to timing or costs. But because it was held virtually in 2021, I was able to do attend and get a feel for the event and those who exhibit at it so I could inform our audience about the show and better evaluate possibly attending in the future.
READ MORE: Heavy Equipment Industry Increases Presence at CES 2021
Although virtual events may not have the same feel as their in-person counterparts, there is an appeal for many. Time and cost associated with traveling to the event is eliminated. Going forward, many companies may see this as a reason to minimize the amount of in-person events it attends or hosts. This can also help with productivity as employees' time will be less interrupted.
Watch my interview with Naimesh Dave, President of Oilgear to get his thoughts on the opportunities he sees in remote connectivity for businesses.
Many event organizers have also seen the benefits of hosting things virtually. Some I have spoken to this past year noted an increase in the number of people attending their events, leading them to consider keeping their events virtual going forward.
While I don't think in-person events are a thing of the past by any means, it does seem there could be a shift toward more digital options and possibly fewer in-person events throughout the year. Some events scheduled for 2021, such as SAE COMVEC, have announced they will provide both in-person and virtual options. This allows the industry to still get the value of attending an event but with the option of how they will do so.
With there still being so much uncertainty about the pandemic, giving people the option on whether to attend an event in person or virtually could make some feel safer without them feeling they have to sacrifice attending an event. Though event organizers for shows that are so far scheduled to take place in person in 2021 are taking as many safety precautions as possible, many people may still not feel comfortable attending events in person.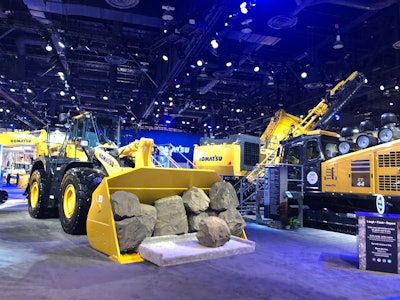 Whether events will actually take place in 2021 remains to be seen. There are several which are currently planned for the second half of the year in the U.S., such as World of Concrete, MINExpo and The Utility Expo. However, we have also started seeing cancellations or postponements for international events such as Agritechnica. Just this morning organizers of bauma 2022 Messe München announced the show will be pushed back to October due to ongoing uncertainty over the pandemic.
Though many the cancellation and postpone of these shows is due to the differences in how countries around the world are faring in the pandemic and vaccine rollouts, it also shows there may still be a ways to go before we can all meet again in person.
How things will continue to progress remains to be seen, but one thing I know for sure is that I am looking forward to getting back out into the industry when it is possible to do so, and appreciate the virtual event opportunities that have so far occurred while looking forward to there possibly being more of them so I can better stay on top of our ever evolving industry.
Visit our Events page to stay up to date on when industry events are happening, especially as many shift their dates or move to a virtual offering in 2021. You can also visit our running pieces on 2021 events which are updated as we receive news of any changes to planned industry events.
We want to hear from you!