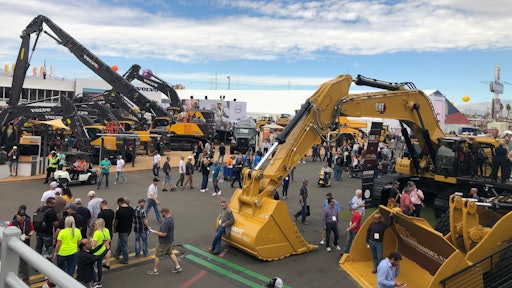 S. Jensen
Around this time last year, much of the U.S. and the world was in lock down in an effort to prevent the spread of COVID-19. The OEM Off-Highway team had just returned from two straight weeks of travel to tradeshows (The Work Truck Show and CONEXPO-CON/AGG) which would be our last.
Since returning from CONEXPO-CON/AGG in Las Vegas in March 2020, there has not been an in-person event for the heavy equipment industry. As everyone began to get used to the new normal of being home more and traveling less—or not at all for the most part—the industry began looking for new ways to connect and evaluating when it might be possible to have in-person conferences and tradeshows again.
Virtual events became a common occurrence in 2020. Technology like Zoom and other similar programs made it easier to host more webinars, conferences and even virtual tradeshows which allowed attendees to hear presentations and visit booths like they would at an in-person event. Though the experience is different, virtual events still allowed a sense of connection and information sharing. And for me, it provided the opportunity to attend events I might not have otherwise been able due to scheduling conflicts or travel costs. For instance, I was able to attend CES (Consumer Electronics Show) for the first time as it was held virtually, providing the chance to see what the event is like and its potential applicability for our audience.
READ MORE: Heavy Equipment Industry Increases Presence at CES 2021
Many shows also attempted to postpone until a later date into 2020 or the first half of 2021 thinking things would be better. Unfortunately, those plans did not pan out as the pandemic continued to cause issues for much of the world. And even as slight improvements were seen, travel restrictions as well as limitations on large gatherings made hosting events difficult.
The first half of 2021 has continued to be free of in-person events, with many hosting virtual events, postponing or completely cancelling due to the ongoing uncertainty surrounding the pandemic. However, as the situation has somewhat improved and vaccines begin to be administered, there is hope that in-person events will be able to return in 2021. As such, many event organizers are already making plans to do so, albeit with an abundance of safety precautions as the pandemic is still a concern.
Read our ongoing blog to learn more about events that have been canceled or postponed.
In an effort to keep our OEM Off-Highway readers informed, we will update this piece as information becomes available about events taking place in 2021. You can also visit our Industry Events page to see information on all current and future event related to the heavy equipment industries.
Moving forward with in-person events
EIMA International set for October 2021
Organizers of the agricultural industry trade show EIMA International say the event will take place as planned October 19-23, 2021. On April 22, the Italian government announced it was removing its block on hosting exhibitions in the country, leading the way for events like EIMA to take place once again.
FederUnacoma says in its press release announcing the show is still set for October, that there is close to 1,600 companies currently signed up to exhibit at the show, 30% of which are from abroad.
The Italian agricultural industry association notes in its press release that several health and safety measures have been put in place for the event. These include:
rationalized routes for flow management,
IT support and apps to monitor the distribution of the public in the halls,
health and control facilities,
and systems for the online purchase of tickets and for booking business meetings to avoid crowding and useless stops inside the exhibition center.
FederUnacoma notes in its press release EIMA may be one of the first shows to employ a pass for "certified" visitors, a concept being evaluated at the European level, to ensure a safe space for all attendees and exhibitors while enabling the agricultural industry to get back to business.
World of Concrete to move ahead as planned
Show organizer Informa Markets has received approval from the Nevada Department of Business and Industry to host the 2021 edition of World of Concrete in Las Vegas. It will be the first large-scale trade show to return to hosting an in-person event since the COVID-19 pandemic began.
Informa Markets has worked with the Las Vegas Convention Center to create a health and safety plan which meets the state's guidelines. Among these is the requirement to maintain safe social distancing, wearing of face coverings, and practicing good hygiene and cleaning.
Read more on our sister site ForConstructionPros.com.
The Utility Expo expands layout
The Utility Expo (formerly known as ICUEE), also scheduled to be held as an in-person event in 2021, is set to be one of the largest editions yet with a new outdoor layout, says show organizer Association of Equipment Manufacturers (AEM).
According to AEM, the new layout will enable more product introductions and demonstrations.
To keep attendees, exhibitors and staff safe, AEM says it is following CDC guidelines as well as those of the event venue.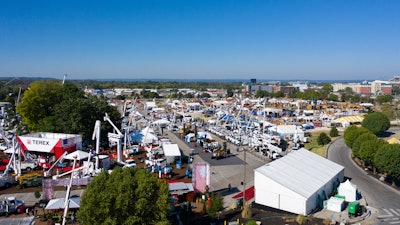 ACT Expo announces new dates
The 10th edition of the annual Advanced Clean Transportation (ACT) Expo will return as an in-person event in 2021, and is set to take place August 30-September 2 in Long Beach, CA.
According to organizers, the event will offer unmatched insight into the latest trends, policies, and technologies driving fleets to invest in advanced clean transportation solutions, including:
Growing availability of low- and zero-emission vehicles and low carbon fuels for every fleet application
Commitments to corporate sustainability and greening of the supply chain leading to scaled deployments
Financial incentives and technology advancements to create more compelling total cost of ownership
Key climate and environmental policies being adopted at the state level across the U.S. and by the Biden Administration
Virtual events likely to remain
Even as in-person events begin to take place again, there will likely still be virtual events as well. Some events have seen this as a better option as there is potentially less cost involved and more people are able to attend because there is no travel time and costs which can be a concern.
Many shows are also offering a hybrid of in-person and virtual to best meet the needs of all attendees. There is still a lot of uncertainty surrounding the pandemic, and likely will be for some time. Because of this people may not yet be comfortable traveling or being in large public gatherings. Travel bans may also exist for some time; and companies may begin re-evaluating the necessity of travel if there is so much available virtually.
SAE is one such organization planning to utilize the hybrid approach for its events scheduled to be held in the fall of 2021. COMVEC, for instance, is currently scheduled to take place Sept. 14-16. It will have an in-person component as well as virtual with livestreamed keynote presentations, digital networking and a virtual exhibit hall. The in-person portion will follow social distancing protocols.
Other events, such as AGRITECHNICA, are using virtual capabilities to provide a preview of what's to come during the in-person event later in the year. Six months before the in-person event, AGRITECHNICA digital will provide an online platform for information sharing and networking.
Movin'On Summit expands formats and availability
A sustainable mobility event organized in part by Michelin, the Movin'On Summit provides information on a wide range of technologies and trends which aim to reduce emissions. While the event has been held in Montreal the last several years, and canceled in 2020, organizers have decided to make the event more of a hybrid experience for 2021.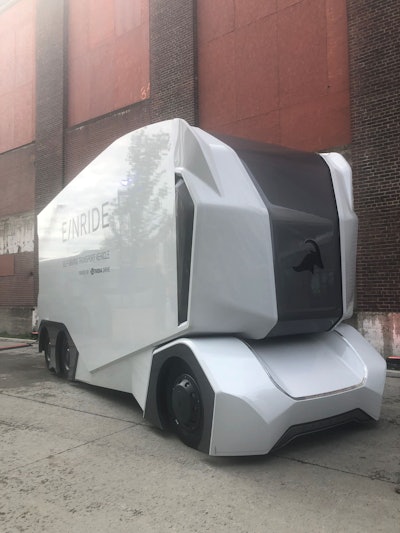 There will be three venues, three formats and three broadcasting modes which allow people from all over the world to partake in the event. According to the company, this phygital experience will enable more engagement from a global audience about mobility solutions with less environmental impact.
Master Promotions launches virtual heavy equipment show
Master Promotions organizes several heavy equipment shows in Canada including the National Heavy Equipment Show, the Canada North Resources Expo, Expo Grands Travaux, the Atlantic Heavy Equipment Show, TRUXPO and the Pacific Heavy Equipment Show. As in-person events are not currently feasible in many parts of the country, the company has launched a new Canadian Heavy Equipment Showcase, an online platform designed to allow users to browse exhibitors from each of the shows mentioned above in one location.
The Canadian Heavy Equipment Showcase will be available for a limited time– from Monday, March 1 through Monday, May 31. This represents a significantly expanded timeframe from the typical two-day event, and lets users take their time to easily peruse the exhibitor database from the comfort and safety of their own home. The platform features a variety of exhibitor categories – from aerial lifts and aggregates to vocational trucks and wheel loaders.
Companies in this article