Volvo Construction Equipment
Electrification is nothing new in the heavy-duty on- and off-highway markets, but there has definitely been a noticeable uptick in recent years. It feels like in the last year alone there has been an onslaught of announcements from manufacturers big and small announcing either further investments in electrification efforts or the availability of new equipment.
This week too saw a flurry of announcements related to the topic. For instance, electric bus manufacturer Proterra—who also designs batteries for use by other OEMs—announced it was providing batteries to Komatsu for a concept electric hydraulic excavator. This will be Proterra's first collaboration in the off-highway equipment space.
READ MORE: Proterra Collaborating with Komatsu on Electric Excavator
This week Volvo Group announced it was creating a new business focusing on its electrification efforts. The newly created Volvo Energy will provide batteries and charging technology for internal brands, as well as develop ways to remanufacture and refurbish batteries to give them a second life once past their useful life in a piece of equipment.
Volvo also unveiled its newest piece of electric construction equipment, the EX03, a prototype electric mid-size excavator. It is designed to provide low noise, zero exhaust emissions and reduced maintenance. While emissions reduction is an important aspect, OEMs know these machines need to offer other benefits to customers like the reduction in maintenance and noise levels. Otherwise, they may not see the benefit of these machines.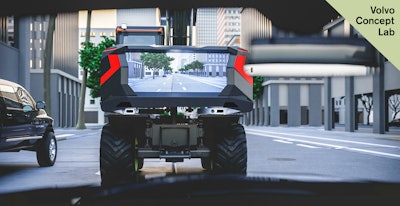 "This prototype is a significant step forward in the evolution of medium electric construction machines," said Inwoo Kim, program manager for Advanced Engineering at Volvo Construction Equipment, in the company's press release announcing the new machine. "As our first electric excavator concept in the mid-size range, we have been quick to build and expand on our existing electromobility technology."
The 14-ton EX03 is equipped with a battery pack from sister company Volvo Trucks and provides an equivalent performance level to a diesel machine of the same class. A video screen on the back of the machine has three configurations:
A real-time video stream from the front of the machine, allowing vehicles behind it to clearly see ahead when driving on public highways.
A text-based safety screen alerting workers on-site to left and right movement or reversing.
A safety communication livestream enabling the operator to make eye contact with pedestrians and workers, minimizing misunderstandings and increasing safety.
On the heavy-duty trucking side of things, Navistar Inc. announced this week it will collaborate with General Motors (GM) and OneH2 on a hydrogen ecosystem for long-haul transportation. This will include development of an International RH Series fuel cell electric vehicle (FCEV) powered by two GM Hydrotec fuel cell power cubes.
The compactly designed Hydrotec power cubes each contain over 300 hydrogen fuel cells, as well as thermal and power management systems. According to Navistar's press release on the collaboration, the combined propulsion system within the FCEV will feature better power density for short-range travel, better short-burst kW output and a per-mile cost expected to be comparable to diesel in certain market segments. The company is targeting a range of 500+ miles and a hydrogen fueling time of less than 15 minutes.
Navistar plans to make the FCEV commercially available in model year 2021; pilot testing of the first completed vehicles is expected at the end of 2022.
OneH2 will supply hydrogen fueling stations, which includes hydrogen production, storage, delivery and safety. The entire solution will initially be piloted by J.B. Hunt Transport Inc.
"Hydrogen fuel cells offer great promise for heavy-duty trucks in applications requiring a higher density of energy, fast refueling and additional range," said Persio Lisboa, Navistar President and CEO, in Navistar's press release. "We are excited to provide customers with added flexibility through a new hydrogen truck ecosystem that combines our vehicles with the hydrogen fuel cell technology of General Motors and the modular, mobile and scalable hydrogen production and fueling capabilities of OneH2. And we are very pleased that our valued customer J.B. Hunt has committed to utilize the solution on dedicated routes and to share key learnings."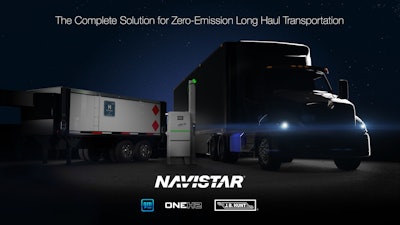 The collaboration announcement comes on the heals of GM's other big announcement this week that it plans to phase out gas and diesel engines and be all-electric by 2035. What impacts this will have on the market is yet to be seen. There are a lot of factors that will need to be taken into consideration including infrastructure, costs to customers and more. Collaborations with companies like Navistar and OneH2 which include the fueling infrastructure aspect will be a key component of the alternative energy transition taking place across the world.
Read more about GM's announcement in Field Editor Curt Bennink's piece on our sister site ForConstructionPros.com.
While more automotive focused, GM has re-established its defense division; how this decision could play into that market—which has already been considering electrification and other fuel options for years—will be interesting to see. The company also announced at this year's Consumer Electronics Show (CE) it will produce a new electric delivery vehicle, further expanding its market offerings and its goal of transitioning to zero-emissions vehicles.
Although it may seem like many of these electric vehicle developments are "coming out of nowhere" that is certainly not the case. As it was put by one member of the industry I interviewed in recent months, it seems that way because these machines have been under development for years and are now ready to begin entering the market.
The technology has begun to progress to a point where employing it in heavy-duty applications starts to make sense. Advancements in batteries a large part of this. But also rethinking how traditional components could be used, as well. Drivetrain component manufacturers, for instance, have been rethinking how they can integrate electric components such as motors into their axles and other systems to aid electric operation of vehicles. Doing so enables them to design their components and systems to meet the specific needs of electric vehicles, thus ensuring their performance and efficiency.
How much more will happen in the coming years will be interesting to see. There is obviously still a long way to go and many aspects that still need to be figured out. But one thing is for sure, electrification is here to stay...or at least until the next big alternative energy technology advancement.
Companies in this article