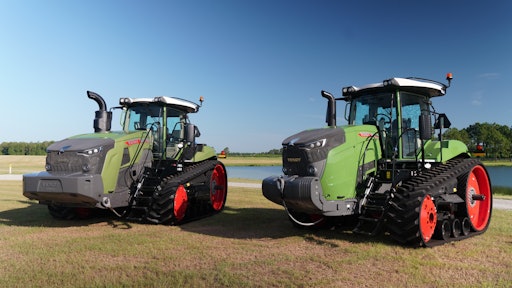 AGCO Corp.
AGCO's Fendt brand has introduced five new products including a new IDEAL combine and its first tracked tractor line for the North American market. With these machines the company is offering new operator controls and enhanced efficiency to ensure productivity for customers.
The new IDEAL 10 and 10T combines, for instance, are powered by a MAN 16.2 L engine providing up to 790 hp (589.1 kW). This is 100 more horsepower than competitive machines, says Zack Stejskal, Combine Marketing Specialist at Fendt. The separation area in the IDEAL 10 is 12% larger and harvest capacity is 20% greater than the IDEAL 9, further aiding productivity and efficiency for farmers.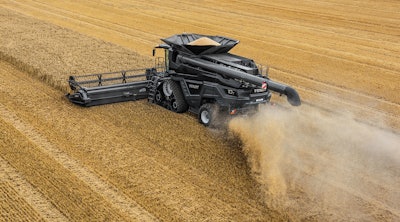 Tracked offering aids efficiency and comfort
The Fendt 1100 Vario MT and Fendt 900 Vario MT are the company's first tracked tractors in North America. Both tractors are designed for use in various farming applications and improved maneuverability through fields through the inclusion of tracks. The tractors' power-to-weight ratio combined with its mobile track design also offers a lighter footprint, reducing soil compaction.
On the 900, the power-to-weight ratio and mobile track system provide an average of just over 11 psi (0.76 bar). This is roughly a 25% advantage versus conventional front-wheel assist tractors, says Daniel Smith, Marketing Specialist at Fendt, and helps ensure greater crop yield due to the reduced soil compaction.
AGCO's Mobil-Trac track system features a mid-wheel design with suspended undercarriage and rolling midwheels. By placing the hardbar closer to the front of the tractor, engineers lengthened the wheelbase for better weight and power distribution along the belt to deliver a smoother ride and reduce compaction.
Smart Ride Plus load leveling on the 1100 has a hydraulic system which integrates with the front suspension springs to adjust the tractor height, keeping the chassis level to maintain the correct angle between the tractor hitch and rear implements. It also keeps the tractor level when operating heavy front-or rear-mounted attachments. Ride comfort improves because suspension of the leveled tractor can travel equally both up and down. The self-leveling hydraulics raise or lower the front of the tractor to make attaching or removing the front mono-block weight easier.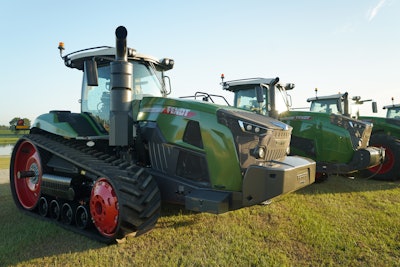 The Fendt 900 Vario MT is available in three models ranging from 381-431 hp (284.1-321.4 kW) while the Fendt 1100 Vario MT is available in four models with a power range of 510-670 hp (380.3-499.6 kW). While both tractors feature the Fendt iD low-rev concept, the 900 is powered by an AGCO Power 9.8 L Tier 4 Final engine and the 1100 by a MAN 16.2 L engine. "This low-engine speed concept has become popular in Fendt tractors as it produces tremendous power and torque at a low engine speed which reduces wear and tear on the engine, in-cab noise levels, [and] fuel consumption all while increasing reliability of powertrain components," says Smith.
Included on the tractors is the latest version of the company's VarioDrive continuously variable transmission (CVT). It offers infinite speed ranges from 65 ft. per hour (19.8 m per hour) and 25 mph (40.2 kph), allowing the machine to be fine-tuned to the farmer's needs and the implements the tractor may be pulling. With VarioDrive and the Fendt Tractor Management System (TMS), the tractor will automatically find the right engine speed and gear ratio to maximize performance while minimizing fuel consumption. This is achieved through the TMS software seamlessly coordinating engine speed and gear ratio to produce the desired ground speed.
Within the operator cab of both tractor series Fendt used the same color-coded controls found in its other machines which helps to minimize the learning curve for operators. Buttons are color coded by function such as blue for hydraulics and orange for powertrain, enabling a more intuitive user experience.
The operator station includes Fendt's Profi multifunction joystick and 10.4 in. (26.4 cm) terminal—both incorporated on the right-hand armrest—which allows operators to easily configure machine functions, says Smith. The Profi joystick allows users to easily control speed and direction of travel, hydraulics, hitch functions, powertrain functions such as cruise control, and headland vehicle implement automation. Placement of the joystick on the armrest ensures it is within easy reach for a more comfortable operating experience.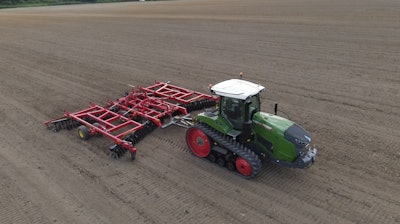 New operator cab design enhances productivity
With the introduction of the Fendt 700 Gen6 and Fendt 300 Vario tractors, the company has also introduced the new FendtONE interface. Up to three display terminals are available with the FendtONE configuration—a 10 in. customizable dash panel, a 12 in. touchscreen terminal and an optional 12 in. touchscreen mounted in the roof.
The 10 in. (25.4 cm) digital dashboard is mounted to the steering column and placed just behind the steering wheel for easy visibility. It shows critical tractor information such as speed, operational warnings, and operational data. It can also display user-selected information carried over from the other in-cab terminals.
Located on the new multifunction armrest is a 12 in. (30.5 cm) full color touchscreen which comes standard with all Fendt 700 Series tractors. It provides visualization of all set up and vital operating data such as hydraulics, hitch control as well as the ability to customize on-screen layouts and armrest control elements.
To increase the display area, customers can choose to include an optional 12 in. touchscreen which is mounted in the roof of the cab. When not being used it can be partially retracted into the roof, showing just the bottom half of the screen to all enable continued monitoring of machine functions while allowing increased visibility to the outside of the cab. A simple setup menu for the displays allows use of two screens with minimal button clicks. A push dial control is included on the right side of armrest to ease navigation on multiple displays. The push dial can control buttons on the screen as well as fine tune or adjust settings and parameters even when moving through bumpy fields.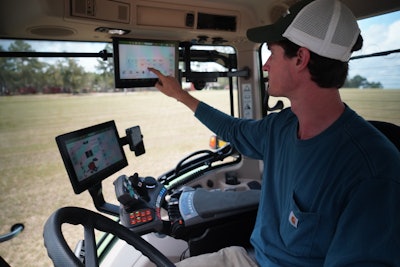 A new multifunction joystick is included on the armrest which has an ergonomically designed shape with increased operator controls at a finger's reach, increasing operator comfort and productivity by decreasing operator strain. The joystick is used for numerous functions such as vehicle direction and speed, hydraulic controls, ISOBUS controls, headland automation, and engine and transmission controls.
Like other Fendt tractors, button controls on the joystick and armrest are color coded to ease the learning curve when moving from one machine to another. Freely assignable white buttons are included on the joystick and armrest, as well, for a more customized user experience. Some of these buttons will come pre-assigned from the factory; if not edited, an icon on the button will show the machine function to which it is assigned. Customers can change what functions these buttons control through the touchscreen display. Once the user changes the assignment, the indicator icon will go away and an LED indicator light will show the function group that is chosen using the same color coding as other buttons in the tractor—orange for powertrain functions, blue for hydraulics, yellow for PTO, and teal for ISOBUS control. "The new multifunction armrest allows customers to customize the layout, ensuring the machine can be operated in the way they find easiest and most efficient," says Andrew Sunderman, Marketing Manager, Fendt.
Also included on the armrest at the center is a 3L joystick which is customizable, as well. It allows operators to easily control the tractor for loader applications. Included on it is a freely assignable button that is factory configured as a reverser button.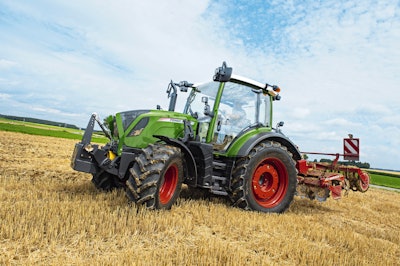 Six models ranging from 140-240 hp (104.4-179 kW)) are available in the Fendt 700 Gen6 Series. The tractors are powered by a Deutz 6.06 L, six-cylinder diesel engine. They can adjust for narrow or wide row spacings and features, the company says, aiding customization to application needs.
The Fendt 300 Vario—which will be available for the first time in North America—includes four models powered by a 4.4 L AGCO Power engine ranging from 100-132 hp (74.6-98.4 kW). It has a 13 ft. (4 m) turning radius and base weight just under 10,700 lbs. (4853.4 kg), enabling it to easily move through barns or sensitive fields.
"These new Fendt offerings represent the next chapter for AGCO, our growing dealer network and, most importantly, our current and soon-to-be customers," says Bob Crain, Senior Vice President and General Manager for AGCO North America.