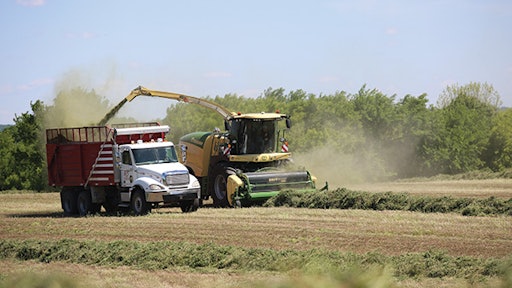 Krone North America introduces a new generation of Cutting Edge Forage Harvesters designed for the North American market. These new Krone choppers have just been recognized with two major Innovation Awards at Agritechnica, the largest farm machinery show in the world, held in Hannover, Germany this past November.
The new Krone BiG X Forage Harvester won:
"Machine of the Year" in the Forage Harvester category.
A Silver Innovation Award, recognizing the first-of-its-kind new Krone Cab Lift for engineering excellence.
Says Tommy Jones, President and CEO of Krone North America, "These new Krone Forage Harvesters are equipped with a complete package of Cutting Edge upgrades that will deliver standout harvesting performance compared to all competitors. The customer's experience will be exceptional, as these new harvesters can harvest more acres per hour, and at the same time deliver excellent forage quality." Jones continues, "These choppers can be ordered with a first-of-its-kind Cab Lift, which was recognized with an Agritechnica Innovation award. This system allows the operator to elevate the cab automatically, providing never-seen-before visibility in tall crops, which is especially valuable when opening a field."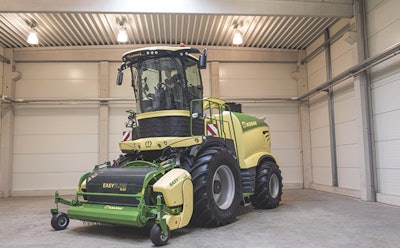 Here's what producers can expect from this new generation of Krone forage harvesters:
Exceptional performance from the streamlined VariStream crop flow technology.
Exclusive Krone design featuring a spring-loaded floor beneath the chopping cylinder and a spring-loaded plate behind the crop accelerator to improve crop flow by allowing clumps of forage to pass smoothly.
The upgraded design features six feed rollers—now with increased reliability from stronger springs—that create maximum crop compression before entering the cutting drum.
Stepless hydrostatic drive gives the chopper operator optimum speed control.
An integrated additive system (high/low volume), and RockProtect system that quickly detects rocks, thus protecting the producer's investment.
These new choppers are equipped with new Tier 4 Final Liebherr Engines, providing a proven power source for the Krone Power System, featuring PowerSplit technology that adapts the engine output automatically to the current harvest conditions. EcoPower is used in situations that do not require full engine power, whereas X Power delivers the engine's maximum speed to succeed in difficult conditions. This technology allows for high productivity and fuel economy.
Run all day thanks to improved fuel capacity and efficiency, and high pressure AdBlue system. These new BiG X Forage Harvesters will turn on a dime, thanks to the improved, tighter turning radius.
What do customers think?
Danny Constant, forage harvester custom operator from Ellsworth, WI, had a chance to run the new Krone BiG X 780 Forage Harvester this past season.
Says Constant, "I'd say Krone has the leading technology. Their crop accelerator, VariStream, and the processors are just further ahead than the John Deere."
Chopper operators will appreciate the new operator station design. The new Cab Lift (optional) elevates the operator above tall crops for an unobstructed view. These new cabs offer excellent visibility (front, side, rear), and come with convenient, ergonomic controls. The spacious, roomier cab offers all the "living-room" comforts, including a new lighting, wiper and camera systems, buddy seat, footrest and cooler.
Chopper operation is further improved by better diagnostics. New touchscreen display delivers simplified and advanced diagnostics. Servicing is easy, thanks to improved engine and drum access, rear-axle lift and swing out steps.