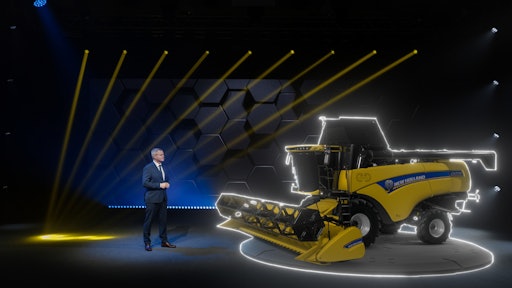 New Holland Agriculture

On February 23, New Holland Agriculture hosted a virtual press conference during which it presented its strategy and new products for 2021.
During the event, the company noted 2020 was a difficult year for the European agricultural equipment industry. It said sales volumes for year were down in all segments, though recovery started to occur during the second half of the year. "At [a] global level, New Holland closed the year with a solid performance that confirms our brand's strength. Our focus for 2021 will be to consolidate our vision as a full-line brand. To do this, we will continue to develop our full line-up to offer strong value propositions in every agricultural segment and we will continue to extend the scope and breadth of our Clean Energy Leader initiatives, with new innovations and partnerships," said Carlo Lambro, Brand President of New Holland Agriculture.
Becoming a full-line brand
To achieve its goal of offering a complete line of agriculture equipment, New Holland said it will continue investing in new products and expanding its machinery solutions. During the virtual event is also highlighted some of the new products which are planned to hit the market in the first half of 2021. These include:
Methane-Powered Tractor will be delivered to select customers in Europe before entering the product range later in the year.
Partnerships will be formed to test a new bio-methane tractor prototype as well as electrification of implements for vineyards and orchards.
CH7.70 Crossover Harvesting combine with new technology features will enter the market.
Introduction of a new high-capacity BigBaler High Density Packer model.
Launch of the T6.160 Dynamic Command tractor featuring a compact size and 6-cylinder engine.
Expanded Precision Land Management solutions with new services.
An expanded implement offering for select European customers.
New wheel loader models will be introduced with improvements aimed at improving the user experience and total cost of ownership.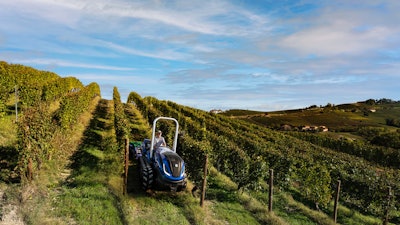 Creating more sustainable solutions
New Holland is targeting full commercial availability of its T6 Methane Powered tractor in 2021. According to the company, field trials are in their final stages. In the first half of the year production units will be delivered to select customers in Germany, France, Italy, the UK and Benelux. It says these are key markets for the tractor because biogas production is more advanced in these countries.
The tractor is powered by a methane-fueled engine developed with sister brand FPT Industrial which provides diesel-like performance. Use of methane helps to reduce emissions; the engine also offers noise reductions and lower operating costs.
READ MORE: A Vision of Sustainable Farming
The company intends to have the tractor be a part of its range by the end of 2021; it will be available to all customers in Europe and other markets around the world.
New Holland and FPT will also partner with Italian Barolo wine producer Fontanafredda to test a new bio-methane tractor based on the New Holland TK model in vineyards. An FPT F28 engine powers the tractor and uses bio-methane to enable carbon dioxide (CO2) free wine production.
Another partnership New Holland has established will research the electrification of implements for vineyards and orchards. Per a press release from New Holland, this concept combines the New Holland T4.110V with an e-Source external generator compliant with AEF High Voltage guidelines. The tractor's PTO drives a generator which is used to power a new e-Sprayer and e-Mulcher, helping to minimize emissions produced during farming operations.
New CH Crossover Harvesting Combine
New Holland's new CH7.70 combine features the company's new Crossover Harvesting concept which combines Twin Rotor separation technology with its threshing technology. This helps to increase throughput 25%.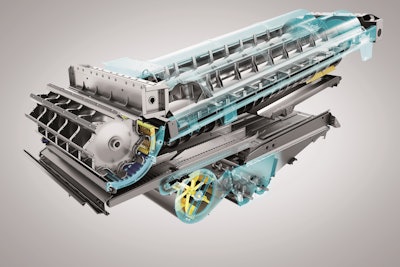 A 600 mm (23.6 in.) diameter drum is included on the two-drum threshing system and features a reinforced, heavy-duty design to ensure optimal performance. New Holland says the combination of the large drum and user-friendly sectional concave enables the machine to quickly adapt to different crops, typically in less than 20 minutes.
Per New Holland's press release about the new combine, drum speed is controlled from the cab by a new heavy-duty hydraulic drum variator, so that the operator can easily ensure the speed is perfectly matched to the crop and field conditions. The threshing system is combined with New Holland's Opti-Thresh system which adapts to crop conditions and maturity simply by repositioning the rear part of the concave – no tools are needed. When the hinged top section is moved away from the drum, the rubbing action is gentler, improving straw quality.
Additional features of the combine include the SmartSieve system which automatically compensates for side slopes up to 25% to maintain sieve balance for uniform cleaning. It also calibrates sieve action based on fan speed and kernel size to ensure the optimal throwing angle is achieved.
A Laterale system can be included on the combine to ensure performance in hilly conditions. It uses an automatic leveling system for transversal slope correction up to 18% on both sides. This system is used in combination with the SmartSieve and Triple-Clean systems to ensure crop quality in various terrains.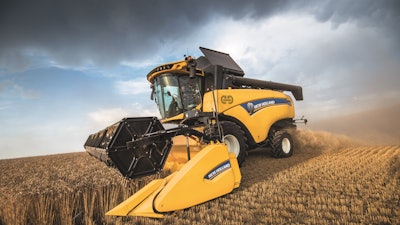 T6 tractor with Dual Clutch and CVT technology
A new 6-Cylinder T6.160 Dynamic Command tractor was introduced by New Holland in November. The company says combining the FPT NEF 6-cylinder engine with New Holland's Dual Clutch and CVT (continuously variable transmission) technology provides high efficiency and productivity.
Included on the tractor is a 24x24 Dynamic Command transmission developed in-house by New Holland. It features 8-step push-button gear changes using Dual Clutch technology as well as three push-button robotized range changes which the company says ensures the best gear for the application is always engaged.
New Holland says the clutches are designed for fast gear changes and combine with a fully automatic gearbox to always set the ideal ratio and reduce operator input. This helps to ensure a high level of productivity while lowering operator fatigue.
Various automated features are included on the new T6 tractor to also aid productivity and operator comfort. The Ground Speed Management II control package automatically maintains a target speed set by the operator; maintaining the same speed helps to improve fuel efficiency and overall productivity as operators can focus on the work in front of them instead of controlling speed.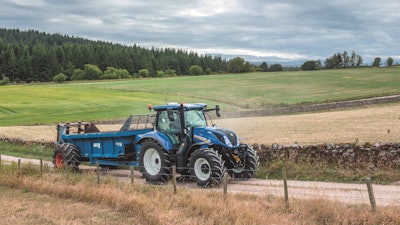 Upgraded D Series wheel loaders
New Holland has upgraded its D Series wheel loaders by focusing on features which enhance the operator experience and improve total cost of ownership.
A new Smart Work mode delivers up to 10% fuel savings while the extension of service intervals from 500 to 1,000 hours can deliver maintenance savings of up to 20%, says New Holland. With these two features the company says customers can save up to 20,000 euro (U.S. $24,364.20) over the machine's life span.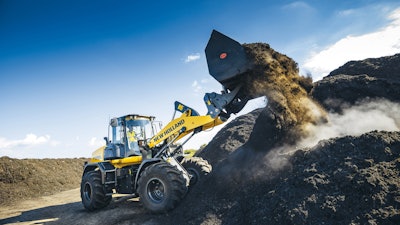 To aid operator comfort, the wheel loader features an 8 in. touchscreen color display which makes it more user friendly. Configurable quick-access buttons are placed on the display within easy reach of operators' fingertips so they can navigate through various menus and machine controls without being distracted from the work in front of them.
Visibility around the machine is improved through the inclusion of a one-piece windshield and a rear-view camera. An enhanced lighting package which produces 43,000 Lumen provides daytime-like lighting even at night to ensure safe and efficient operation.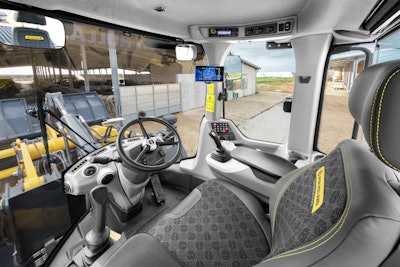 Additional features on the new wheel loaders include a self-leveling mode to make fork handling easy by ensuring it is parallel to the ground at all times and a payload scale for accurate monitoring of loaded material. A tire pressure monitoring system is also included on the machine to help reduce wear and fuel use by helping operators keep their tires at the optimal pressure for the operation at hand.
With all of these new machine updates and technology developments, New Holland is looking to provide customers the solutions they need to meet their varied operational needs.
*Information based on multiple press releases from New Holland as well as its recent virtual event.