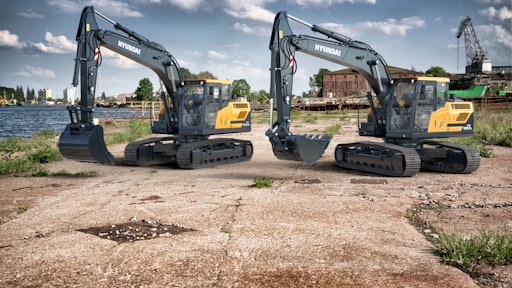 Hyundai Construction Equipment
During the last few weeks, companies have shared new products and product upgrades in the mobile equipment industry. In this roundup, the products include the small tech (new operator interface technologies, Jake brakes, hose couplings, and overmoulded push buttons) and the large (medium-duty trucks with natural gas engines, excavators, and low-profile loaders).
Peterbilt Announces Natural Gas Engines for Its Medium-Duty Trucks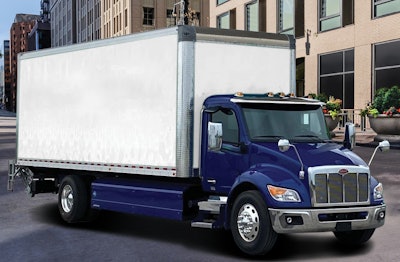 Peterbilt Motors Company announced the availability of the Cummins B6.7N natural gas engine in its new medium-duty Models 536 and 537.
Peterbilt's Model 536 includes the B6.7N engine, with 200 to 240 hp and 520 to 560 pound-feet of torque available while emitting 50% lower NOx emissions than current Environmental Protection Agency standards. The non-CDL Class 6 Model 536 is with a low cab entry height, visibility, low NVH and room for three people within the 2.1-meter-wide cab. Critical information is relayed to drivers through a 7-inch digital display located in the instrument cluster
Expanded Thumb Controls Product Line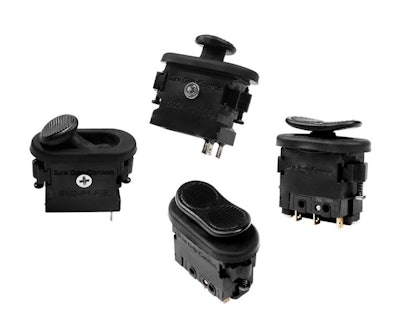 Sure Grip Controls, Inc. (Sure Grip) announced the expansion of its portfolio of miniature thumb controls. To complement its line of joysticks, handles, switches, control electronics and other components, Sure Grip added SIL 2/PLd compatible versions of its miniature thumb controls. For manufacturers that must comply with IEC61508 or ISO13849 for safety, the miniature thumb controls are available in SIL 2/PLd compatible versions. They feature contactless, Hall effect sensors and are tested to more than 4 million cycles. With IP67 waterproof seals, they are well-suited to many conditions.
Jake Brake Improves Engine and Fuel Consumption
Jacobs Vehicle Systems, a manufacturer of engine retarding and valve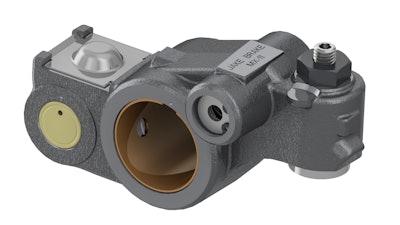 actuation systems for the commercial vehicle industry, upgraded the company's engine brake on model-year 2021 PACCAR MX-11 heavy-duty diesel engines. The electronically controlled engine brake now includes a new high-flow solenoid to facilitate faster, smoother gear shifting, resulting in simplified and smoother vehicle operation, as well as fuel consumption improvements.
Hyundai Construction Equipment Launches EU Stage-V Compliant Crawler Excavators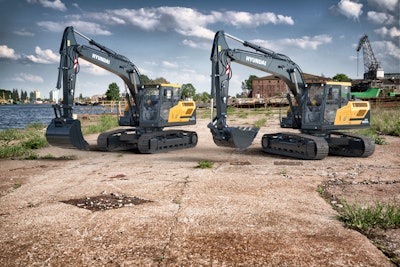 Hyundai Construction Equipment introduced two EU Stage V compliant A-Series crawler excavators with the launch of the HX160A L and the HX180A L. These mid-weight machines are powered by the latest Cummins diesel engines, achieving Stage V emissions standards without the need for exhaust gas recirculation.
Both excavators benefit from a 115-kW (155-hp) gross power output, with a 712 Nm peak torque available at 1,200 rpm. Twin variable displacement hydraulic pumps deliver 160 liters per minute of flow, providing the HX160A L and HX180A L with increased productivity when compared to many competitor machines.
Braided Hose Coupling Line Expanded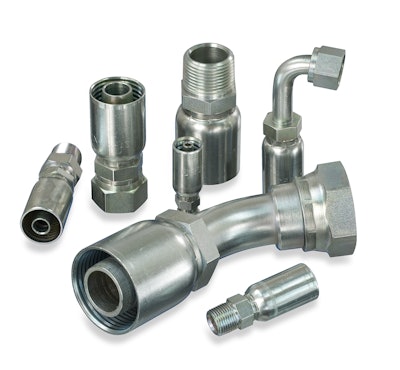 Kurt Hydraulics announced the expansion of its braided hose coupling line. These compression-style hydraulic hose fittings feature RoHS-compliant plating.
They are available with several end configurations, including SAE and metric.
The are available from ¼-inch I.D. to 1¼-inch I.D. and compatible with many braided hydraulic hoses.


Upgraded Low-Profile Loader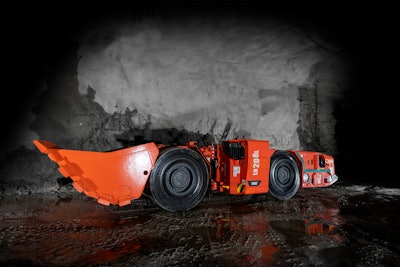 Sandvik introduced its new Toro™ LH208L loader. The loader was created for conditions in which working height is limited. With an equipment height of just 1.6 meters, the payload capacity is 7.7 tonnes. The main market is southern Africa.
The LH208L loader is fitted with a ROPS- and FOPS-certified canopy, protecting the operator in the event of roll-over or falling objects. Adjustable high-power LED lights are standard to enable better operator visibility, and it also includes a standard monitoring camera system with front and rear cameras.
Overmolded Option and M12 Connector for Series 82 Switches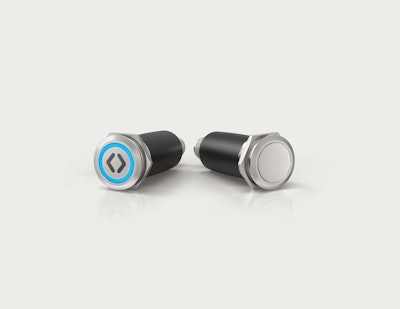 EAO, manufacturer of human machine interfaces (HMIs), extended its Series 82 with an overmolded option and M12 connector. The new version is available for selected illuminated pushbuttons within Series 82 and has front and rear IP67 protection.
These illuminated pushbuttons feature a housing made from SUS 316L stainless steel and a Tritan light guide resistant to cleaning agents. These design features protect against wear and ensure consistent clarity of both the dot and the ring illumination.