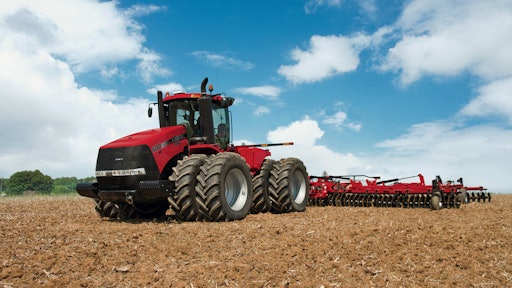 The latest results from the Nebraska Tractor Test Lab show that Case IH Steiger tractors with Selective Catalytic Reduction (SCR) technology have set new industry records for fuel-efficient power.
The Steiger 600, Steiger 500, Steiger 450 and Steiger 350 all showed significant fuel efficiency and drawbar horsepower advantages over the competition, according to test lab reports.
"Steiger tractors are built with Case IH Efficient Power to pull the largest implements available, while reducing fuel costs," says Mitch Kaiser, Case IH Steiger Tractor Marketing Manager. "These test results prove Steiger tractors perform and deliver in the field and in the lab."
For example, the Steiger 600 set the record for drawbar horsepower and fuel efficiency versus the competition's biggest tractor. Measured at maximum power in horsepower-hours-per-gallon, the Steiger 600 tested 8.4% more fuel efficient than the Deere 9630 at maximum drawbar pull, and 10.5% more fuel efficient at 75% drawbar pull maximum power.
Mike Daigh of Taylorville, IL, says he'll take his Steiger over any other tractor.
"We have a 24-row planter and we haven't had any issue with the Steiger when it comes to power - not pulling down, not hesitating, even going over hilly ground," Daigh says. "You can do just about anything with this tractor. I'll take Steiger over anything."
Engine Research and Meeting Tier 4 Standards
Several years ago, Case IH began to focus engine development efforts on SCR technology in order to meet Tier 4 standards. Case IH will meet the 2014 Tier 4B (Tier 4 Final) engine emissions standards using exclusively SCR technology found in the Steiger models.
Cool-running and quiet, SCR is an engine exhaust after-treatment system. Rather than interfere with engine performance, it actually improves it. Case IH Tier 4B technology will not require regeneration of particulate filters or any Cooled Exhaust Gas Recirculation (CEGR) technology for high horsepower equipment.
For Case IH customers who have purchased Tier 4A equipment, there will be no additional requirements in 2014. Filling the Diesel Exhaust Fluid (DEF) tank is all it takes to reduce fuel consumption and extend service intervals.
Case IH and Fiat Powertrain Technologies (FPT) have been working together on engine innovations that meet Tier 4 regulations for Case IH tractors and combines since 2004. The FPT U.S. Research & Development Center is in Burr Ridge, IL, in the same facility as Case IH Engineering. Together, FPT and Case IH engineers work to design and test high-horsepower engines. Before these engines even enter the market, they go through several thousand hours of rigorous testing. Today, there are more than 10,000 Case IH tractors powered by Case IH SCR technology already performing in farmers' fields across North America.
Beyond Power – New Cab Comfort
In addition to power and fuel efficiency, Steiger tractors feature the most comfortable, productive cab on the market. Already boasting the largest cab in the industry with unprecedented visibility, the new Steiger cab is designed to function as an office in the field with exclusive, four-post cab suspension.
Steiger tractors also feature an exclusive 40-degree, right-hand swivel seat, which provides operators a more ergonomic field of vision to see the front of the tractor while also monitoring the implement behind, minimizing neck strain. In conjunction with Case IH Advanced Farming Systems (AFS) AccuGuide autoguidance, operators in the swivel position can more easily monitor the true productivity zone - the implement behind the tractor.
Also, several cab controls have been relocated to the upper right-hand side of the cab headliner within easy reach, while the most frequently used functions are contained in the new MultiControl Armrest console, bringing all vital tractor operations into one easy-to-operate controller. And, a new AFS Pro 700 color display is integrated into the MultiControl armrest, and moves with the seat.
"Steiger tractors deliver the total tractor solution — efficient power combined with improved operator comfort," says Kaiser.