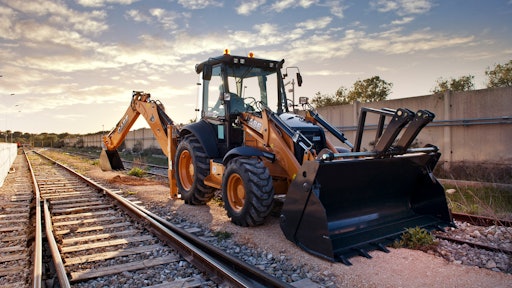 Case Construction Equipment is boosting the performance of its T Series range of tractor loader backhoes, with the adoption of Tier 4 Interim compliant engines, an automatic ride control system, faster backhoe boom positioning and a choice of transmissions. These improvements result in lower fuel consumption, reduced emissions, increased operator comfort, higher breakout force and greater lift capacity.
Low Emission Engines Increase Productivity
All T Series models will now be powered by a 3.4 liter turbocharged engine incorporating cooled exhaust gas recirculation (CEGR). This Tier 4 Interim compliant motor produces 97 hp (72 kW) for the 580ST, rising to a powerful 110 hp (82 kW) in the 590ST and the range-topping 695ST models. CEGR allows a cleaner burn within the engine, while delivering superior horsepower. This results in faster response under load and a fuel saving of up to 14% compared to previous models.
Two transmission choices are available for the 580ST and 590ST, Powershuttle and Powershift. The 695ST will be equipped with the Powershift transmission as standard.
Greater Control And Comfort
The machines have a variable displacement hydraulic pump system, though an open center gear pump system remains available on the 580ST, for those customers who prefer this simpler solution.
T Series backhoe loaders now come with Automatic Ride Control as an option on all models. This loader arm suspension system, which is activated as the machine passes a preset travel speed, allows faster travel with a loaded bucket, soaking up bumps and providing maximum material retention. This greatly improves comfort for the operator and boosts productivity on load and carry applications.
Customers can also specify an optional hydraulic backhoe slide control, allowing the operator to relocate the backhoe mounting from one side of the machine to the other using the machine's hydraulics. This permits faster boom repositioning and cuts the risk of ground damage, particularly important in urban jobsites. The hydraulic slide can also be installed by dealers as an aftermarket accessory, to both Tier 3 and Tier 4 Interim models.
All three backhoe loader models can be specified with the optional Case Pro Control system, with pilot servo controls for the backhoe operation. Pro Control delivers precise control of the backhoe with improved speed and response, allowing both novice and experienced operators to achieve maximum productivity from the machines.
T Series models have class-leading digging performance, with maximum digging depths of 5.9 m and 6.65 m, and a maximum backhoe loadover height of 7.4 m. The Case machines have the power to perform, boasting a front loader breakout force of 6,111 daN.
Added Versatility From Case
A wide range of buckets and attachments is available for the Case TLB range, including hydraulic breakers, forks, augers and snow blades. Changing between attachments is made easier with the Case integrated hydraulic backhoe quick-coupler. In addition Case has added a set of dipper teeth on the lower end of the dipper stick, with an optional extension pack available where required. The dipper teeth allow the operator to pick up and move unusually shaped objects and larger pieces of debris from the working area, by gripping the object between the bucket and the dipper teeth. The teeth also protect the dipper stick from wear in arduous working conditions.
The introduction of Tier 4 Interim powered Case backhoe loaders continues a legacy of market leading equipment that began with the industry's first integrated loader backhoe in 1957. Case continues to be a global leader in the backhoe loader market and with greater performance, increased productivity, reduced fuel consumption and cleaner emissions, the T Series backhoe loader continues that tradition of market leadership.