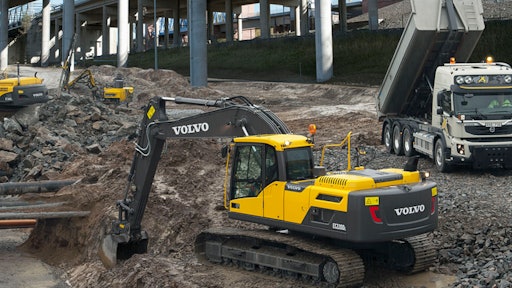 Offering greater digging forces and faster cycle times, the five machines that make up Volvo's middleweight excavator range perform ceaselessly and boast fuel efficiency improvements of up to 14%.
Spanning the weight classes between 13 to 25 tons, the EC140D, EC160D, EC180D, EC220D and EC235D also offer excellent lifting capacity and stability, allowing heavier objects to be lifted. Customers in North America can select from the EC140D, EC160D and the EC220D, while in Europe the EC180D and EC235D will also be available.
Fitted with the latest Volvo Stage IIIB/Tier 4 Interim emissions-compliant engines, these units are substantially more fuel efficient – up to 14%. Couple these proficient engines with well-matched components and a smart hydraulic system and the operator can enjoy smooth and highly responsive combined operation and travel, thanks to prioritizing oil flow according to requirements. A new ECO mode uses the latest electronic pump control technology to boost fuel efficiency further. There are several differences between the machines, besides their weight classes and engine configurations. For example, while the smaller EC140D, EC160D and EC180D all feature a new rear access to the main hydraulic components, a key feature of the larger EC235D excavator is its oversized heavy-duty undercarriage. Built for demanding terrain, the undercarriage protects against twisting and deformation, leading to longer life and more machine uptime.
All machines feature greased and sealed track chains as standard, with each track powered by an automatic two-speed shift travel motor, thereby maximizing tractive force. The track brakes are multi-disc, and travel motor, brake and planetary gears are all well protected within the track frame.
The superstructures on all five machines are also extremely robust and feature a host of anti-slip plates, steps and handrails to allow safe access to the machine.
Systems in harmony
All five machines are fitted with Volvo's latest diesel engines, which deliver exceptional performance and fuel efficiency, attributes maximized when combined with new hydraulics and well matched components. The engine uses precise, high pressure fuel injectors, turbo charging and intercooling plus advanced electronics to optimize engine performance. Maximum net power is 84 kW (113/114 hp NA/EU) for the EC140D, rising to 128 kW (172/174 hp NA/EU) for the EC220D and EC235D. When compared to the company's previous C-Series excavators, this represents an average increase in gross engine power of up to 7% across the five model range.
Operators can select the best work mode for the task at hand, ensuring optimum performance and fuel efficiency. Modes include: I-idle, F-fine, G-general, H-heavy or (EU only) P-power, with the machine automatically setting the appropriate engine speed for the work mode. ECO mode is a new feature that works in G to H (or P) mode. Pump flow is controlled for combined digging and swinging operations to reduce the flow loss through the overload relief valves, while maintaining digging power and maximum swing torque. Eco mode provides better fuel efficiency without loss of performance in most operating conditions.
Power is nothing without control
The new 'smart' hydraulics system is designed for high productivity, high digging capacity, easy maneuverability and class leading fuel economy. It features improvements that increase total flow and allow cycle times to improve by up to 2.5%. Independent and simultaneous movements of the digging equipment are controlled by an 'automatic sensing work mode.' It can also prioritize flow according to the work being done – e.g. to the boom for faster raising when loading or in deep excavations; to the arm during leveling or swing during large slewing angles. An Attachment Management system can store up to 18 pre-sets and enables hydraulic flow to be adjusted as per the requirements of the attachment in use.
A room with a (great) view
The operator's cab has easy access via a wide opening door. Offering operators excellent visibility, thanks to large glass areas and thin pillars, they are also quieter and safer; thanks to the cab being Roll Over Protective Structure (ROPS) protected and mounted on viscous silicon rubber mounts that iron out vibrations. Ideally placed and high quality controls and monitors, ample storage and leg room make these cabs a more comfortably spacious place for operators to spend their days. An optional rear view camera also improves safety by allowing the operator to see blind spots via the I-ECU display.
An advanced automatic climate control and defrosting system, featuring 14 vents, allows operators to choose their ideal temperature. A large color monitor provides good clarity in all light conditions. Both the operator seat and the joystick move independently – with the seat having nine different adjustments.
Support you can rely on
All five of these mid-sized machines from Volvo feature easy maintenance as standard. Accessed via wide opening compartment doors, grouped, ground-level filters and greasing points are all simple and safe to get to. Checks are done quickly, further improving uptime, and a service mode is incorporated into the I-ECU color monitor to allow diagnostic checks to be conducted. Four separate service intervals – engine oil/filter, fuel filter/water separator, hydraulic oil and hydraulic oil filter are all displayed on the monitor. There is also a quick anti-spill drain on the underside of the superstructure that doesn't require tools, allowing lubricant to be easily and cleanly drained.
These machines come fitted as standard with CareTrack, Volvo CE's telematic system. Accessed remotely, CareTrack provides machine information such as fuel consumption and service reminders that allow improved planning and operation. A comprehensive range of service plans are also available from Volvo's dedicated dealer network, ranging from routine wear inspections to full service agreements and Eco Operator training.