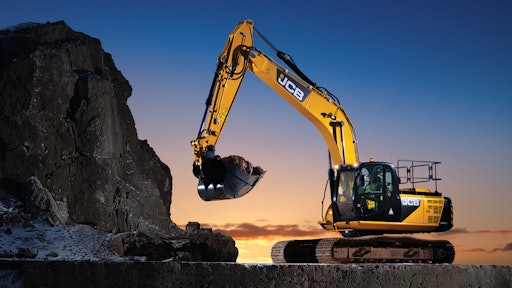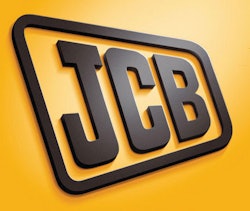 JCB is adding to its Stage IIIB/Tier 4 Interim heavy excavator range at bauma 2013, with the introduction of the crawler JS220, JS260, JS360 and the wheeled JS145W. The JS220 is the first heavy model to be powered by JCB's 4.8-liter Ecomax engine, which meets the Stage IIIB emissions standard without the need for any exhaust gas aftertreatment. The JS260 and JS360 continue to be powered by emissions-compliant Isuzu engines.
The machines feature improved operator comfort, with a standard 7 in. color monitor, lower noise levels, increased fuel efficiency, enhanced LiveLink functionality and JCB's Tool Select attachment system.
The main features include:
10% improvement in fuel economy with Ecomax
7 in. (17.8 cm) LCD monitor with

JCB

Smart Control
Increased operator comfort with lower cab noise levels
Improved

JCB

LiveLink Functionality
Clear Advantage For Ecomax
The JS220 is the first JCB excavator above 20 tonnes operating weight to adopt the company's highly-efficient Ecomax diesel engine. The 4.8-liter engine delivers 129 kW (172 hp) and is equipped with 2,000 bar common rail fuel injection, a variable geometry turbocharger and full electronic engine control, resulting in a 10% cut in fuel consumption and improved engine responsiveness. As with all JCB Ecomax engines, the clean burn technology results in there being no requirement for a costly, and bulky diesel particulate filter (DPF).
This is particularly noticeable at the rear of the machines as JCB's designers have been able to retain reduced engine cover lines, that in combination with the rear view camera, provide impressive visibility all around the machine. The JS220, along with the Isuzu-powered JS260 and JS360, use a new on-demand cooling fan that cuts fuel use and delivers a significant noise reduction. In combination with the Ecomax engine in the JS220, and an increase in soundproofing material on all models, the excavators deliver excellent in-cab noise levels.
The JS145W wheeled excavator uses the smaller 4.4-liter JCB Ecomax engine. The engine benefits from improved fuel consumption with reduced emissions, and has no requirement for a costly DPF.
Operator Information
The larger crawler excavators and the wheeled machine all feature a 7 in. full color monitor as standard equipment. The monitor is easy to read in all light conditions and provides the operator with customisable home screens, showing the information that they require. The display offers an improved interface for the JCB immobilizer system and includes camera inputs for the rear view camera and for an optional side view camera.
Simplified working modes are color coded to indicate fuel consumption levels and the H+ (Heavy) mode is now accessed through a two-stage process to prevent unnecessary use. The monitor can also be used to access the standard Tool Select function, or optional Advanced Tool Select (ATS), that allows the operator to pre-set the flow for one-way tools for up to 10 hydraulic attachments, and in the case of the ATS system pressure and flow, settings for hydraulic attachments such as breakers, demolition shears and augers.
Improved switchgear, charging and secure mounting for mobile smartphones along with a complete cab overhaul, with the option of three new JCB operator seats. Mechanical suspension is standard and customers can opt for a heated air-suspended seat or a premium seat with heating and ventilation plus both vertical and lateral suspension.
Improved LiveLink Functionality
Electronic engine control on all models results in increased functionality for the standard LiveLink telematic system, providing fleet managers and machine owners with additional data to help them reduce fuel consumption and operating costs, while improving utilization and machine productivity. The system provides real-time fuel consumption data that can be displayed in individual working modes. Managers can also compare different operating styles on the machines, that can lead to improved operator training and a raising of operator proficiency on site.
Remote PIN code management will allow fleet managers to change PIN access codes through the LiveLink system. This adds to fleet security and prevents unauthorised use of a machine, also allowing rental companies increased control over machine use when hires come to an end. LiveLink's ability pair with the machine's ECU also helps with theft prevention, as any attempt to remove the LiveLink system will alert the machine's ECU and activate the immobiliser.
Built To Perform
The JS220 excavator features a revised boom and dipper arm with deeper steel sections and castings in key pivot points. The improved durability results in reduced ownership costs for the customer. The JS260 and JS360 were previewed last year, however now benefit from the improved cab environment, large screen monitor and low-noise cooling fan that feature on the JS220.
Wheeled JS machines will now have directional control built into the right hand joystick, with the foot pedal acting as a speed control. This simpler, more intuitive layout will make it easier for operators to road the excavator between job sites. Wheeled excavators can also be specified with two selectable swing speeds and a medium flow auxiliary circuit, for improved attachment use. Reversible cooling fans are also available as an option for machines working in demolition and waste handling duties.