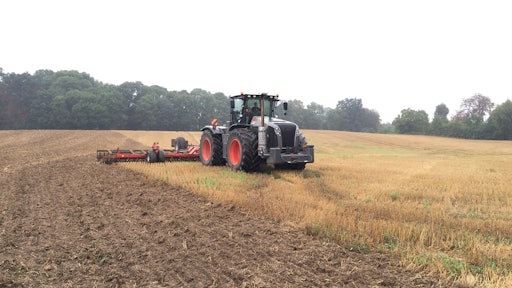 GKN Wheels' Profi-Grip wheel is proving its value in the heatwave that is currently sweeping through large parts of Europe, with the extremely dry ground requiring much higher traction for soil tillage.
Featuring a unique profile designed to eliminate tire-to-rim slippage, Profi-Grip was launched last year specifically to meet the growing demand from ever-larger and more-powerful tractors.
The new design of the wheel rim features a strong flange which both minimizes rim-shrinkage and serves to protect the tire when used at low pressure. The Profi-Grip wheel also incorporates GKN Wheel's unique Profi-Fit TW design, which allows high-load capacity tires, with very stiff sidewalls, to be mounted easily and with no risk of tire damage.
Commenting on the product's success, Michael Weissbach, GKN Wheel's Product Manager, says, "Tire slippage has become increasingly problematic over recent years. The combination of larger tractors, increased horsepower, larger implement machinery, low inflation pressure with Central Tire Inflation systems (CTIS), and heavy loads is causing tire slippage.
"We saw the benefits of Profi-Grip in wet and heavy conditions during the winter, but now it is increasingly proving its value in the extremely dry conditions we are now seeing, where the issues of traction and tyre slippage are equally problematic.
"With manufacturers developing tires to run at low inflation pressures to maximize the footprint, an inevitable consequence of this is that the interaction between the tire and rim is being compromised, particular when operating in extremely wet or dry soil conditions, with tire slippage often being the result. The new Profi-Grip rim profile has been developed specifically to address this problem.
"Other solutions either use stronger materials, which significantly increases the weight of the wheel, or weld a reinforced ring to the flange, which results in uncontrollable shrinkage of the ring in this critical area of the wheel. Although the ring may be strengthened, the contact of tyre and wheel is no longer optimal."
Designed to ETRTO (European Tire and Rim Technical Organisation) standards, the Profi-Grip wheel has been developed to deliver significantly improved contact pressure between the tire and rim - which not only eliminates slippage, but also makes the fitting of high-load capacity tires faster and more straightforward and provides enhanced durability. Extensive tests, both on-track and in-field, have confirmed that the rim design completely eliminates tire slippage.