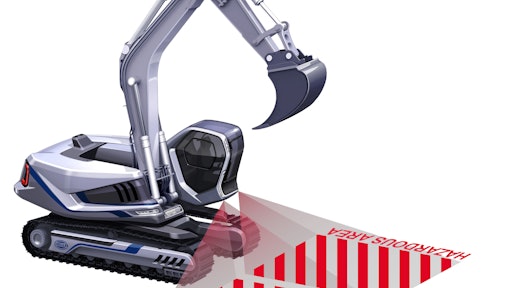 HELLA Inc.
Lighting is an important aspect of equipment design, particularly in regards to safety as it helps ensure better visibility in various applications. It can be used in a variety of ways—to light the path of machine travel, to provide warning signals or illuminate the interior of a machine.
One of the biggest changes taking place within the heavy equipment industry has been the move to LED lighting. Over the last several years, manufacturers have increased their use of LEDs as the benefits they can offer have become more apparent. "[The] industry is in a state of transition to LED lighting," says Pawel Stec, Director of Off-Highway, Sales at Grote Industries. "Some players [have] moved totally to an LED technology, others are in-between but planning to move towards LED."
Compared to conventional halogen lights, LEDs are capable of providing better illumination—which helps increase visibility and thus safety—and consuming less power which is particularly beneficial as the trend toward vehicle electrification continues. Stefan Maierhofer, Global Product Manager, Worklights at HELLA Global, says LEDs provide homogeneous, daylight-like illumination, improving not only visibility but also driver fatigue. By producing a light similar to that of the sun, drivers feel less eyestrain—and therefore less tired—and can be more productive.
Maierhofer says LEDs also make it possible to create entirely new trends in vehicle design, and improve brand identity and appearance. Their smaller size enables a larger variety of design and customization options.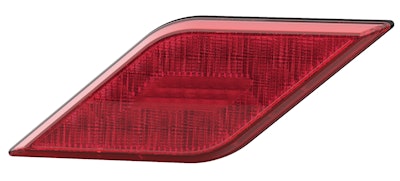 He notes that modern lighting solutions and design are gaining increasing significance within the off-highway equipment industry. "Unique and distinctive design plays an increasingly important role…and customized LED lighting solutions are an optimal way of achieving this." This is one of the reasons HELLA developed its Shapeline Series modular lighting technology. Shapeline features micro-optics in the interior and exterior lenses to provide a homogeneous appearance. It is also multi-voltage capable, making it suitable for both 12 and 24V systems.
A variety of shapes and style combinations are possible with Shapeline, enabling manufacturers to tailor the design of the lights to their specifications. The technology is available in a classic straight-line "Tech Design" and a dynamic curved "Style Design." "Tail lights, brake lights, direction indicators and position lights are thus available in many different designs that can be mutually combined," explains Maierhofer. "Whether the front, side or rear of a vehicle, every vehicle series—big or small—can have a unique and, above all, consistent look using a customized configuration and arrangement of lamps."
While the off-highway industry is eager to adapt LED lighting, Stec says it is struggling with the higher costs of LED lamps. "The expectation of costs are more in line with halogen lamps," he explains. As both manufacturers and their end user customers continue to anticipate harnessing the benefits of LED lighting, however, the older halogen technology will be pushed out by LEDs, just at a higher cost level.
Multifunctional lighting
Among the many trends currently taking place within the lighting industry is the development of bi-functional, or combination, lights, such as Grote's new High/Low Beam 4 x 6 in. (10.16 x 15.24 cm) LED Headlamp. Alicia Jones, Product Manager at Grote Industries, says the true benefit of the product is the fact it's an LED bi-function headlamp in a small package. By providing both high and low beam functionality in a single solution, only one lamp is needed instead of two, reducing installation space. According to the company, combination lights such as this are becoming more common within the industry.
Stop, tail, turn and back-up lights are some of the more common combination lights within the industry, offering manufacturers multiple functions in one product. For its new 4 in. (10.16 cm) round LED stop, tail, turn and back-up lamps, Optronics International included the company's Light Guide technology to provide an additional customization element. According to Optronics, Light Guide uses a technique similar to fiber optic design in which the LED light is precisely channeled to create shapes and patterns. Currently, it is able to create a smoothly lit horizontal x-shaped feature in the center of the lamp lens that is surrounded by a more traditional LED pattern. In the future, the company says the technology's flexibility will enable text and logos to be potential design options.
Peterson Manufacturing's new LumenX 320/321 Series amber lights include both high-intensity agriculture warning/turn and low-intensity park/marker light circuits to ensure safety of agricultural equipment. The light meets new Federal requirements aimed at enhancing the visibility and safety of agricultural equipment. The recently adopted requirements include:
Standard ASABE S279.17 for ag equipment manufactured after June 21, 2017
NHTSA's U.S. Title 49 Part 562 agricultural lamp requirement
FMVSS 108 standard for front/rear turn signal, parking lamp, clearance, and side marker
The goal of the NHTSA (National Highway Traffic Safety Administration) requirement is to ensure agricultural equipment lighting can be seen from any angle. As many farmers now have to travel frequently between fields on public roadways, it's important other vehicles are able to see them. The LumenX light's multifunctional capabilities enable vehicles to be seen whether stopped or in motion, and provide bright, flashing, 360-degree visibility.
Improving safety is a continuous design goal for both lighting and equipment manufacturers. To help improve worksite safety, Superior Signals Inc. recently developed a series of dual color LED strobe lights. The dual color functionality of the light is designed to keep workers alert to the actions of machinery on the worksite. If a piece of equipment is moving, the strobe light will flash one color. A second color will be flashed when the machine is stopped but performing an action so workers know to remain alert.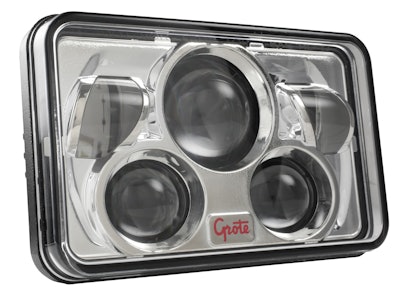 Smart technology
Creating more intelligent lighting technologies is another way manufacturers are working to evolve lighting as well as help improve safety. Maierhofer says the company is engaged in discussions with customers about future smart solutions which move away from simple "on/off" headlamps. Some of the intelligent technologies HELLA has developed are featured on the new Smart CAB introduced at Agritechnica 2017 and designed by the CAB Concept Cluster, of which HELLA is a member.
The Smart Matrix Worklights by HELLA, for instance, minimize the glaring effect for other vehicles in the field by enabling individual LED segments to be dimmed. A light reference sensor within the light reduces auto-glare that may result from dust, auxiliary equipment or oncoming vehicles.
For 100% line-of sight illumination, an eye-tracking camera is integrated onto the roof of the cab to trace the driver's line of sight and dim the non-observed surrounding.
Maierhofer says this technology also fits in with the move toward lights with higher pixilation—which aids the use of glare-free high beams—and the trend of digitized lights. The latter is especially beneficial as vehicles become further electrified and automated. He says individual control of the the Matrix headlight's LEDs is done without using mechanical actuators, but is purely electronically controlled.
"The digitization of light and new lighting components paves the way for additional functions, such as the individualization of vehicles," he explains. "For example, you can illuminate the radiator grill and projections, such as a welcome scenario for the drivers. Through the development and application of new technologies, the signal lighting can also be used as a styling element.
"Organic LEDs, so-called OLEDs, or holographic technology make it possible to create three-dimensional structures in the rear lighting, thus making the brand-specific appearance even better," he continues.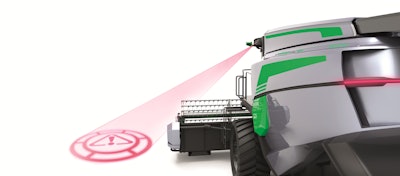 HELLA's new VISIOTECH Projection-Technology which includes a projection module, is featured on the Smart CAB, as well. It enables warning signals and/or logos to be projected onto the ground to optically alert other vehicles or passers-by. It can also optically delineate work areas.
The module for the VISIOTECH Projection-Technology uses lens optics specially designed by HELLA and features a light projection length of approximately 4 m (13.1 ft.). Customers can choose the logos or warning signals projected by the system which uses LED technology.
The system provides optimal visibility in daylight as well as at night, says Maierhofer. "The performance of lighting devices on vehicles plays an important role not only in the dark. Even in daylight, new lighting solutions can contribute to more safety and comfort at everyday work."
The VISIOTECH Projection-Technology can be used in various heavy-duty equipment applications. In the construction industry it can be particularly beneficial as a means of demarcating danger zones during various types of operations such as unloading of a bucket or truck.
Like the Matrix work lights, the VISIOTECH Projection-Technology fits in with the trend of light digitization and meeting the increased safety needs of autonomous and electric vehicles. "Market trends such as autonomous driving, digitization and connectivity, efficiency and electromobility, as well as individualization have a strong influence on entire vehicle lighting," says Maierhofer. "In terms of autonomous driving, for example, it will become more important in the future for communication between autonomous and non-autonomous vehicles and pedestrians" with which lighting systems can help.
Jessil Joseph, Business Development Manager at Grote Industries, says styling and aesthetic demands will continue to grow, as well, and cause current on-highway lighting solutions to move into the off-highway industry.
"Smart lighting is something the industry could see in the next few years, [and] will be created by incorporating sensors and controls into lighting." However, Joseph concludes adoption over the next 5 years will be limited.
Companies in this article