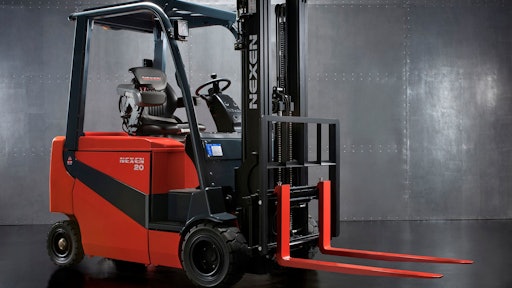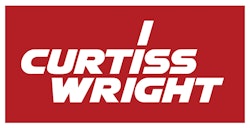 Curtiss-Wright's Industrial division – including its legacy brands of Arens Controls, Penny & Giles, PG Drives Technology and Williams Controls – is a recognized leader in providing components and sub-systems that enable customer specific solutions for a wide range of material handling equipment, including pallet/stacker trucks, reach trucks and counterbalance trucks.
For one application, NRH272 rotary position sensors from the Industrial division's brand family of Penny & Giles have been specified for use on a range of British-designed and manufactured electric forklift trucks from Nexen Lift Trucks.
The Challenge
To maximize storage space within a building footprint, aisle width in warehouses is being reduced and many lift truck manufacturers are having to adopt the latest technologies to ensure material handling vehicles can operate safely and effectively within these new narrow-aisle environments. Additionally, many lift truck operators are reviewing the environmental impact of running forklifts using traditional internal combustion engines but, until recently, electric-powered vehicles haven't been able to provide similar levels of performance and productivity associated with traditional internal combustion applications.
During its research and development process, Nexen identified the need for electric models and its latest X-Range includes the three-wheeled FBXT lift truck using a Nexen-designed and manufactured axle; and a four-wheel FBX version using a purpose-designed steering axle.
For both axle types, Nexen needed rotary position sensors that could detect steering position, with feedback from the sensor enabling control of the truck speed and direction, and displayed to the operator via a cabin-mounted Graphical User Interface (GUI).
Commenting for Nexen, Technical Manager Shaun Bailey says, "We needed a sensor that would combine maximum functionality with a design that was robust enough for our application. Angle range, redundancy, voltage range and versatility were all considered before we chose Curtiss-Wright."
The Solution
A bespoke version of Curtiss-Wright's NRH272 has been supplied with a 5V power supply option, 10-90% voltage output, Deutsch DT04 connectors and an electrical output set to correspond to rotations of between 20 and 360 degrees. For added safety functionality, the sensor's on-board diagnostic functions mean the outputs can enter into safe, pre-defined states should an internal sensor error be detected.
With over 30-years experience in the materials handling sector, Nexen has established itself as a reliable and cost-effective manufacturer of high quality, innovative products for the materials handling market. As Bailey explains, the Curtiss-Wright NRH272 complements Nexen's reputation: "Much like Nexen, Curtiss-Wright has a reputation for quality and dependability, so when looking for a high quality sensor, it made sense to consider the NRH272."
The Curtiss-Wright NRH271/NRH272 range of non-contact, rotary position sensors with Hall-effect sensing technology is designed to supply an optimum combination of performance, safety and cost effectiveness. The sensor is accommodated in a low-profile housing with a compact footprint; and its robust design offers outstanding protection from water, dust, shock, vibration and temperature, making it ideal for use in arduous, on- and off-highway vehicle applications. In addition, its incorporated non-contact, Hall-effect technology makes the sensor incredibly hard wearing.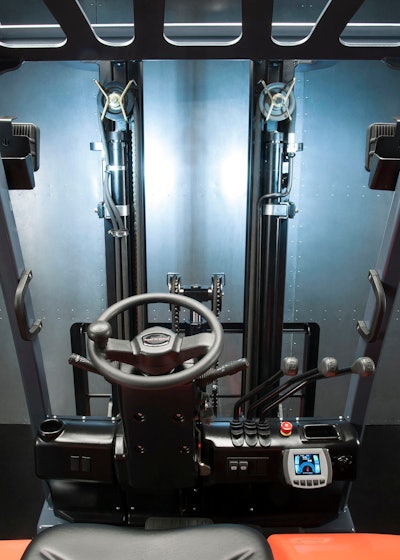 Connection options are industry-standard AMP Superseal (IP68 rated) or Deutsch DT04 Series (IP67 rated) connectors, or simple flying leads for customer termination. The sensor can also be supplied with a protective conduit for the cabling.
The Results
Having been designed from the ground up, Nexen's all-electric X-Range lift trucks use integrated technology – including Curtiss-Wright's NRH272 rotary position sensors – to provide unprecedented combinations of performance, productivity and cost-effectiveness, all without compromising operator safety and comfort.
The FBX and FBXT models within the X-Range are the latest in the Nexen line-up of electric counter-balanced forklift trucks. They have been specifically designed for the logistics and warehousing sector, whilst being developed to apply the most advanced technology and versatility available. The three- and four-wheel variants allow for a range of applications including the loading, unloading, shunting and storage of raw materials, goods and production materials; with lifting capacities ranging from 1.6 to 2 tonnes and different motors, transmissions and mast options available. Both models are also available in long- and short-wheel-base formats to provide a productive and energy-efficient solution for numerous lifting applications.
Having brought the design, manufacturing, research and development processes back from Taiwan to the UK, Nexen expects the X-Range to be extremely successful in the European market. "We originally handled manufacturing and R&D in Taiwan but, in recent years, have brought it back to the UK. It's a big step for the company because it gives us much more control over the product and quality; and it gives us the ability to put our forklift trucks in the hands of some of Britain's top designers and engineers," says Bailey.