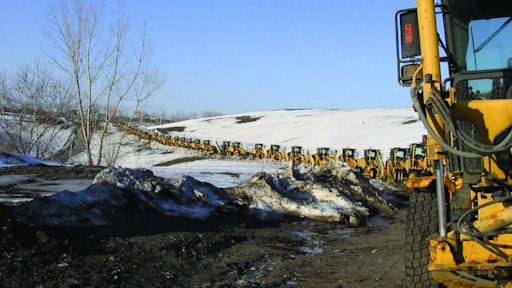 One cold November morning, two people cut a city storage yard fence from its posts, started several Volvo G900-Series motor graders and drove slowly out to an unmarked building in Laval, just north of Montreal, Canada. The thieves intended the building as a hideout until things blew over and investigators gave up, but CareTrack – Volvo Construction Equipment's telematics system – was already on the case.
Fitted to all new, larger machines (in markets currently offering the system) CareTrack works with each machine's diagnostic system to transmit operating and location data wirelessly, via a mobile telephone network or satellite communication, to fleet managers and dealers, locally and across the globe. Obtaining the current and historical operating data is as simple as logging on to CareTrack's password protected web portal.
Discovering the theft, a city public works official telephoned Gilles Ager, Technical Service Director of Strongco Equipment, Volvo's dealer in Laval. Gilles Ager immediately went online to CareTrack, which reported the street location of the missing machines – so new, they only had 10 hours of operating time. After an investigation by police and city officials, the motor graders were returned to the public works lot by 9 p.m. the same night.
Claude Lussier, Montreal City's Mechanical Foreman, said one unprotected motor grader was stolen several years ago in Plateau Mont-Royal and never recovered. "CareTrack traced the machines so fast. The police told us that if just one more day had passed they would have been gone," he said.
Bill Hurni, Product Manager in the Volvo Customer Support Division in Asheville, North Carolina, says: "With CareTrack, your machines are always online, talking to you. You know where your machines are located, when it's time for service, and, most importantly, that each machine is in optimum use. Our primary focus is getting important information to the dealer and the customer."
Graded on good service
Montreal has an annual snowfall of nearly seven feet (over 2 metres). So the city uses 51 Volvo G900-Series motor graders, rented from Strongco, to clear thousands of roadways, parking lots and walkways for the 3.6 million people that live there.
The city has enjoyed a 10 year relationship with Strongco – one of the largest multi-line equipment distributors in Canada."The partnership between the city and Strongco has been built upon Strongco's professional, responsive service and reliable equipment," says Lussier.
CareTrack customer support
Launched in 2006, Volvo's CareTrack is racking up millions of dollars in savings for users around the world, from enabling enhanced maintenance planning and reducing inappropriate use to lowering fleet and project insurance costs.
There are currently two versions of CareTrack on offer. While the Basic version is available for all Volvo Construction Equipment as well as machines from other brands, CareTrack Advanced is designed for Volvo's larger equipment, including wheel loaders, excavators, articulated haulers and motor graders. The Advanced version also offers the ability to review fuel consumption data, see error codes or alarms the machine has generated, and to download all logged data in the machine's tracking system.
"Signals are sent every time the machines are operated, reporting everything from location to idle time," says Bill Hurni. "CareTrack can produce information on a group of machines or even entire fleet reports.
"One recycling professional told me that he can go into CareTrack and see if his operators have the differential lock engaged when it doesn't need to be," he continues. "He saw one articulated hauler operator with it on for a long period of time and called him to say, 'Hey. What are you doing out there?' With CareTrack, you have more information at your fingertips than if you were actually on the work site."
CareTrack is currently available in parts of Europe, North America, Indonesia and the Middle East, with plans to launch into Brazil this year and then on to China, Korea and the Eastern Region. "As far as the industry goes, we're just scratching the surface of this," concludes Hurni. "Thanks to CareTrack, the machines are talking and we're listening."
*This article features in Volvo Spirit Magazine, issue 37. View the magazine and past issues using Volvo's online magazine viewer at: http://www.volvo.com/constructionequipment/corporate/engb/press_room/magazines/spirit_magazine/spiritmagazine_archive.htm