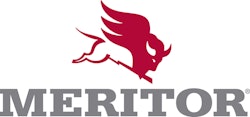 Meritor WABCO supports the Commercial Motor Vehicle Advanced Safety Technology Tax Act of 2011, introduced by Congressman Geoff Davis (R-KY) and Mike Thompson (D-CA) on May 4 as H.R. 1706. The bill would provide an income tax credit for proven advanced safety technologies to owners of commercial trucks, buses and commercial motor vehicle fleets.      
Meritor WABCO's SmartTrac Stability Control System and OnGuard Collision Safety System are safety technologies included in H.R. 1706.   
"We strongly support the introduction of this legislation and would like to thank Congressmen Davis and Thompson for their continued efforts in advocating for commercial vehicle safety technologies," says Jon Morrison, president and general manager, Meritor WABCO. "This bill will assist carriers and owner operators to specify safety technologies needed to prevent thousands of crashes annually involving commercial vehicles. Highways would be safer for fleet drivers and passenger car drivers alike."
The proposed bill facilitates the accelerated development and deployment of advanced safety systems by providing tax credits to purchasers of commercial vehicles of up to $1,500 per safety system and $3,500 per vehicle. This tax credit, which cannot exceed $350,000 annually per taxpayer, could be used toward the purchase of Meritor WABCO SmartTrac Stability Control Systems and OnGuard Collision Safety Systems.
SmartTrac is integrated in the braking system and provides enhanced vehicle stability. It is a comprehensive package of innovative safety products including anti-lock braking systems, automatic traction control, electronic stability control (ESC), roll stability control and trailer RSSplus.  A study released by the National Highway Traffic Safety Administration (NHTSA) portrayed potential safety benefits of roll stability control and electronic stability control and concluded that if all existing five-axle tractor-trailers operating in the United States were fitted with ESC, 4,659 crashes, 126 fatalities and 3,132 injuries could potentially be prevented annually.
OnGuard uses forward-looking radar sensor technology to assist the driver in maintaining a safe following distance and provides a warning and up to .35Gs of braking power as needed to avoid a potential rear end collision.
The passage of this bill could ultimately lead to fewer crashes, fatalities and injuries as a result of commercial vehicles being specified properly with advanced safety technologies.