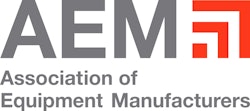 The Association of Equipment Manufacturers (AEM) has produced a new safety manual for mounted log harvester/processors that outlines safe practices for equipment operators, maintenance personnel and other workers on the jobsite. The manual covers a variety of topics, including chain shot hazards, processor head maintenance and operation in hazardous conditions.
In addition to promoting safety-conscious attitudes and performance, AEM safety manuals help operators and others on the jobsite improve productivity, minimize downtime from accidents and lessen repair costs due to improper maintenance.
The new AEM safety manual was developed under the guidance of AEM's Forestry Equipment Council and draws upon the combined experience of manufacturers dedicated to safe equipment operation.
AEM safety manuals offer sensible "do's and don'ts" featuring typical daily situations on the jobsite. Safety messages are presented in clear, readable language with illustrations to help aid understanding. The manuals are an easy and cost-effective way to provide safety training on the job or in the classroom as well as individual usage.
AEM's safety and training materials cover more than 40 types of equipment used in agricultural, construction, forestry and utility applications. All AEM safety manuals, videos and related safety and training products are available online in the AEM store at http://shop.aem.org. Some safety materials are offered in downloadable files or in DVD format. AEM members receive discounts on select materials.