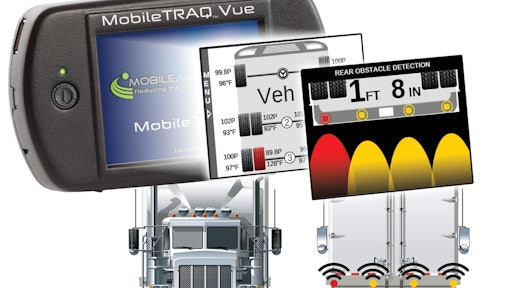 Mobile Awareness LLC, a provider of leading-edge transportation safety products, introduces its first MobileTRAQ Vue feature upgrade by integrating the SenseStat Obstacle Detection Backing Sensor System.
The low-cost SenseStat hardware add-on feature works with the MobileTRAQ Vue by displaying four zones behind the vehicle to help fleets and drivers prevent backing accidents. The system automatically detects when the vehicle is in reverse and changes the display from monitoring the TireStat tire sensors to displaying the SenseStat backing sensors. The waterproof sensors work in all weather conditions and provide the location of an obstacle within four individual zones behind the vehicle, accurate to within 1 in. (2.5 cm). The MobileTRAQ Vue monitor displays all zones in real-time, indicating the specific area closest to an object.
"Extending the value of MobileTRAQ Vue by integrating our SenseStat Obstacle Detection Sensors provides commercial vehicle fleets with a cost-effective and easy to install accident prevention solution," says Gary Rothstein, President at Mobile Awareness. "What makes it even more valuable is that there is no additional display to distract the driver on an already crowded vehicle dashboard, furthering the MobileTRAQ promise of One Monitor, Multiple Uses."
Rothstein concludes, "The goal in developing MobileTRAQ is to provide a software and hardware expandable platform, designed in the US, which enhances safety and accelerates the return on investment for our customers. With the addition of SenseStat, we are fulfilling that objective."
Attendees at the ATA Technology and Maintenance Council show can see a live demonstration of MobileTRAQ Vue integrated with SenseStat at booth number 851.