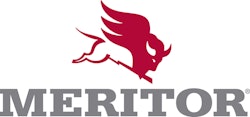 D. Mike Pennington, a significant presence in the North American trucking industry and retired Meritor Inc. employee, passed away suddenly on December 5.
"Mike's contributions to Meritor during his 25-year tenure, and over the past several years, were extraordinary," says Krista Sohm, Vice President, Marketing and Communications. "He was passionate about the industry. His love for his work and drive for results was contagious. Mike was a mentor, a friend and a gentleman, and he left an impression on us that will not be forgotten. We are all better for having known him."
The Memphis, TN, native earned a Bachelor of Arts degree in journalism from the University of Memphis in 1972. Pennington began his career as a reporter and editor for the Southern Motor Cargo Magazine.
As a journalist for trucking publications, he gained the respect and trust of the industry both through his work and his engaging personality. Pennington shifted gears in 1985 when he began working at Meritor – then Rockwell International – as manager of Product Publicity & Business. In the years that followed, he held several roles of increasing responsibility in Marketing. Following the company's spinoff from Rockwell in 1997, he was promoted to a director responsible for marketing communications in North and South America, then globally, for Meritor.
Pennington retired from Meritor as Senior Director, Marketing Communications in 2010. He continued working in the industry after his official retirement by forming a consulting business, PenNotes. He served as an adviser and editor for various media publications and consultant for multiple industry businesses, including Meritor, which he continued to represent. He dedicated his time to many industry associations and encouraged others to do so as well. Most recently, he was President of ACT I (Allied Committee for the Trucking Industry) and Vice Chairman, Communications & Image Policy Committee, American Trucking Associations.
Pennington resided in Fernandina Beach, FL, with his wife Patsy, but was a longtime resident of Michigan. He was 64.
In memory of Pennington and his commitment to the trucking industry, the company will make a contribution to Trucker Buddy International, a nonprofit organization dedicated to helping educate and mentor schoolchildren via a pen pal relationship between professional truck drivers and grades K-8 classrooms. Pennington served two terms on the board of Trucker Buddy and subsequently became an active member of the advisory board.
The Celebration of Life will be held Friday, Dec. 12, 2014 at 11a.m. at:
The Amelia Island Club
5 Ocean Club Drive
Amelia Island, FL 32034
The Omni Hotel at Amelia Island is offering villa rates for those wishing to stay overnight. Contact Romi Woodin at (904) 491-4700 to make arrangements.