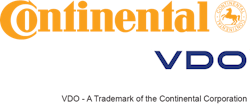 The Commercial Vehicles & Aftermarket business unit of Continental, a leading global supplier of systems and components to automobile and truck manufacturers and a world leader in Electronic Log technology, offers a wide range of products that fleets, independent contractors and commercial drivers can use to improve the safety, reliability and efficiency of their operations.
Exhibiting together with its Continental Tire colleagues, the Continental Automotive - Commercial Vehicles group will be showcasing a wide range of products and innovations at the 2015 Mid-America Trucking Show (MATS) March 26 to 28, 2015 in Louisville, KY, at Continental booth 18252.
The company will feature the VDO RoadLog ELD suite of products for the commercial vehicle market, as well as Continental ProViu ASL360 Camera/Monitoring Systems, VDO Camera Systems, Continental AutoLinQ Mobile, a smarter smartphone docking station, the latest and most advanced VDO brand aftermarket Gauges and Sensors and Continental OEM Instrument Clusters.
Continental ProViu ASL360 Camera System
The Continental ProViu ASL360 Camera System is designed to give drivers an optimal, all around view of the vehicle on a single screen. Four wide-angle micro-cameras monitor the front, rear and sides of the vehicle and display the video feeds as a single panoramic stream on a 7-inch display. The system offers a choice of angles: top-down bird's-eye, raw 180-degree, specific focus single views and multiple split screens. ProViu is easily adaptable to current vehicles and can be integrated into the existing center rack display.
Additionally, Continental introduces a new automotive grade DVR to its ProViu ASL360 Camera System Program. The DVR gives users GPS functionality and the added capability of recording up to 32 GB of footage on a standard SD card. It can record up to four video feeds at one time as well as vehicle speed. A G-sensor logs acceleration at the time of the recording. These features make the new DVR an excellent tool for liability purposes. 
VDO Rear and Side View Camera Systems
VDO Camera Systems greatly increase vehicle safety and visibility. They can be used to eliminate blinds spots around the vehicle and improve overall maneuverability, whether the vehicle is on the road or parking. VDO camera systems feature 7-inch color monitors (single and quad screen display) with cameras that offer normal/mirror modes, 100% waterproof housing, vibration resistance and infrared LEDs for night vision. They are designed to meet all OEM specifications and are offered as flexible kits with very competitive pricing.
AutoLinQ Mobile Smartphone Docking Station
This flexible, innovative smartphone docking station (FSDS) integrates drivers' smartphones with their vehicles to make the phones usable in a safe manner while driving. AutoLinQ provides one-touch functionality, giving drivers and passengers safe access to a large number of in-car services as well as several infotainment and communication channels via a single interface. Using Bluetooth connectivity between the vehicle and smartphone, AutoLinQ Mobile also allows drivers to play web radio from their phones.
VDO World-class Instrumentation
VDO Instrumentation is designed to deliver world-class accuracy, durability and dependability in the most rigorous environments. Built with the most reliable technology available, VDO Instruments are easy to install, easy to read and are all offered at very competitive pricing. The full VDO Instrumentation offering includes traditional analog gauges and sensors/senders as displayed at MATS, as well as CAN-based systems, screen-based information displays and advanced, yet affordable, instrument clusters.