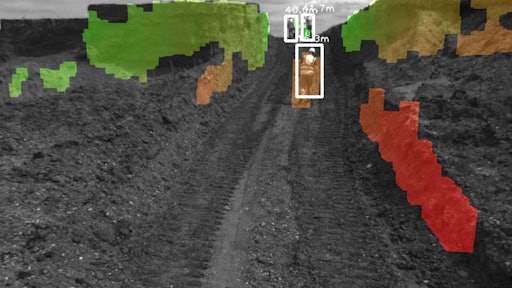 ITK Engineering
The software and system developer ITK Engineering will be making its debut at the bauma trade fair April 8-14, 2019, showcasing its solutions toward enhancing occupational safety and health and productivity for mobile machinery using smart sensors. The technology company will be featured prominently at the joint stand 417 in hall A2 with its partner Netzwerk Baumaschinen NRMM, a network for construction equipment and non-road mobile machinery. ITK Engineering is to present its 3D terrain mapping application there. This smart camera-based assistance system detects people and objects on terrain where visibility is poor. Vendor-agnostic, it integrates into mobile machinery of different manufacturers. The company will also present concepts and models that have proven their merits in practice, for example, a safety surveillance application with redundant radar sensors. Using a concrete mixing plant serving as an example, ITK Engineering will demonstrate how a safety-critical system can be created and configured in the virtual realm using optical ray tracing.
Human error is among the most frequent causes of accidents when operating mobile machinery. Limited visibility is often to blame for fatal incidents when machines collide with or run over people. "While analog camera monitoring systems were originally used as aids to improve visibility, the pace of innovation is accelerating today. Innovative, future-proof solutions, to include building information modeling, can be created with a host of electronic sensors, active assistance systems, and the benefit of digitization. However, they also present new challenges for manufacturers, operators, and employees," says Karlheinz Pfeiffer, head of Netzwerk Baumaschinen NRMM. This is why the network supports and connects stakeholders at various levels, bringing relevant counterparts to the table with providers of integration solutions, for example. The organization aims to develop practical systems, advance the state of the art in functional safety, and raise awareness for this among market players.
Tapping the potential of automation
"As the share of digital electronics in modern machinery increases, there is new automation potential to be tapped that could accelerate standard workflows and lighten operators' workloads. It is often possible to simultaneously reduce pollutant and noise emissions with optimized drive train regulators and purposeful energy management," says Uwe Westermeier of ITK Engineering, a partner in Netzwerk Baumaschinen NRMM. For example, digital stereo camera systems paired with specially developed algorithms can locate objects of any size in the terrain, in three dimensions, and with precision. They can even distinguish between different types of objects, such as humans, animals, and special machinery attachments, or piles of material. Sensor data processed and evaluated in this way provides key information about the machine's environment that can enhance occupational safety and health. Westermeier will be at the bauma fair, using the 3D terrain mapping demonstrator developed by ITK Engineering to explain which software modules are available for developing manufacturer-independent solutions and integration in customer-specific machinery or components.
As a development partner, ITK Engineering not only provides smart image and sensor data processing, security and networking solutions; the company also helps customers ensure the functional safety and licensing certification of mobile machinery.