ZF Friedrichshafen AG
As the development of autonomous vehicles continues to increase in both the on- and off-highway industries, more manufacturers are partnering with one another to develop the necessary technologies.
The on-road commercial vehicle segment especially has seen an increase in partnerships for developing autonomous vehicles as of late. On March 28, ZF Friedrichshafen AG announced it had signed an agreement to acquire WABCO. With this merger, the companies will bring together their complementary technologies to become a leading integrated systems provider for the commercial vehicle industry.
Wolf-Henning Scheider, CEO of ZF Friedrichshafen AG, said during a conference call on the merger that the automotive and mobility industry is experiencing what might be the biggest shift it has ever seen. "We are moving fast in the area[s] of autonomous driving and new drive systems," he said. To help ZF better adapt to the industry's changing landscape and meet the goals of its Next Generation Mobility strategy, the company chose now as the time to acquire WABCO.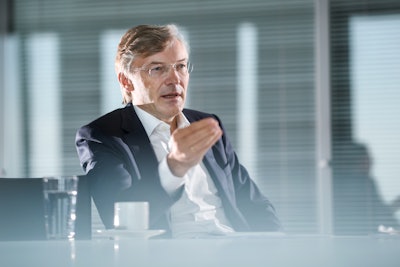 Read more about ZF's Next Generation Mobility strategy, and the growing emphasis on automation and electrification in the commercial vehicle industry in the article "Electrification and Automation are the Future."
The day following ZF and WABCO's announcement, Daimler Trucks announced it would acquire a majority stake in Torc Robotics, a developer of autonomous driving solutions. "With the ever-rising demand for road transportation, not the least through e-commerce, there is a strong business case for self-driving trucks in the U.S. market and I believe the fastest path to commercialization for self-driving trucks is in partnership with Daimler Trucks, the OEM market leader," said Michael Fleming, CEO of Torc Robotics in a press release announcing the acquisition.
"The potential of automated driving is just amazing," said Martin Daum, Member of the Board of Management Daimler AG, responsible for Trucks and Buses, during a conference call about the acquisition. "We recognized early on the tremendous potential of this technology [automation] for more safety [of] road freight transportation, as well as for greater efficiency and sustainability.
"Global transport volumes will continue to increase over the years and decades to come," he continued. "And automated driving is [an] important lever to manage this increase in an economical and socially meaningful way. That's why we have been pressing ahead on [autonomously] driving trucks for years."
Combining technologies speeds development
Bringing WABCO's portfolio of products into ZF's will allow the companies to accelerate development of new technologies as they will be able to bring together their combined expertise in designing automated systems. While many of the WABCO technologies will be complementary to those of ZF, its braking system will be a new addition. This will be a crucial element for automatic driving, said Scheider, as it is a key aspect of ensuring the safety of the vehicle—enabling it to stop when necessary. WABCO will also bring its strong footprint in emerging markets such as India and China.
Additionally, WABCO will add to ZF's vehicle motion control and connectivity portfolios. "Looking at the product portfolio, it's quite a range with integrated braking systems and stability control systems for trucks, trailers and buses. Also, components for suspension systems, automatic transmission controls and for aerodynamics, [as well as] telematics and fleet management solutions," said Scheider. "So, this fits well [with] ZF's strategy."
"WABCO has an attractive and profitable growth portfolio, and it is backed by product and a great market position, and great access to commercial vehicle OEMs," he added.
"The positive thing is that WABCO and ZF's portfolios are largely complimentary, and there's also a strong sense of shared values among the two companies and their workforces," Scheider went on to say. "We have already a long history of successful collaboration. In the past we have developed innovative technologies together and in the future that will help us to a speedy and seamless integration of the companies."
For instance, in 2016, the companies developed their Evasive Maneuver Assist (EMA) technology which takes control of the steering wheel if an obstacle is detected and the driver does not take corrective action. This technology was demonstrated on the ZF Innovation Truck 2016 which the company used to show how various technologies could be incorporated onto a truck as a means of improving safety. Using this previous joint development experience will make it easier for the companies to work with one another going forward on future automation technologies.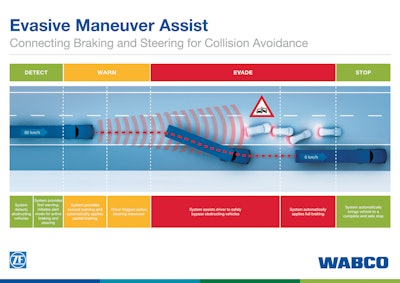 Scheider said the combined companies will create the world's leading integrated systems provider for commercial vehicle technology, and enable the development of next generation technologies for autonomous driving functions that can be brought to the passenger car market as well as the commercial vehicle segment.
The aim is to integrate WABCO into ZF's commercial vehicle division and create one cohesive business unit. This will begin once all of the necessary approvals have been completed by the various authorities, such as the European Commission and import-export authorities. There are also about 10 countries that will need to approve the transaction, said Scheider. WABCO's shareholders will also need to approve the deal. The company expects the deal to be closed by early 2020.
Because of the complexity of automated systems, Daum noted the importance of teaming up with an experienced partner like Torc Robotics. Working together will enable the companies to gain experience as quickly as possible about these systems in order to gradually introduce more highly automated driving.
Torc Robotics has been developing automated driving systems since 2005, and has tested automated vehicles on public roadways in a number of states; it has also conducted a coast-to-coast trip across the U.S. It will bring this knowledge to the partnership, while Daimler will bring its understanding of the unique needs of the trucking industry, as well as its experience developing autonomous vehicles—such as the Freightliner New Cascadia with Level 2 automated driving shown at the Consumer Electronics Show 2019.
In addition, Daimler has the global footprint and global platforms required to quickly roll out new technologies, said Daum. "In sum, we are forming the ideal combination between Torc's expertise in agile software development and our experience in delivering reliable and safe truck hardware."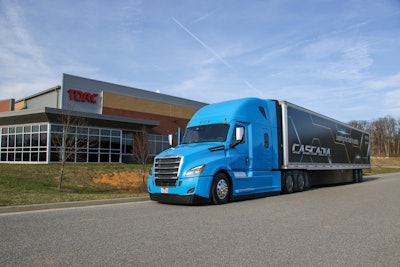 The companies' research teams will work closely with one another, with Torc Robotics remaining a separate entity that will retain its name, location and staff. It will continue to develop its self-driving software and work with customers to create the custom hardware and software it has been successfully commercializing in several industries, said Roger Nielsen, CEO of Daimler Trucks North America LLC (DTNA), during the conference call about the acquisition.
Mining is one such industry Torc Robotics has also been working in, partnering with companies like Caterpillar Inc. to develop autonomous systems. Read more about this in the article "Automation by Any Means Available."
Nielsen said DTNA will focus on further evolving automated driving technology vehicle integration for heavy-duty trucks. "The Daimler Trucks North America team is working on a truck chassis perfectly suited for automated driving, particularly the redundancy of systems needed to provide the maximum level of reliability and the maximum level of safety."
The first developments will be for hub-to-hub applications; the first regional focus will be on the U.S. as "we have an excellent infrastructure, homogenous traffic flow and large distances," said Nielsen.
"Torc is a great fit to make this happen," he continued. "Not a startup, Torc is one of the world's most experienced companies for vehicle automation with road ready technology and experience with heavy equipment. This allows us to take a very practical approach to commercialization. Torc's Level 4 system has been shown to operate well for both urban and highway driving in all the diverse weather conditions we experience in this country."
"We've already commercialized self-driving systems in safety critical applications like mining and defense," said Fleming during the conference call. "There's much more to do. We believe the fastest and most efficient way to commercialize this revolutionary technology is by partnering with OEMs."
The time is right
ZF felt this was the right time to acquire WABCO not only because of the advancing technology trends within the industry but also due to its currently strong financial position. It also has the experience of incorporating such a large company into its own business, having recently done so with TRW, said Scheider. "With our TRW purchase only a few years ago, we have a lot of experience with integration of a larger company," he explained. "The blueprint is pretty much similar to what our experience was with the TRW integration, we will proceed in a quite similar way."
"We see great opportunities ahead, but they will be more challenging to realize," said Jacques Esculier, Chairman and CEO of WABCO, in a press release about the acquisition. "It has become increasingly apparent that our industry will face a new level of strategic complexity and will attract new competition, including new entrants from outside the sector, able to bring unprecedented resources to the table. This demands WABCO make critical choices in the role it will play in the future industry value chain. Furthermore, it is anticipated that significant in-house investment and new alliances will be necessary to address the full scope of required technologies for these new domains.
"Considering these factors, we strongly believe this is the appropriate moment to be joining forces with ZF, providing access to critical technology and the global size and scale to de-risk the return on investment required as the industry transforms," he added.
Esculier said during a conference call about the ZF and WABCO merger that industry consolidation will likely continue. "The sheer scale of necessary investment and the broader capabilities required to develop and integrate these new sophisticated technologies will be a catalyst for industry players to form more strategic alliances and undergo further consolidation."
Doing so not only enables companies to share technologies and development expertise, but also the financial burden required to create advanced autonomous systems.
"The market is ready for highly automated commercial trucks," said Nielsen. "Ever rising demand for road transportation, fueled in part by e-commerce growth, creates a compelling business case for self-driving trucks.
"Automated trucks have huge upside potential not only for trucking companies, but also for society in general, our customers and the overall economy. So now more than ever, it's imperative that we continue to innovate and push our engineering solutions, striving above all for safety [and] for helping our customers run their businesses efficiently," he concluded.
Companies in this article