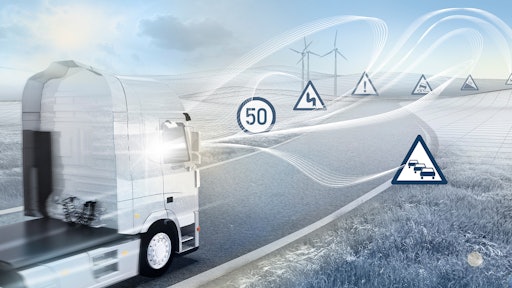 Bosch
Though electrification and automation are not new trends within the commercial vehicle industry, their development and implementation in the market have grown exponentially (see sidebar "Recent Electrification and Automation Announcements" below).
According to IDTechEx Research, the market for electric trucks and delivery vans will reach a value of $480 billion by 2028. It notes the increased focus on electrification is due to local and national governments enforcing more regulations in order to reduce emissions.
Read International Truck's white paper on the industry shift toward electrification.
Several cities have either already implemented or announced plans for low- and zero-emission zones, requiring manufacturers to be prepared to offer customers diesel-powered alternatives. Electrification has become an increasingly more feasible alternative for heavy-duty on-road vehicles as advancements continue to be made in battery technology and other necessary components.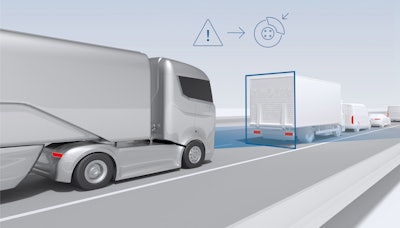 In addition, the European Commission is proposing the first carbon dioxide (CO2) regulation for heavy-duty commercial vehicles. Currently it is proposing CO2 reduction targets of 15% by 2025 and 30% by 2030, again emphasizing the need for electrification or other alternative energy vehicle designs to achieve the proposed targets (see sidebar "EU Carbon Dioxide Regulations" below).
Leading up to and during this year's edition of IAA Commercial Vehicles, several manufacturers including MAN Truck & Bus and Renault Trucks announced the electromobility and autonomous products they would introduce at the show. In fact, organizers stated the theme for this year's show would be "Driving Tomorrow" due to the current industry trends of digitization, connectivity, automated driving and alternative powertrains.
"The digitization of traffic opens up completely new opportunities for making mobility smoother and more efficient in large metropolitan areas and beyond. That reduces emissions," said Bernhard Mattes, President of the German Association of the Automotive Industry (VDA)—organizers of IAA—during a pre-show media event. "Most importantly, digitization, connectivity and automated driving will bring about a quantum jump in road safety."
He went on to say that digitization aids connection of various transport modes within the transport and logistics chains which is "necessary because we need the interplay of all types of transport in order to cope with the increasing volumes of freight."
Renault Trucks said in its pre-IAA announcement that electromobility emerged very early as the answer to the problem of air quality and noise pollution in the city. However, in regards to long-distance road transport the company said diesel will remain the dominant energy source for many years. Because of this, Renault Trucks is continuing its research to improve the energy efficiency of diesel trucks and unveiled at IAA the details of its research project FALCON - Flexible & Aerodynamic Truck for Low CONsumption.
During its Technology Day this year, ZF showcased its vision for the future of transportation which included the introduction of several components for electromobility, as well as the demonstration of both semi- and fully-autonomous vehicles. "We call our approach Next Generation Mobility," said Wolf-Henning Scheider, CEO of ZF Friedrichshafen AG during a press conference at the event. "It's our vision to create the most innovative approaches that enable consumers to enjoy individual mobility in a clean setting."
The company's 'Next Generation Mobility' approach is focused on five key areas—electromobility, automation, digitalization, integrated safety and vehicle motion control. "Next Generation Mobility includes complete system solutions for micromobility, urban mobility, and mid- and long-range mobility," he continued. "It encompasses passenger transport as well as cargo transportation.
"Our work towards Next Generation Mobility requires competencies and a clear target picture, and we have both," he said. "ZF's core strength is system competence…[and] we are able to offer products for new system solutions. On top of this, we also benefit from synergies between [technologies for] passenger cars, commercial vehicles and our industrial sector. Our vision is that we combine those strengths even better than before" to achieve the company's mobility goals.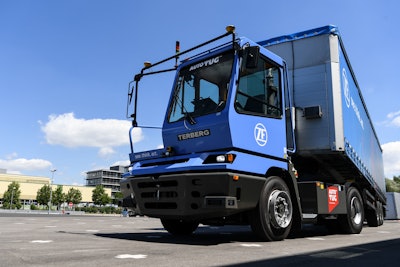 Reduced fuel use and emissions through electrification
In July, Hyliion—a manufacturer of Class 8 truck electrification technologies—announced it was acquiring a new battery division to meet growing industry demand for hybrid electric long-haul trucks. The acquisition enables the company to have control over the complete battery management supply chain, everything from manufacturing to software development.
Hyliion's strategy is to use hybrid electrification to provide fuel savings and lower emissions through the capture of wasted energy when a truck is traveling downhill, then apply that power to keep the engine in its most efficient operating range when going uphill. "The path to fully electrified long-haul fleets has many challenges," said Thomas Healy, founder and CEO of Hyliion in the press release announcing the acquisition. "Long haul semi-trucks average 600 miles (965.6 km) a day. Electric semi-trucks, including Tesla's, are restricted by 300-500 miles (482.8-804.7 km) on a single charge.
"Unless we re-grid the entire country to accommodate power consumption with grids as large as entire cities, a hybrid solution is the only answer that makes sense for long hauls."
Scheider said ZF sees broad market penetration through 2025 for hybridization and electrification technologies within the commercial vehicle industry. "For city buses and delivery vans, we assume a penetration rate of up to 30%. And even for medium [and] heavy trucks we expect 20% pure electric drives due to coming regulations for urban traffic." ZF expects to see hybrids in the long-haul transport market as soon as the 2020s, he said.
Because of the varying needs of the commercial vehicle market, Scheider said ZF is focusing its development efforts on both hybrid and pure electric drive systems. One such component is its TraXon hybrid transmission, which he said is currently undergoing endurance testing with an OEM and will be ready for serial production in the near future.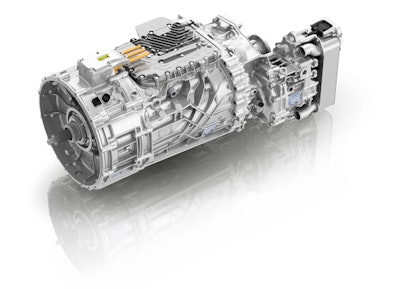 "In the commercial vehicle industry, every gram of CO2 counts," he said. "We managed up to a 7% reduction of CO2 consumption with the TraXon hybrid. It's an important solution to meet stronger CO2 regulations discussed for the commercial vehicle sector, especially in Europe."
In addition, the TraXon hybrid has demonstrated a fuel savings of up to 7%, equating to a fuel-cost savings of up to 5,000 euro per year. "In the past, overall system costs were a barrier for [electric and hybrid] systems," said Scheider. But now "you can expect to break even [with] a TraXon hybrid."
ZF also premiered the CeTrax mid and lite electric central drives during its Technology Day, as well as a prototype electric steering system known as ReAX EPS. Originally developed for passenger cars—where it has reduced fuel consumption and emissions up to 70%—the CeTrax drives have been redesigned to be more robust in order to meet the challenges of commercial vehicles such as city buses. The drives consist of an electric motor, power electronics and transmission in a compact unit which is capable of being installed in existing vehicle platforms.
The ReAX EPS (electrically powered steering) is a fully electric steering system for commercial vehicles which eliminates the need for hydraulics and associated peripheral components. Instead, it uses an actuator system powered by a 70 Nm electric motor, as well as integrated control unit, transmission and sensors. Eliminating the use of hydraulic components helps make for a more compact system, saving on space and weight within the vehicle which aids fuel efficiency. The company says the system supports steer-by-wire applications and is an enabler for advanced driver assistance systems (ADAS) and automated drive functions.
In May, Meritor Inc. announced its new Blue Horizon brand focused on electric drivetrain, efficiency and connectivity systems for Class 4-8 commercial vehicles, and that it would supply electric drivetrain systems for use in Peterbilt Motors Co. all-electric Class 8 trucks. "Blue Horizon signifies our commitment to evolutionary and revolutionary solutions for commercial transportation," said Jay Craig, CEO and President of Meritor, in the press release announcing the new brand strategy. "With this new brand, we're looking forward to the future of electrified drivetrains and to more innovations in the years ahead."
For the Peterbilt collaboration, Meritor will provide high-efficiency and lightweight axles, drivelines and brakes designed to maximize system efficiency, extend range and increase payload. The electric trucks will be tested for a year to evaluate vehicle ranges, operating hours and charging requirements in real-world service conditions, and will operate alongside conventional diesel-powered trucks to help compare and better evaluate the feasibility of the electric trucks.
Freightliner Trucks premiered in June two fully electric vehicles, an eCascadia heavy-duty truck and eM2 106 medium-duty truck. The Class 8 eCascadia includes batteries providing 550 kWh of usable power and a range of 250 miles (402.3 km), while the eM2 has a battery power of 325 kWh for a range of up to 230 miles (370.1 km).
The trucks will be part of an Electric Innovation Fleet of 30 vehicles which will be tested by Penske Truck Leasing and NFI to evaluate their use in real-world operating conditions. Both trucks were developed to meet specific application needs—local and regional distribution and drayage for the Class 8 eCascadia, and local distribution, pickup and delivery, food and beverage delivery, and last-mile logistics applications for the eM2. Extensive co-creation with the customer was undertaken for the development of these trucks.
Parent company Daimler AG says it sees electric mobility as an innovative driver within the commercial vehicle industry; as such, the company has established a new global E-Mobility Group which will define the strategy for electric components and vehicles across all of its brands and divisions. "We expect increasing demand for electric trucks and buses, and are also receiving these signals from our customers. Only manufacturers who lead the field in both conventional drive systems and electric drive systems are able to offer convincing solutions, technically and business-wise," said Frank Reintjes, member of the Divisional Board of Management, Daimler Trucks & Buses responsible for Global Powertrain and Manufacturing Engineering, in a press release announcing the new E-Mobility Group.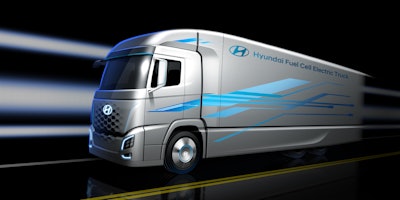 Automation aids performance and efficiency
Automation is an area of continuous development for many manufacturers as a means of helping increase productivity, safety and driver comfort. As manufacturers work further toward fully autonomous operation, they are also looking to help overcome the skills gap and driver shortage the trucking industry has been facing—and is anticipated to continue facing in the years to come.
ZF's Scheider said automated functions will see wide use in commercial vehicles much earlier than in the passenger car industry. "We believe autonomous technologies will become standard in areas where they increase security and reduce operational costs." He said this is because of the immediate total cost of ownership benefit, as well as the reduced complexity of these working environments—especially compared to public roadways. "In clearly defined fields of application such as mining, farming, [and] freight yards, the advantages of automation can show their strengths very soon."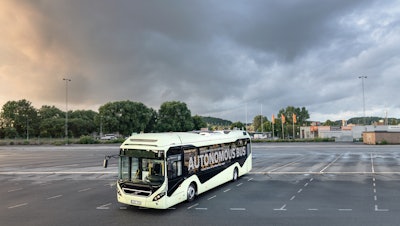 Earlier this year Volvo Buses launched a joint autonomous electric bus project with Nanyang Technological University (NTU) in Singapore. Two all-electric 12 m Volvo 7900 buses will feature an autonomous system developed by Volvo and NTU and begin testing in real-world applications starting in 2019.
Volvo recently demonstrated a prototype of its autonomous electric bus during the Volvo Ocean Race in Gothenburg, Sweden. Sensors on the vehicle monitor the area around it to ensure safety, as well as help navigate the bus. "With low noise level[s] and emission-free operation, electric bus systems provide an excellent alternative for attractive and sustainable public transport," said Håkan Agnevall, President Volvo Buses, in a press release announcing the prototype bus demonstration. "With various degrees of automation, we can make even further progress regarding safety, comfort and efficiency.
"The technology also permits more efficient vehicle handling when the bus is not in traffic operation," he added. "With autonomous buses, depot staff can focus on service and maintenance instead of having to charge the batteries, drive to the bus wash and park the bus. Tomorrow's buses will be able to do all this on their own."
Scheider said a key technology that will enable autonomous vehicles, besides sensors and cameras, is the ZF proAI which is a flexible, modular and scalable high-performance computer. It is capable of being tailored to various application requirements and is 1,000 times stronger in computing power than today's electronic control units (ECU) for ADAS.
The proAI is a main component in the concept electric, autonomous Terminal Yard Tractor ZF demonstrated during its Technology Day. Use of the proAI enables the tractor to autonomously take a trailer from a truck which has entered the terminal yard, maneuver it to a ramp for loading, and then return the trailer to the truck by coordinating the functions of longitudinal and lateral guidance. A camera and other sensors on the vehicle provide a visual of its surroundings to ensure safety.
A computer on site calculates the trajectory of the vehicle and transfers that information to the onboard ZF OPENMATICS telematics system via a wireless signal. The proAI then processes this information in real time to instruct the actions of the vehicle.
The wireless signal is provided by a private LTE system ZF has established at its factory in Friedrichshafen—where it will also use many of its concept autonomous vehicles in day-to-day operations. ZF said having its own private LTE system ensures a secure connection and high data transfer rates.
In addition, a field of RFID tags in the ground helps with location accuracy of the yard tractor. While GPS is often used for this, ZF said the technology is only good if the satellite can be reached; if there is an obstruction blocking communication between the vehicle and the satellite, such as a building, then it will interfere with the movement of the vehicle. With RFID tags, however, this is not an issue.
The ZF Terminal Yard Tractor is one of several solutions aimed at creating smart, automated logistics operations as a means of improving efficiency. As with most industries, logistics operators are continually looking to lower costs. By making operations more efficient, they can achieve this. Additionally, automation of various functions helps increase safety as the human error element has been removed. ZF also noted the difficulty associated with finding skilled workers for logistics operations, another challenge which automation can help overcome. "Thanks to our new technologies, [the Terminal Yard Truck] is able to conduct maneuvers that are highly demanding even for experienced drivers," said Scheider, which further helps to improve safety on the job site.
Integrated vehicle safety has become a major topic for the commercial vehicle sector over the last several years, said Scheider, and is a key aspect of autonomous vehicles. Systems such as collision mitigation, lane departure warnings and object detection are becoming more prevalent on commercial vehicles and being integrated with one another to make vehicles even safer.
Read about Bendix Commercial Vehicle Systems' take on the evolution of advanced vehicle safety technologies.
"Highly autonomous driving in this sector will only be accepted if safety can be fully assured," concluded Scheider. "With our combined active and passive safety systems, we not only enable less accidents in today's world, but we ensure safe driving also in tomorrow's automated driving world."
Companies in this article