John Deere Ag and Turf Division
At the Consumer Electronics Show (CES) 2022, John Deere unveiled its fully autonomous 8R tractor. The company said the machine is ready for large-scale production and will be available for customers later in 2022.
Joseph Liefer, Senior Product Manager for Autonomy, John Deere Intelligent Solutions Group, says the company built upon the technologies it already had in the market to develop the autonomous machine. "We're building on the shoulders of giants. We started with a production 8R that was nearly autonomous ready [as well as] our precision ag components [such as] our Starfire receivers and our GPS network that farmers have been leveraging for 20 years," he explains. "We had a great base to start from."
Liefer says John Deere became serious about bringing in-field autonomy to the farm in late 2018. It created a team to tackle the many challenges associated with doing so, the largest of which is perception. Perceiving the environment around the tractor and finding any possible exceptions is key to ensure safe operation.
By weaving together close to 70 of the company's precision agriculture products—such as auto track and auto track turn automation—into a single seamless experience, as well as the addition of some new technology, Liefer says John Deere was able to create the autonomous tractor.
READ MORE: New Technology Launches at CES 2022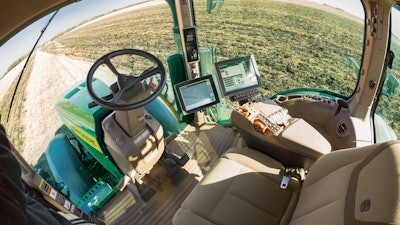 Leveraging new and existing technology makes autonomy possible
John Deere has spent the last couple of years working with farmers to get field images so it could train the neural network of the autonomous system to recognize navigable terrain. Doing so enables the system to understand what a farm field looks like as well as any exceptions that might exist.
During this process the company had to determine what sensors to utilize to ensure accurate sensing and data collection. It selected stereo cameras because of their ability to predict depth while bringing a low-cost solution to the market, says Liefer. Six pairs of stereo cameras are included on the autonomous 8R tractor which can provide a 360-degree view around the machine and aid with obstacle detection.
The cameras are one of the new pieces of technology mounted onto the 8R to enable autonomous operation. Three pairs of stereo cameras are located on the front of the tractor and three pairs at the back. This allows full visibility around the tractor as well as of the implement behind it while also determining how close the machine might be to other objects such as a telephone pole or treeline which Liefer says is the truly unique aspect of the cameras.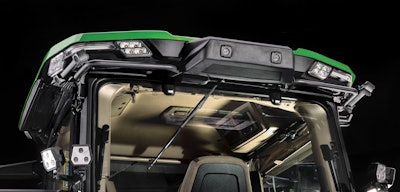 These cameras are continuously assessing the environment around them at a rate of three times per second. Information collected is then fed to two NVIDIA graphics processing units (GPU) for analysis of any potential anomalies or exceptions which may have entered the environment. "If we think there is something in the scene, it takes about 100 milliseconds for us to process it," explains Liefer. "We will request a stop to the tractor, and the tractor software will know what to do to bring the tractor to a stop, and then allow further analysis of that entire environment around [the tractor]."
If there is no issue, the tractor will automatically restart and continue its work. But if a problem or large obstacle is detected, the machine will stop and notify the farmer by providing a picture of the obstacle; the farmer can then make an operational decision on how to proceed.
"That kind of remote management is also something new that we're bringing to farmers," says Liefer. "We are leveraging the existing John Deere operation center mobile application that farmers use today to manage their operation. And then they'll be able to do additional things like approve motion for autonomy off of their cell phone, as well as then make settings adjustments, like change the speed of the tractor remotely, whether they're back at their farm site or doing some other activity."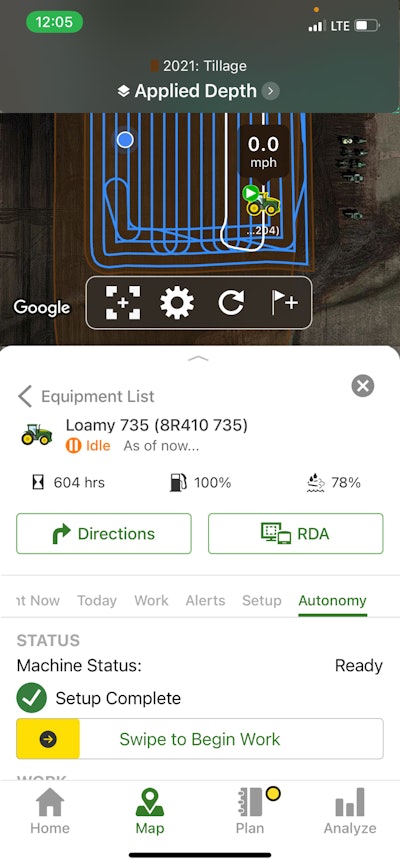 The number one piece of feedback Liefer says he's received from farmers is their excitement over the autonomous machine and the fact it is an 8R which many already have in their fleet. This ensures familiarity when using the tractor, simplifying any learning curves that might be necessary.
Liefer says the autonomous driving solution is a retrofit option, meaning customers will not have to go out and buy a whole new tractor or a potentially more costly purpose-built machine. "[Farmers] are going to get to leverage existing equipment and existing farming practices to bring autonomy to their farm," he says.
With the autonomous 8R tractor, farmers will still have to manually drive the tractor to the fields in which it will operate. Once in the field, the tractor can then operate fully autonomously, allowing farmers to focus on other tasks and remotely monitor the tractor from a smart phone, tablet or computer. Farmers also have the option to manually drive the tractor when they want to and use the precision ag technologies they would today. Essentially, the new autonomous solution provides more flexibility for customers.
Farmers will work with their John Deere dealer to have the autonomous driving solution installed. In addition to installing the cameras and some wiring harnesses, the dealer will also install some other components such as a redundant braking system which Liefer says is existing technology the company sells in Europe but is not as common in North America. He notes it takes around 8 hours to equip the tractor for fully autonomous operation.
Why autonomy?
It is estimated the global population will grow 10 billion by 2050, increasing global food demand by 50% said Jahmy Hindman, Chief Technology Officer at John Deere, during the company's press conference at CES unveiling the autonomous 8R. Feeding a growing population will become increasingly more challenging for farmers as they will need to grow more crops on the same amount of land while also facing labor shortages and unpredictable weather patterns. Autonomy and other advanced technologies are seen as a means of overcoming these challenges.
"Until recently, agriculture has always been about doing more with more. More horsepower, more inputs, more acres, but the new digital era is changing all of that," said Hindman. "The last decade has been about doing more with less and providing farmers with additional tools to make more informed decisions."
Among these are artificial intelligence and machine learning, both of which are key for autonomy.
Deanna Kovar, VP of Production and Precision Ag Production Systems at John Deere, said during the press conference there are three key benefits to using autonomy:
Timeliness – an autonomous machine will not get tired or sick, and can run all day and night if necessary.
Efficiency – farmers can spend time on farm more efficiently as they don't have to be in a tractor all day; they can focus their attention elsewhere.
Improves quality of life – working inside a cab up to 18 hours per day is exhausting; valuable time can be given back for other work and time with families.
"Autonomously the tractor can handle some of the work that farmers do not have the time or the labor to do, giving them time to focus on the more technical jobs," she said. "We can also ensure that autonomous jobs get done consistently," which helps to maximize productivity and sustainability.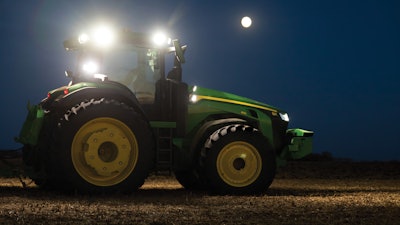 Currently, the autonomous 8R tractor can be used for tillage work. Liefer says John Deere started with this application because farmers told the company fall tillage would be beneficial as they are already busy with other work during harvest. "[Farmers have] to worry about the combine, grain cart, trucking logistics and grain drying. If we can alleviate a pain point, such as fall tillage," that will greatly benefit farmers' productivity he says.
Tillage is typically a task given to the lowest skilled operator, making it an easy one to begin with for autonomy. Liefer says bringing autonomy to this application will help farmers build trust with the concept; from there John Deere can then bring autonomy to other tasks in the field.
Liefer says the company sees the opportunity to expand the technology to other jobs on the farm as it can qualify more crops and implements. Eventually, it would also like to expand autonomy to other machine types to bring fully autonomous operation to the entire production system for farmers. It will do so by continuing to work with customers to learn what the best applications might be and where the biggest needs are for autonomy to help them be more efficient and productive.
He concluded by noting the company is seeing a demand for advanced sensors and autonomy solutions in other industries as well such as construction. While the needs of these industries is different, Liefer says John Deere sees synergies across construction and agriculture for the same type of technology.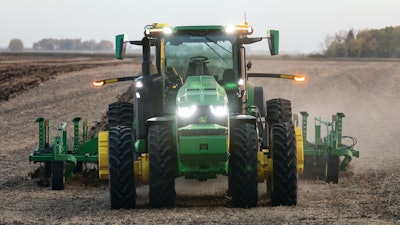 Companies in this article