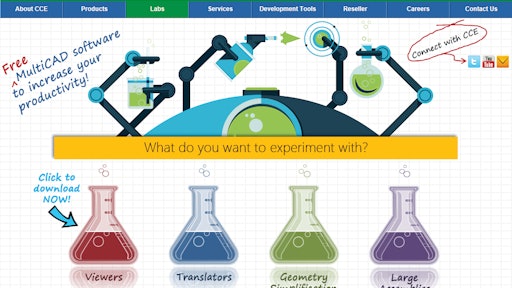 As technology continues to advance at an accelerated rate, engineers are having more constraints placed upon them during the development process. "But at the same time, timelines and budgets don't grow," says Noah Reding, Automotive and Aerospace Product Manager at National Instruments (NI, company information, 11151299), Austin, TX. "The teams aren't necessarily larger and their timelines aren't getting longer, so these engineers have to innovate quickly and their development cycles have to be very efficient."
Companies like NI are continually looking for new technologies and methods that will speed up and simplify the design process for engineers. One of the growing trends is to make the design process more mobile so engineers are not limited to when and where they can work on a project. As a part of this, the use of mobile devices has grown throughout the engineering community, which has been made possible through increasing web and remote accessibility to design tools. 
NI's Data Dashboard for LabVIEW, for example, is a mobile app which provides access to the company's LabVIEW design software (product information, 11173029) while on the go. With the app engineers can make design decisions based on test or operating data, as well as create a custom, portable view of measurement data from LabVIEW applications.
CAD viewing for free
Through the 'Labs' portion of its website, CCE (company information, 10778467), Farmington Hills, MI, allows users to access its multi-CAD software EnSuite for free. "There is some difference between the commercially available product and the free product," explains Debankan Chattopadhyay, Manager of Business Development at CCE. However, the key features engineers would want from the EnSuite product—viewing and translating CAD files, checking for assembly interferences, geometry simplification to protect intellectual property (IP)—are all available in the free version, known as EnSuite-Lite. See sidebar, pg. xx to learn more about EnSuite.
The goal of both EnSuite versions is to provide manufacturers the ability to view multiple types of CAD files without having to purchase numerous CAD software programs. Component suppliers, for example, typically work with several different OEMs, most of whom do not use the same CAD program. Purchasing all of the CAD programs that might be needed to view customer information would be costly, especially for smaller suppliers. By utilizing EnSuite instead, manufacturers only have to invest in one program to work with customers.
While providing a free option for those manufacturers who want to first try out the EnSuite product, or do not yet have the capital to invest in purchasing it, EnSuite-Lite also enables users to access the capabilities of the software from anywhere. If an engineer is traveling and needs to view a CAD file, all he or she needs to do is head to CCE's website and download EnSuite-Lite to begin viewing and working with the file.
In addition to EnSuite-Lite, CCE recently added Express 3D to its Labs page (product information, 11142561). Also available for free from the company, Express 3D is only the CAD viewer portion of EnSuite, enabling anyone to view and extract information from a CAD file.
"One of the new spaces we are exploring is [creating] a product that will provide people in the extended enterprise—people outside of the engineering group—access to 3D CAD data," says Chattopadhyay. To achieve this, CCE will be introducing OfficeLink in the fourth quarter of 2013. OfficeLink allows 3D CAD models to be embedded in Microsoft Office products such as Word, PowerPoint and Excel. "It's going to be as simple as clicking a menu item in any Office document and embedding a live 3D model with information from that model without having to bother the engineering [department]," explains Chattopadhyay. And like many of its other products, OfficeLink will be available for free in the Labs portion of the company's website, enabling users to easily access it any time, and anywhere.
Virtualizing the design process
Slowly disappearing are the days where one has to spend all of his or her time working in one spot at a large, bulky computer station. With the advent of technologies such as desktop virtualization, people can now access all of the applications they need to complete a task on smaller, more portable devices such as tablets and lightweight notebook computers.
Industry research indicates about 3% of corporations today utilize virtual desktops but within the next three years that will increase to 16% and continue to grow each year. "That's going to dramatically change what's possible from a workflow standpoint for designers and engineers as the applications get virtualized," says Justin Boitano, Director of Product Marketing for Cloud and Virtualization Solutions at NVIDIA, Santa Clara, CA.
Desktop virtualization enables applications one might use on their computer—Microsoft Word, CAD software, etc.—to exist virtually in a central datacenter which can then be accessed from any device. "We've seen a number of companies have big productivity gains by having their designers or engineers be able to access their core design applications either from their home or job sites, or wherever they may be traveling to do design reviews with clients," says Boitano. If an engineer gets home and suddenly has an idea for a design, he or she can launch the virtual desktop at home and immediately access the appropriate design program [to] implement the idea instead of waiting to get back into the office the next morning. "That's where many organizations have seen big productivity gains, in getting people to work beyond the office," he adds.
According to Boitano, desktop virtualization can also help protect intellectual property, especially useful in situations such as when contractors are brought in to help with design work. Because access to the design files will only be available through the virtual desktop, all of the information and data is securely stored within the datacenter, preventing any chances for files to be stored on contractors' personal devices.
As a developer of graphics processing units (GPUs, see sidebar, pg. xx to learn more) and other technologies aimed at enhancing users' graphics experiences, NVIDIA has developed NVIDIA Grid to make accessing graphics-rich applications such as 3D design software better when utilizing virtual desktops. The NVIDIA Grid software creates virtual GPUs within a datacenter, enabling multiple users to simultaneously access graphics-rich applications from anywhere with minimal lag time between the datacenter and the point of access. "The reality is, before you had graphics-enabled virtual desktops and applications, you couldn't virtualize the applications and experiences that design engineers would want," says Boitano. "But now that we've virtualized graphics, they get that true PC experience they have at their desks."
An easier component selection process
CADENAS PARTsolutions LLC (PARTsolutions, company information, 10657814), Cincinnati, OH, develops 3D part catalogs and catalog management solutions for manufacturers. The catalogs provide 3D views of all the parts available from a manufacturer and allow users to adjust various attributes to more easily find the right part for a design.
If searching for a hydraulic cylinder, for example, engineers can begin by looking at a base model in the catalog and select the various parameters necessary to meet their design needs, such as specifying the bore size of the cylinder. Each time an aspect of the part is changed, a new part number is generated that the engineer can use to order the part. In addition, the PARTsolutions system accounts for how a part actually moves in the real world. "Products as we deliver them are of the highest quality, as if a designer actually sat down and modeled [the parts] themselves in their native CAD systems," says Rob Zesch, Chief Operating Officer of PARTsolutions. "We sometimes call them smart parts because they know how they're supposed to behave and all critical engineering and purchasing data remains intact." 
Once a part has been appropriately configured to meet the needs of a design, a 3D model can be downloaded into whichever CAD program an engineer is using. Zesch says the company's 3D catalogs support over 150 native and neutral CAD and graphic formats. Being able to provide part models in the exact same format as the design software engineers use reduces the risk of information being lost due to incompatibility of the files, thus minimizing the amount of time that may have otherwise been spent making the model work accurately with the design program. "Eighty percent of design engineers say they want to receive the product in the native format of the system they use," he says. "We give the engineer an environment where they can get this product and in the exact format of the system they use to do their job and be confident that it's exactly right."
"The trend is that eventually every component manufacturer is going to have to offer this capability because it's what engineers are demanding," adds Jay Hopper, Vice President of Marketing at PARTsolutions.
Typically accessible on a manufacturer's website, PARTsolutions has also begun making its 3D catalogs available in mobile app form on both Apple- and Android-supported devices. The app allows engineers to configure and preview various parameters of a part to get an orderable part number just as they would in the online version of the 3D catalog. Additional features can be included in the app as well such as the ability to scan QR codes, having news pages linked from a company's website and distributor maps the help find the nearest distributor based on a user's location. "This is a bit of an evolution," says Zesch. "Nobody would have ever thought 10 years ago you could have a device that fits in your coat pocket that could do this 3D modeling and people could see all this [information]."
As the world continues to become more mobile, so will the engineering community as the availability of various design tools increases online, in app form and through various current and future mobile technology platforms. 
Companies in this article