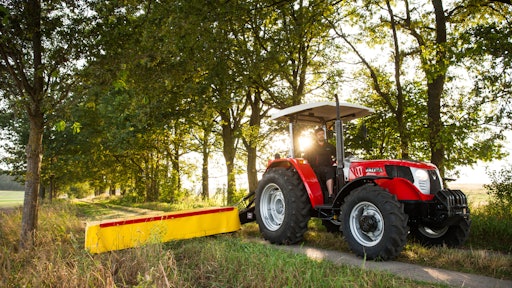 Valtra is expanding its A Series with the introduction of new smaller models. These agile three-cylinder tractors are ideal as general purpose farm tractors, as well as for fruit farming and property maintenance, for example. The new models open the door for Valtra to increase sales in the market for small tractors: over half of all tractors sold in Europe are in the under-100 horsepower class. This is especially important for Valtra importers and dealers; the Valtra model line-up now extends from 50 to 400 hp, allowing the Finnish manufacturer to serve its customers even more comprehensively than before.
The A Series model line-up now includes Compact and Orchard tractors. The A63 and A73 Compact models are available with or without a cab, while the A53 Compact model and all Orchard models have open cabs. Orchard tractors are as narrow as 1.6 meters, making them ideal for fruit farms, for example.
The smallest model is the A53, which offers 50 hp. The A63 model has an intercooled turbo engine that produces 68 hp. The biggest model is the A73, which offers 78 hp. All of the tractors come with Valtra's reliable 12+12R transmission with synchronized shuttle and creeper gear. The PTO has two speeds, and the linkage is operated mechanically.
All models are four-wheel-drive and have hydraulic multidisc brakes. There are two hydraulic blocks. The open cab is fitted with a rollover bar, and on Compact models it can be fitted with a removable roof. The closed cab version is based on the traditional Valtra A Series cab and offers an ergonomic and air-conditioned workspace that can be accessed easily from either side of the tractor.