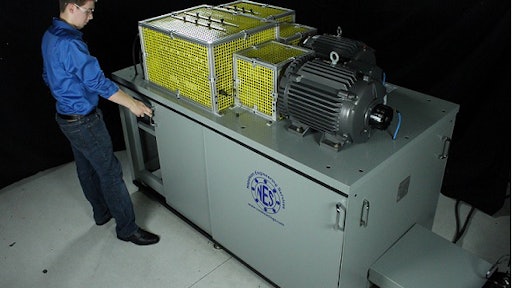 Napoleon Engineering Services (NES), a leading ISO9001:2008 and AS9100C certified custom bearing manufacturing, bearing inspection, and bearing testing facility, has announced its custom test rig design and manufacturing services. NES Bearing Test Rigs are used to meet a diverse array of in-house bearing R&D and testing requirements for OEMs in the aerospace, automotive, off-highway and industrial automation industries.
NES understands that the in-house capability for an OEM to perform its own rigorous bearing testing facilitates proprietary advancements in the OEM's mechanical bearing component and finished product technologies. As the largest independent bearing testing facility in North America, whose portfolio includes more than 40 fully operational test rigs, NES is well-experienced in the design and manufacture of custom bearing test rigs to meet customer needs for testing any ball or roller bearing, as well as rolling elements. NES internal testing programs focus on three main aspects of bearing testing; fatigue, environmental and impact/static testing. This expertise is carried over into the design and development of the customer's own robust bearing test rigs, with the same quality and high-reliability capabilities.
Customers can choose from a variety of test platforms and control options in support of classical, sudden death or maximum likelihood bearing test methodologies. NES Design Engineers are available to evaluate customer intentions for bearing testing and to develop a 3D model and control option proposal for customer review of a prototype. Bearing test rigs can be constructed to test for any number of parameters, including bearing or lubrication efficiency, rolling contact fatigue, environmental conditions, application reliability or supplier comparison. They can also be designed with manual controls for constant operating parameters or with full automation for step-stress duty-cycle testing. Common monitoring and control features include bearing vibration, temperature, torque, rotational speed, applied load (axial, radial or moment), lubricant flow rate, oil inlet temperature, and thermal operating conditions. Test platforms can be designed with as many as eight test locations to maximize sampling rates and statistical accuracy while minimizing test time and overall budget.
For the convenience of its custom bearing test rig customers, NES further offers Bearing Test Rig maintenance programs, supplying expert service, design and manufacturing support for tooling and perishable components to keep your test programs running at peak efficiency and ensuring the continued performance of the test rig to desired specifications.