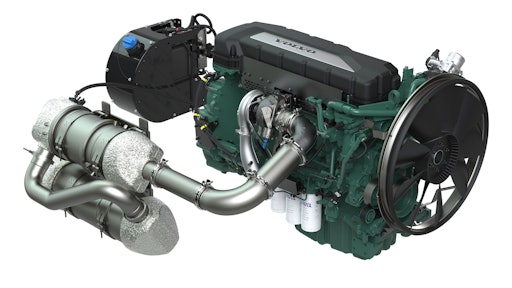 Volvo Penta
With the European Union's Stage V emissions regulations set to take effect in January 2019, engine manufacturers have been rolling out engine designs which meet the new standard since it was first announced.
During CONEXPO-CON/AGG 2017, several of these engines were on display while some manufacturers used the show as an opportunity to debut their Stage V engine models. Volvo Penta, for instance, unveiled its Stage V engine concept which will include its entire range of engine models with power outputs of 105-565 kW (143-770 hp).
Bjorn Ingemanson, President and CEO of Volvo Penta, said at the engine launch that the company leveraged all of the competence within the Volvo Group and talked to key customers in order to develop a tailor-made solution which would meet current engine needs, as well as be optimized for future installation and emissions legislation requirements.
According to Christer Hedstrom, Product Planning Manager at Volvo Penta, the big difference between the company's Stage V engines and the previous Stage IV models is the addition of a diesel particulate filter (DPF) to meet the new regulation's particulate number requirement. "Due to that we're also adding some devices on the engine to optimize it for good system regeneration, and provide as much uptime as possible," he says.
One way the engine is being optimized is through the introduction of a common rail injection system on the larger (11 and 13 L) engine models. Hedstrom says this technology will provide both improved fuel efficiency and reduced noise benefits. For smaller engines—the company's D5 and D8 models—cooled exhaust gas recirculation (EGR) is being replaced with uncooled EGR to deliver highly effective heat management. In addition, it will help reduce complexity of the engine, as will the use of a fixed turbo instead of a variable geometry turbo.
The FPT V20 engine will meet Stage V without the use of a DPF or EGR.FPT Industrial
FPT Industrial's new V20 engine—also introduced at CONEXPO—includes a common rail injection system, as well. The company says this system works in tandem with the engine's electronic control unit (ECU) to reduce fuel consumption 2%. Further aiding efficiency of the engine is its internal turbocharger with cross-bank exhaust system; pulse pressure compensation between its left and right bank ensures a continues air supply through the system.
The engine features a V8 architecture which FPT says provides a 13% improved power-to-weight ratio over V12 alternatives, while still providing the same power and performance as a V12.
Flexibility is key
Since many manufacturers are having to add the DPF back onto their aftertreatment systems to meet the new regulation. The Volvo Penta exhaust aftertreatment system (EATS), for instance, will now include DPF, diesel oxidation catalyst (DOC), diesel exhaust fluid (DEF), selective catalytic reduction (SCR) and ammonia slip catalyst. With so many components necessary to reduce emissions output, packaging will be an important factor for engine designs.
As such, many manufacturers have developed modular systems offering flexible installation options to meet individual customers' needs.
The Volvo Penta EATS is a two-box unit which can be installed in various ways. "We have several hundred types of customers, so we need to have large flexibility depending on what type of installation the engine will go into," says Ingemanson. "That is one reason for this development."
In addition, the company is also looking to make the system as compact as possible to further aid installation.
To meet Stage V, FPT's V20 engine will not be using a DPF or exhaust gas recirculation (EGR), but instead its HI-eSCR technology. The in-house designed system uses SCR on filter technology and PM filtration integrated onto the SCR system to meet emissions requirements. It is modular, as well, enabling up to 20 different layout possibilities.
Read more about the FPT HI-eSCR system and other Stage V aftertreatment technologies in the article "Technologies Come Together for Emissions Reduction."
Various aftertreatment mounting options ease installation for OEMs.MAN Engines
MAN Engine's D2862 LE13x engine will also meet Stage V with an SCR-only strategy. According to the company, omission of an EGR system helps lower heat dissipation from the engine which allows the use of a smaller radiator, minimizing space claim. Its aftertreatment system is modular in design, as well, enabling various installation options of the individual components.
Mauricio Henander, Strategy & Business Development Manager, Product Management Industrial at Volvo Penta, says one of the successes the company had with its Stage IV/Tier 4 Final engine is the commonality of the engine platforms between the different emissions levels. "Now we're aligning that even more to have the same concept solutions through the range."
The company will use the same hardware layout and electrical architecture to ensure consistency across its range of Stage II to Stage V engines. This will make it easier for OEMs developing machinery for market with varying emissions regulations. In addition, Henander says the high efficiency of the EATS helps reduce engine complexity.
While there is no equivalent to Stage V yet planned for the U.S., many of the engine designs are compliant with Tier 4 Final, as well. Hugh Foden, Executive Director - Cummins Off-Highway Business, said in a recent press release that North American OEMs can also benefit from the technology enhancements being made to the new engine designs. Improved performance, efficiency and packaging are all features OEMs will gain by using the next generation engine designs.
According to Foden, Cummins' Tier 4 Final/Stage V engines have a smaller, lighter package design than the previous generation and reduce overall fuel and DEF costs up to 3% compared to the current Tier 4 Final range.
Though still a couple years away, current efforts by engine manufacturers and OEMs alike to develop Stage V technologies ensures they will be ready to comply with the regulation as soon as it goes into effect.
Read more about the impending Stage V regulations in the article "Stricter Emissions Targets Arriving in Europe."