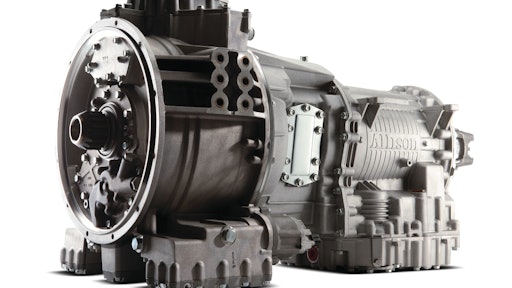 During his presentation at the Green Truck Summit on current and future clean energy trends in the truck market, John Boesel, President and CEO of CALSTART, noted that there is no "one size fits all" clean energy solution. What works well in one application may not be suited for another. He further emphasized that there needs to be "different solutions for different regions," meaning a compressed natural gas (CNG) vehicle, for example, is only going to be beneficial in an area where there is easy access to a CNG refueling station.
Head to the Green Truck Summit's website to see Boesel's presentation in full and learn more about his analysis and predictions for the clean energy market—such as how sales of natural gas will increase 49% over the next five years. While there, you can also check out many of the other presentations from the summit.
Boesel's phrase "different solutions for different regions" could be viewed as the slogan for the 2013 edition of the Green Truck Summit and Work Truck Show, held March 5 to 8 inIndianapolis, IN. Over the course of the week, attendees had the opportunity to see a variety of clean energy technologies—from propane- and CNG-fueled trucks to fully electric vehicles and even a work truck whose auxiliary power unit (APU) runs on solar power. The breadth of clean vehicles and systems on display at the show demonstrates not only the varying technologies available on the market today but the industry's understanding that there is more than one way to achieve efficiency and emissions-reduction goals.
Among the new technologies introduced at the show was the H 3000 Fully-Automatic Parallel Hybrid-Propulsion System from Allison Transmission. Designed for use in medium- and heavy-duty vehicles, the new transmission is best suited for start/stop applications—such as refuse trucks or shuttle buses—because the transmission uses a regenerative braking system to collect and store energy from each braking event. Allison placed a Remy motor generator on its 3000 Series transmission in order to create the hybrid version. With the Remy motor generator, more braking energy can be captured without using a lot of energy. According to Lurie Tuttle, Vice President of Hybrid Programs at Allison, the new hybrid transmission can offer a 25% improvement in fuel economy. She also noted that the more starting/stopping events a vehicle has, the greater the opportunity to capture energy and see fuel economy improvements.
Learn more about the new Allison hybrid transmission by viewing Tuttle's entire Green Truck Summit presentation.
To help eliminate engine idling in heavy-duty on-highway vehicles, eNow Inc. has developed an APU (auxiliary power unit) powered by solar panels. eNow developed the APU in partnership with Bergstrom, integrating the solar panel technology with Bergstrom's NITE system. The eNow solar panels, which are about 1/4 in. thick, collect energy from the sun which is stored and used for powering vehicle components such as no-idle APUs, like the NITE system, safety lighting and lift gates. By using energy from the sun instead of diesel to power the Bergstrom APU, eNow's solar panel system can help reduce fuel use as well as emissions. In addition to using energy from the sun, the eNow system can be plugged into the electric grid or provide power via an alternator in case there is not enough sunlight. eNow is also working on adding regenerative braking, exhaust recovery and shock absorber recovery capabilities to the system.
Visit eNow's YouTube channel to see its solar power technology in action.
John Duffy, Research Engineering Manager at Kenworth Truck Company spoke during the Green Truck Summit about the work Kenworth has been doing to develop microturbine technology as a means of reducing emissions. Consisting of automotive style components, the microturbine features turbochargers and a combustor which act as the vehicle's engine. Duffy said microturbines are beneficial because they have the potential for higher fuel efficiency than diesel engines and are able to meet emissions regulations without the use of an aftertreatment system. Microturbines produce fewer emissions by having a more homogeneous mix of fuel and air, as well as a continuous combustion process. Lower pressures and temperatures in the microturbine create a leaner combustion process which also contributes to fewer emissions. Though the use of microturbines have been attempted in the past in heavier-duty applications, Duffy said the technology developments within recent years—such as high temperature ceramics, improved heat exchanger designs, more mature power electronics—have helped to regenerate the potential of using microturbines. Kenworth is currently working with Capstone Turbine Corporation to develop a microturbine for use on a Class 7 truck, as well as partnering with Brayton Energy and ICRTec to develop a system for Class 8 trucks.
What new alternative energy technologies do you see emerging in the next 5, 10 or 20 years? Which technologies emerging now do you think will last? Are there other emissions reducing technologies on the horizon you think will make an impact in the industry? Is there an emerging technology you would like us to cover more in depth? Let us know! Email me at [email protected].
Head over to OEM's Component Directory to see more of the new products released at the show. More products are being added daily.
And be sure to check out more news from the show, including: