At this year's bauma, HJS exhibited its innovative products and competence in the field of integrated system solutions for construction machinery and commercial vehicle powertrains – all under its slogan You create performance – We create clean air.
Innovation from the outset – technologies for OEMs
Nitrogen oxides, particulates and minimal CO2 emissions – HJS has the answers to future emissions regulations. As a provider of emissions treatment systems, it possesses product development expertise in diesel, petrol and gas engines, plus extensive applications expertise in on- and off-road applications.
Product innovations at bauma included:
HJS SCRT-TM – an integrated exhaust system with two-stage active thermal management

HJS Swirl Cap Compact Mixing Module – modular AdBlue-emissions mixture preparation unit as a complement to the HJS system kit

HJS SMF-AR – a sintered metal filter with active regeneration
Minimal emissions – sustainability for a lifetime
HJS systems also bring vehicles and machines already out there in the field into line with the latest emissions standards. Not only does HJS develop and manufacture innovative systems for the original equipment market, but it also develops and markets  complete emissions treatment systems for retrofitting to existing vehicles and machinery powered by a combustion engine. This includes all types of vehicle, from vans to commercial vehicles and public transport vehicles, as well as construction machinery.
Its products are based on a wealth of experience gained over many years of collaborating with all of Europe's leading engine and vehicle manufacturers. The modularity of its products enables these systems to be easily adapted to any vehicle or machine with little time and effort. All products meet the very highest quality standards. Even under the most critical operating conditions, its systems operate reliably and reduce emission levels under all circumstances and long-term. The vehicle or machine owner benefits from a robust, certified solution sourced from a single supplier. From project planning to installation and after-sales support, HJS is a partner our customers can always rely on 100%.
Putting the spotlight on its highlights
HJS SCRT-TM – an integrated exhaust system with two-stage active thermal management
HJS's AdBlue system has been designed in such a way that it can also be integrated into extremely compact installation spaces. Particulate matter (PM) is reduced to the very threshold of detectability and a drastic reduction in nitrogen oxides to Stage V or EURO VI level can be achieved in the smallest of installation spaces. The integrated, active thermal management system facilitates very high nitrogen oxide reduction rates and reliable regeneration of the particulate filter even at extremely low exhaust temperatures.
Over a period of several years, HJS has developed the technology modules that go to make up this complex system architecture:
Extremely compact mixing section, which simultaneously offers minimized exhaust backpressure and optimum, uniform distribution of AdBlue

State-of-the-art catalyst technology with high efficiency levels

Electrically heated catalytic converter, incl. HJS control and power electronics

Exhaust backpressure valve as an integral part of the thermal management system

HJS Aftertreatment Control Unit (ACU) with full software functionality for controlling all emissions aftertreatment components; AdBlue dosing logic, DPF loading and regeneration control, comprehensive Stage V and Tier 4 Final OBD functionality; control of all dosing components available on the market

 
"Emissions aftertreatment is seen as a risk factor by many machinery owners. They are worried about residues in the SCR and also about the particulate filter clogging up. We have put a great deal of effort into development and testing to ensure that these problems do not occur in any of our systems," says HJS's CTO Dr.-Ing. Christoph Menne. "With the aid of smart concepts, complex 3D CFD simulations, hot-gas and engine test-bench testing, we ensure that our systems are extremely robust and function under all conditions. True to our slogan "You create performance – We create clean air." It's something my team and I are very proud of."
HJS Swirl Cap Compact Mixing Module – modular AdBlue-emissions mixture preparation unit complements the HJS system kit
The latest EU Stage V emissions standard, which came into force on January 1, 2019, aims to cut pollutant emissions in the non-road segment by up to 98 per cent. For many engine manufacturers, it's a huge challenge to find space in some mobile machines to install the necessary emissions treatment components.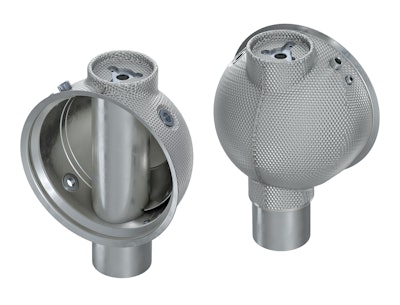 The new HJS Swirl Cap Mixer makes it possible to fit a highly efficient AdBlue mixture preparation system with low exhaust-gas backpressures into the tightest of spaces. The modular system can be adapted to a wide variety of engine sizes and installation space requirements in machines.
For the power output range from 56-560 kW, the development team at HJS has come up with a variable arrangement. Whether horizontal or vertical, it's always possible to find a flexible installation position close to the engine. Thanks to the super-short mixing section in which the AdBlue and exhaust gases are combined, the system is very compact. The high temperatures that ensue from the immediate proximity to the engine result in a high degree of efficiency.
The diameter and length of the Swirl Cap Mixer are scalable, making it possible to integrate it into a wide variety of installation spaces without any problem. Even with this short mixing section, vaporization is almost 100% perfect. Maximized NOx conversion rates in excess of 97 per cent and the minimization of critical deposits are the result.