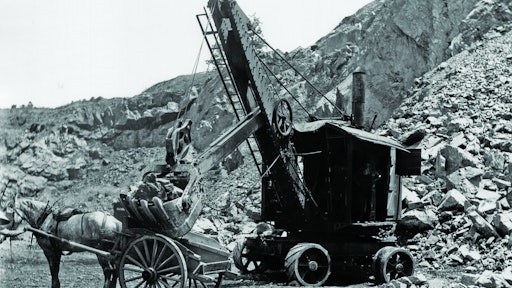 The first modern excavating machines were built for construction of railroads, so it was only natural that they too traveled on rails and flanged wheels. Although railroad shovels could handle heavy excavation, their mobility and working range was limited by their design and their confinement to the rails.
Most rail-mounted shovels were of partial-swing design or, for the largest shovels, full-revolving machines whose weight and size required two parallel sets of tracks. A partial-swing railroad shovel had only about a 200-degree swing, and a full-revolving machine had the advantage over it by its ability to work a wider cut, to dump anywhere in the machine's radius, and to lift its track from behind and swing it to the front.
The rails upon which these shovels traveled as they worked in quarries, mines and heavy construction excavation were usually temporary and often quite flimsy, resembling strands of steel spaghetti laid across the ground. As work was completed within the shovel's range of operation in an ongoing excavation, the track was left in place for trains of dump cars to use, or it was removed or relocated. Relocation was accomplished with a rail-mounted machine called a track shifter; it would simply lift and reposition the track as needed.
The full-revolving excavator was introduced by Whitaker & Sons of Leeds, England, in 1884, but the concept didn't gain wide acceptance until the early 1900s. As it did, shovel manufacturers began mounting their machines on free-traveling traction wheel chassis, utilizing smooth or treaded steel wheels for mobility. Shovel mobility was further enhanced as crawlers were adopted as standard for most cable excavators. Crawlers cost about forty percent more than rail mounting; but, like the traction wheel, they also generated savings by increasing the machine's mobility; eliminating the cost of track materials, laying, shifting and maintenance; and reducing the ground crew needed to operate the shovel from eight men to one. Many rail shovels were converted to traction wheel or crawler mounting, and the last railroad mounted shovel was manufactured in 1931.
The Historical Construction Equipment Association (HCEA) is a 501(c)3 non-profit organization dedicated to preserving the history of the construction, dredging and surface mining equipment industries. With over 4,100 members in twenty-five countries, our activities include operation of National Construction Equipment Museum and archives in Bowling Green, Ohio; publication of a quarterly magazine, Equipment Echoes; and hosting an annual working exhibition of restored construction equipment.
Individual memberships are $30.00 within the USA and Canada, and $40.00 US elsewhere. We seek to develop relationships in the equipment manufacturing industry, and we offer a college scholarship for engineering students. Information is available at www.hcea.net, or by calling 419-352-5616 or e-mailing info@hcea.net.