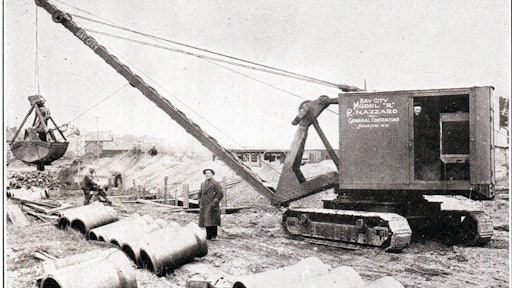 Cable-operated lifting apparatuses of various kinds had been used since the development of modern wire rope in the 1830s
The Otis steam shovel of 1836 was the first cable excavator. Shovels modified for trench excavation were first developed in 1896, draglines followed in 1904 and the first true cable backhoe in 1912. The Industrial Works locomotive crane of 1883 may well have been the first mobile cable crane built in America.
However, each of these machines was purpose-built, and contractors could end up needing a backhoe but only have a dragline available. A dragline would be able to do a backhoe's work, but with inferior efficiency and results. If a shovel were needed, neither machine could serve that purpose. Even a boom would be set up only for lifting, clamshell work or dragline service.
Under such circumstances, a machine's owner was faced with having one rig sitting idle and earning no money for him while he incurred the costs of transporting another to and from the job, if not of having to purchase or rent an entirely different machine.
As small- to mid-sized full-revolving excavators replaced half-swing shovels in the early 1900s, the concept of the convertible excavator also came to be. Such a machine was rigged so that the attachments were fully interchangeable. If the need arose for a backhoe and the only available machine was a skimmer, no problem—the attachments were swapped out, the basic machine was kept busy, and the only expenses incurred were for the attachment (rather than a complete machine) and the labor to make the attachment change.
Not all cable excavators were convertible, however. With very rare exception, larger machines were still purpose-built, and in the heyday of convertible machines, the same basic machine could be equipped with different crawlers or other features to make it better suited for a specific application, especially lifting.
Moreover, cable backhoes larger than a couple of yards capacity were always rare, and the need to change out backhoe and shovel fronts was rendered moot as these machines—other than the giant shovels used in surface mining—became obsolete in the late 1960s and early 1970s.
To a very limited extent, the concept of convertibility carried forward into the hydraulic era. In the early 1970s, Northwest Engineering marketed its 30DH, 55DH and 100DH hydraulic backhoes as being fully convertible to cable cranes and draglines by interchanging modules on the machinery deck along with the attachments. Several manufacturers such as Liebherr, Demag and P & H offered large hydraulic excavators as backhoes or shovels but evidently not as convertible machines.