Erica Floyd
A flood of smartly dressed people got off the U2 U-Bahn train in Munich, Germany, the morning of Monday, Oct. 24, and descended upon the first day of the world's largest construction equipment show. The massive indoor and outdoor show held some surprises and some anticipated, but still exciting, product launches for this editorial team. 
Caterpillar
After a quick but slightly frazzled train ride in to the Messe Munchen conference center -- the logistics of public transport can be tricky at times, especially on the first day of a major show -- our group stopped at the joint Caterpillar / Zeppelin booth, A4.336 to learn more about Caterpillar's engines and new off-highway prototype batteries. See OEM Off-Highway editor Lori Ditoro's interview with Dustin Childers, global marketing manager for Caterpillar, here. 
Ditoro and Childers' discussion of the Caterpillar engines highlighted how the engines can run on hydrotreated vegetable oil as fuel, as well as diesel and biodiesel--engine technologies that Caterpillar has been working on for a decade-plus. Of course, the centerpiece of the A4.336 booth was the Cat Battery System, a 600-volt battery-pack system designed specifically for the off-highway market.  
Battery power, electrification and alternative fuels primed our editorial sensibilities for a stop at the Zeppelin / Cat booth, B6 106, which showcases Caterpillar's four new electric machines, battery-powered prototypes that include the:
301.9 electric mini excavator
320 electric medium excavator
950 GC electric medium wheel loader
906 electric compact wheel loader
The Equipment Today and IRONPROS teams got an exclusive sneak peek of the 301.9 electric mini excavator courtesy of Caterpillar Zeppelin. The mini excavator will be available in 2024 for the North American market, according to Caterpillar, and features Cat's Next Gen platform, hydraulic power that will be familiar to Cat excavator operators and a 32 KWh battery with both AC and DC charging options.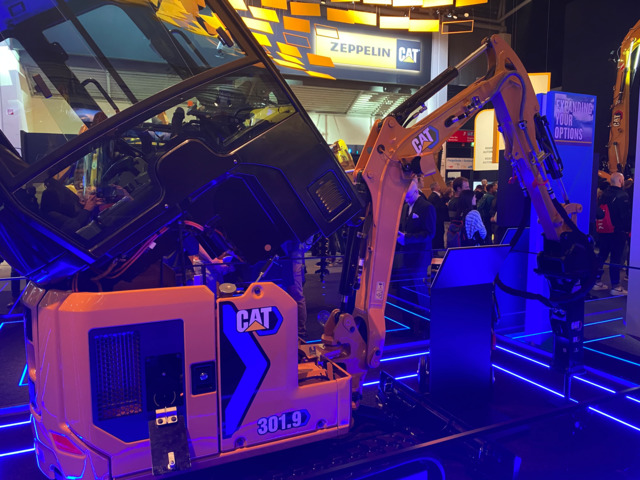 The new, all-electric Caterpillar 301.9 mini excavator features the Cat Next Gen platform.Erica Floyd
Manitou Group
As a driving autumnal rain forced a crush of bauma attendees indoors, the Equipment Today team braved the great outdoors and the 414,000 sq m. open-air grounds to dash to a Manitou press conference and new products unveiling. Among the new products shared and showcased were new MHT Range telehandlers, an extension of Manitou's articulated loaders product line, an expansion to the company's MT Construction range of telehandlers, a 100% electric ATJ Range wheel steer, all-terrain aerial work platform and new electric rotating telehandlers.
Manitou also showcased its ULM-GCT telehandler, the touted winner of a 2022 Equipment Today Contractors' Top 50 New Products Award! Representatives pointed toward the popularity of the ULM-GCT telehandler in the United States as a bright sign, considering most buzzed-about equipment in the U.S. is oversized, in contrast to the ULM-GCT's ultra-compact size and weight, and corresponding nimbleness.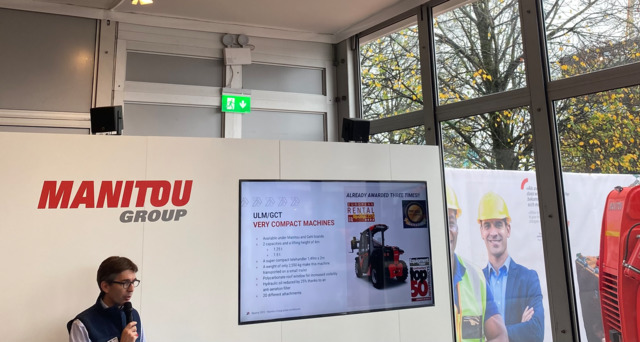 Among other products, the Manitou Group highlighted its ULM-GCT ultra-compact telehandler, the winner of a 2022 Equipment Today Contractors' Top 50 New Products Award.Erica Floyd
Bobcat Company 
As sheets of rain pelted from the sky, the Equipment Today and IRONPROS team made their way to the Bobcat Company booth to join legions of other soggy trade journalists and learn more about Bobcat's latest innovative, compact equipment offerings. The group clustered indoors at the Bobcat bauma location (FN 817), wiping condensation off the windows to peer out to the sandbox outside, in which the new Bobcat E19e electric mini excavator machines danced in sync. Despite the dreariness, cheers were made over glasses of prosecco to the new E19e excavator. Information on the machine's North American release is forthcoming.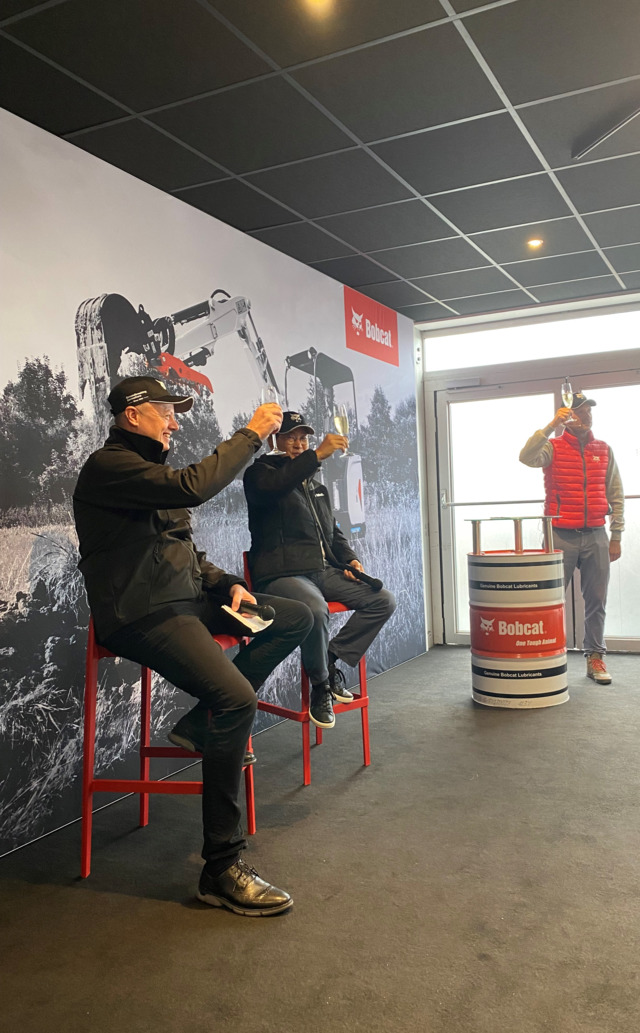 The Bobcat team, including Doosan Bobcat CEO Scott Park (center), raised glasses of prosecco to cheers the unveiling of Bobcat Company's new E19e excavator at a bauma 2022 press conference in Munich, Germany, on Monday, Oct. 24. Prost!Erica Floyd
A highlight of the Bobcat booth was the T7X All-Electric Compact Track Loader, the only of its kind on the market with no hydraulic fluids--and yet another 2022 Equipment Today Contractors' Top 50 New Products Award winner! The T7X has proven wildly popular in North America, selling to Sunbelt Rentals and the California state government to the tune of thousands of units, as well as to other customers with environmental, social and governance (ESG) priorities. 
Bobcat also launched a transparent, touch OLED (organic light emitting diode) display for its equipment. The transparent display, projected onto a window through which operators can still see clearly, to view the jobsite, can be positioned on the front windshield or a cab side window on a range of Bobcat machines, including compact excavators, telehandlers and loaders. The multi-functional display enhances operator productivity, efficiency and visibility to the task at hand. The display was developed in conjunction with LG Electronics and BSI Research. Taking great photos and video of this transparent touch OLED display was difficult the afternoon of Monday, Oct. 24, due to the deluge and cloudiness, but keep an eye out for updated images of these innovative Bobcat products later this week.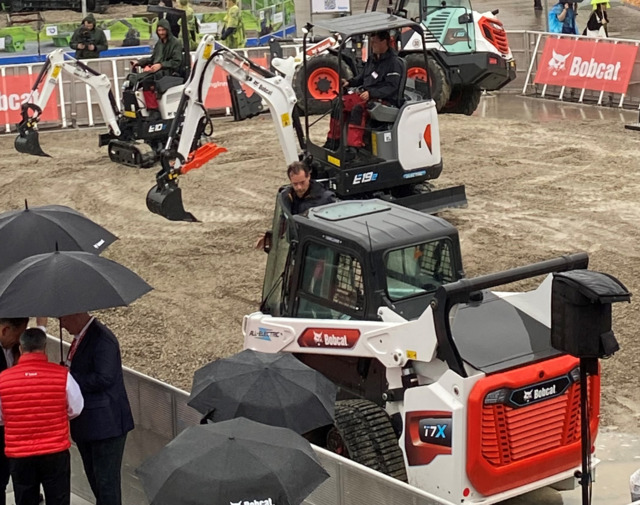 A pair of newly launched Bobcat E19e excavators swung and scooped in synchronized motion at the Bobcat outdoor booth at bauma 2022 in Munich, Germany, on Monday, Oct. 24.Erica Floyd
Hyundai
Finally, a press reception to end the evening at the bauma showgrounds revealed some of the company's new and exciting products, including the HW155H hydrogen cell powered wheeled excavator, the first of its kind. Watch Wayne Grayson's product walkaround video from the show here on IRONPROS.