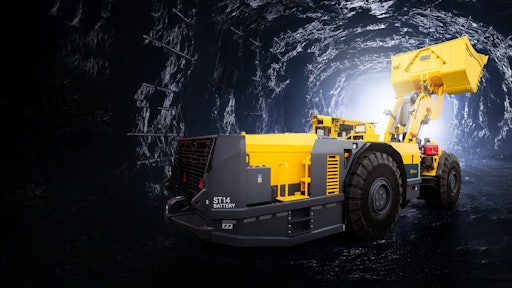 Epiroc
OEM Industry News Briefs provides a weekly round up of the latest news and company announcements you may have missed in the heavy equipment engineering and manufacturing industries.
Parker Hannifin Corp. is the latest company to announce it has joined the Hydrogen Council which is a CEO-lead initiative to help foster the transition to cleaner energy options. Founded in 2017 with 13 organizations, the council has grown to become a global coalition with over 100 members. They include companies from a variety of industries.
For its part, Parker will work with other companies to help advance the council's mission of accelerating development and commercialization of hydrogen and fuel cells. "As the importance of quickly scaling access to clean and renewable energy sources becomes increasingly clear, so too does the central role hydrogen will play in the energy landscape," said Tom Williams, Chairman and Chief Executive Officer of Parker, in the company's press release announcing it had joined the council. "Joining the Hydrogen Council is an opportunity to accelerate this global energy transformation, and is aligned with our purpose of enabling engineering breakthroughs that lead to a better tomorrow."
The company notes hydrogen is just one of the areas in which it is focusing its efforts to help create a more sustainable future. It is also researching various electrification and lightweighting technologies as well as new systems for storing and using renewable fuels.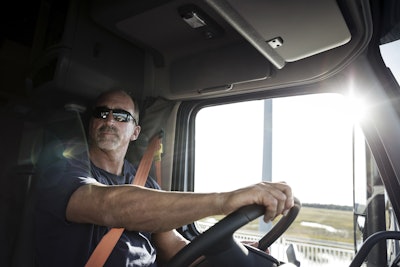 Volvo Trucks offering video telematics
Volvo Trucks North America has announced the Lytx video telematics technology will now be a factory-installed option on all model-year 2022 or newer Volvo trucks. The Lytx DriveCam event recorder uses machine vision and artificial intelligence technology to monitor and evaluate driver performance as a means of improving safety. It can identify behaviors such as following distance and lane departure, as well as whether or not drivers are wearing a seat belt.
"Advanced video telematics are an important extension of Volvo Trucks' industry-leading safety offerings, which can help improve a fleet's safety score," said Ashley Murickan, product marketing manager, Volvo Trucks North America, in the company's press release announcing the new technology option. "This in-cab technology not only helps with driver training and improving accident avoidance, but it also provides critically important information when accidents do occur."
The system provides live-stream capabilities to enable fleets to troubleshoot operator behaviors as needed. Per the press release, always-on cellular, cloud connectivity and optional continual recording allows users to evaluate, verify and address critical moments and driver actions in real time.
READ MORE: Telematics go Beyond Fleet Management
TTI celebrates 50 years of business
TTI Inc. will market 50 years of business in 2021. The company has grown to become a large global electronics distributor with employees and facilities located around the world to help meet customer needs.
The company says it has many virtual events planned to celebrate the anniversary as well as two publications which will highlight historic moments and achievements from the past 50 years.
Nikola receives LOI for battery-electric and fuel cell trucks
Nikola Corp. is collaborating with Total Transportation Services Inc. (TTSI) to test its battery-electric and fuel cell vehicles. The companies have also signed a letter of intent (LOI) for TTSI to order 100 Nikola Class 8 battery-electric vehicle (BEV) and fuel-cell electric vehicle (FCEV) semi-trucks.
"The Nikola Tre trucks are exactly the type of zero-emission solution we need to be using at the port," said Vic LaRosa, President of TTSI, in Nikola's press release announcing the LOI. "Our trucks operate for 18-20 hours a day making the benefits of the Nikola portfolio a perfect match for our needs. The expected availability of the BEV aligns with our desire to reach our sustainability goals quickly and the FCEV is ideal for longer-range applications. Nikola's value proposition of the truck and hydrogen fuel bundled together made this partnership even more appealing to our leadership team."
Per Nikola's press release, the LOI is for 100 zero-emission trucks beginning with a four-truck pilot slated to start in the first half of 2022 and consisting of two BEVs and two FCEVs. Based on satisfactory completion of the vehicle trials and subject to TTSI obtaining certain government funding, 30 BEVs are projected to follow later in 2022, and 70 FCEVs are anticipated to start in 2023.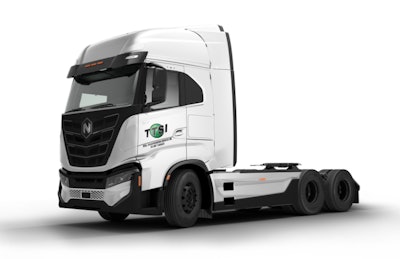 Bendix driver assistance cameras receive FMCSA exemption
Bendix Commercial Vehicle Systems announces it has received a 5-year regulatory exemption for its windshield-mounted video cameras. The Federal Motor Carrier Safety Administration (FMCSA) exemption is in effect until April 6, 2026, and allows Bendix safety cameras to be mounted slightly lower on the interior of a truck's windshield than previously permitted.
The camera is used for many of Bendix's safety systems including the Bendix Wingman Fusion collision mitigation system and the AutoVue 4G Lane Departure Warning System.
"As more fleets, drivers, and truck builders incorporate these safety technologies into their vehicles, it's important that we're able to continue advancing the systems without fleets and drivers having to worry about violating windshield clearance rules," said Fred Andersky, Bendix director – demos, sales, and service training, in the company's press release announcing the exemption. "This decision builds on similar previous exemptions that were made permanent, and it's limited to the Bendix camera housing – which is about 5.6 in. tall and 5.4 in. wide. It allows the bottom of the component to reach 8 in. below the top of the area swept by the windshield wipers – about an inch lower than the current regulation permits."
The FMCSA said in its announcement of the exemption that it believes the camera placement will not negatively impact driver visibility and thus safety.
Bendix notes in its press release that because the Wingman Fusion active safety system and AutoVue LDW are effective in most weather conditions where lane markings are visible, the systems' forward-facing cameras need to be mounted within the swept area of the windshield wipers. "This particular FMCSA decision is a narrow one, specific to Bendix," Andersky said. "And it expects that fleets and drivers will apply a level of common sense. The wrong devices, or too many of them in the sweep area, can still be in violation of the windshield obstruction rules. It's important for fleets that are not using Bendix devices to check with their system supplier concerning the appropriate windshield clearance exemption for the device being used. If not, the fleet could be subject to inspection violations."
Epiroc collaborates on EU-sponsored sustainable mining project
Epiroc has announced it is working with several mining companies, equipment and system manufacturers as well as universities on a project which looks to make mining more sustainable. The European Union funded collaboration, called NEXGEN SIMS, is a 3-year effort which the company says will support new technologies, methods and processes to make mining operations carbon neutral, efficient and more sustainable.
According to Epiroc's press release on the subject, a key part of the project will be the development of autonomous carbon-neutral mining process. Per the press release, this will include:
Use of battery-electric mining equipment
Utilization of 5G for optimized connectivity and positioning
Autonomous material handling
AI-powered traffic and fleet control
Collaboration among machines
Mine workers of the future will also be a focus for the project, looking at ways to improve aspects such as safety of the job through automation.
Several pieces of mining equipment will be used for the project, including Epiroc's Scooptram ST14 Battery loader and Minetruck MT42 Battery hauler, as well as others.
"Collaboration and partnership among stakeholders that have different areas of expertise is increasingly important to successfully advance complex digital and automated systems that will improve the mining industry's environmental impact, work environment and productivity," says Helena Hedblom, Epiroc's President and CEO, in the company's press release about the project. "We are proud to be part of and to lead the NEXGEN SIMS project, which will play a crucial role in this positive development."
READ MORE: 5G Enables the Next Wave of Connectivity
IC Bus delivers first electric school buses to Canada
Navistar's school bus brand IC Bus has announced it delivered its first electric CE Series school buses to Canada. The bus is one of 18 type C electric school buses ordered by the British Columbia School Districts.
According to Navistar's press release on the subject, the buses were delivered by Western Canada Bus, the IC Bus dealership that has been partnering with British Columbia School Districts over the last 2 years on electrifying their fleet. The entire experience serves as a standard for IC Bus moving forward.
"Navistar is committed to supporting our electric customers through the entire electrification process to not only make it easier for fleets to transition to electric, but to do so in a cost-effective way," said Gary Horvat, vice president, eMobility, Navistar, in the company's press release.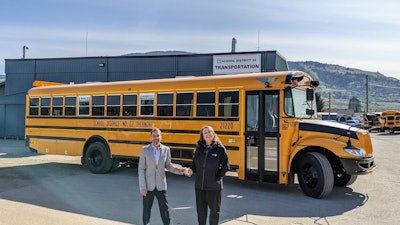 FPT signs MOUs to study clean fuels
FPT Industrial has signed two Memoranda of Understanding (MOU) with Landi Renzo Group—a developer of natural gas and hydrogen components—to develop natural gas and hydrogen technologies. According to FPT's press release announcing the MOUs, the companies will collaborate on developing complete, efficient and fully sustainable mobility solutions.
For the natural gas MOU, the companies will research development of new fuel injection and management systems that will be tailored for applications in which FPT engines are used.The companies aim to optimize performance of the entire gas system and engine, says FPT, by evaluating how best to integrate Landi Renzo Group's components into both CNG and LNG applications.
Per FPT's press release, the companies' cooperation in the hydrogen sector will also consider areas of development that leverage the synergies that CNG and LNG can offer in bridging the introduction of hydrogen to the transportation sector, from its use as a blend in natural gas to up to 100% hydrogen.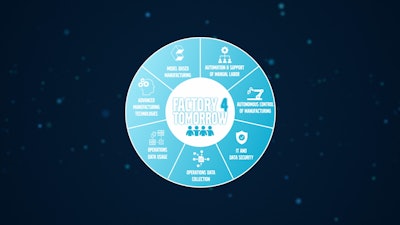 Volvo CE sees Industry 4.0 as way to evolve manufacturing
Volvo Construction Equipment (Volvo CE) sees the Fourth Industrial Revolution, often called Industry 4.0, as an opportunity to further digitize as well as improve manufacturing operations. It has termed its strategy for embracing Industry 4.0 as Factory 4 Tomorrow (F4T).
"For us, Factory 4 Tomorrow is about far more than just introducing new technologies, there's a far higher purpose behind it. It's about building a world we want to live in and workplaces we want to work in," said Lina Stålberg, Manufacturing Technology Development and Governance at Volvo CE, in the company's press release on the subject.
Smart factory teams have been established at 14 manufacturing sites around the world which Volvo CE says are tasked with looking for ways to innovate and impact the business. The teams are working with others at each site to improve daily challenges while using new technologies such as IoT, AI and machine learning. Various technologies and work methods will be tested with the overall goal of overhauling the entire production process and work environment.
Companies in this article