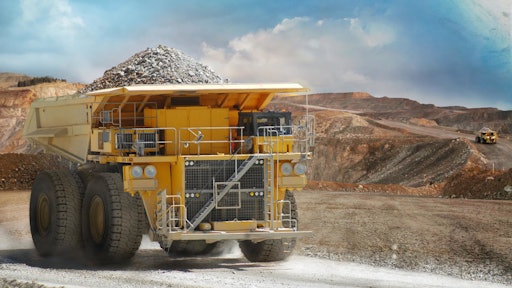 Michelin
Component manufacturers are continually developing new products and further enhancing their offerings to provide OEMs with solutions that will best fit their equipment designs and end use customer needs.
Each week we'll provide an overview of the latest components which have entered the heavy-duty mobile equipment market to help you find the products you need for your machine designs.
And be sure to check out our Component Directory for even more products. There you can also search by component categories and type.
MAXAM MS933 LOGXTRA Series High Flotation Tires
MAXAM has completed its forestry tire lineup with the 73x44.00-32 and 73x50.00-32 MS933 LOGXTRA high flotation tires. These tires are protected against cuts and impacts in tough working conditions due to incorporation of MAXAM's LOGXTRA compounding technology and manufacturing. According to MAXAM's press release about the tires, they are manufactured with an extra-wide footprint to provide flotation in muddy and wet ground conditions.
The belt-stabilized construction of these tires eases movement in harsh terrain while the nylon-wrapped cutting-edge bead package ensures durability.
Features of the MS933 LOGXTRA high flotation tires include:
Delivers enhanced traction and superior flotation in severe logging applications
Heavy-duty shoulder and sidewall decrease risk of punctures
Bead is designed with a thick and short cross-section for added stability and strength
Available for skidder fitment in various sizes to meet the needs of each application
Learn more about the MAXAM MS933 LOGXTRA High Flotation Tires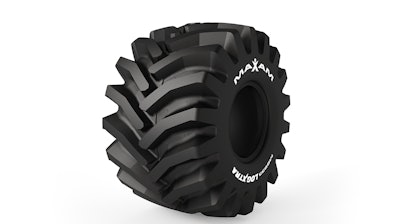 dSPACE Smart Charging Station Emulator
dSPACE has introduced a Smart Charging Station Emulator which allows manufacturers to test their battery system and electric vehicle designs. They can test with different technical charging standards and protocols and simulate a large number of faults to quickly evaluate new technologies. All components of this system are mobile as they are kept on a robust rack with wheels.
According to dSPACE's press release about the emulator, the system supports international standards for charging communication such as ISO 15118 and DIN SPEC 70121, GB/T 27930, GB/T 18487, and CHAdeMO, and emulates a wide variety of charging stations and charging scenarios in real time. New charging standards such as CHAdeMO 3.0 or ChaoJi can be easily implemented.
Features of the Smart Charging Station Emulator include:
Includes a SCALEXIO real-time simulator, a dynamic and expandable model that runs on the simulator
Features automatic cable recognition, connecting communication and charge release, insulation monitoring and emergency stop switches to ensure operator safety
Supports AC charging up to 63 A and DC charging up to a maximum of 200 A or 85 kW (113.99 hp)
Learn more about the Smart Charging Station Emulator
Tamrotor CTN4DH-W Integrated and Compact Compressor
Tamrotor (part of Ingersoll Rand OEM Solutions) has added the CTN4DH-W compressor to its CT product line of compressor products. It is compact and fully integrated for mobile applications such as mining, construction, and CAFS.
Features of the CTN4DH-W Integrated and Compact Compressor include:
Suitable for water and water/glycol cooling
Residual oil content in compressed air 5 mg/m3 in aerosol form
5-2 bar(g) (72.52-174.05 psi) operational pressure ranges
Learn more about the CTN4DH-W Integrated and Compact Compressor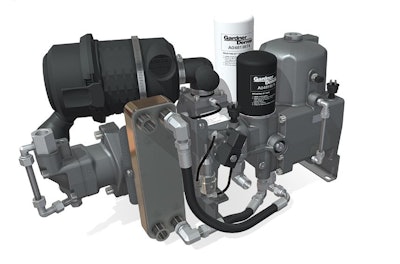 Omni Powertrain Technologies introduces an electric drive for driven axle applications in commercial vehicles, terminal tractors, and railcar movers. Per the company's press release on the electric drive system, it features Omni's F12L gearbox coupled with its tandem Magelec M27D motors. The available F12L gear ratios are 1:1, 2:1, 2.97:1 and 3.94:1.
Features of the Electric Drive include:
Gearbox is rated for maximum input torque of 1,200 Nm (885.07 ft.-lb.) and a maximum input speed of 7,500 rpm
M27D motor is a high voltage axial flux design capable of 192 kW (257.48 hp) continuous power at 600V and peak intermittent torque at 1,160 Nm (855.57 ft.-lb.)
Motor is cooled with a water-ethylene glycol mix and conforms to international standard IEC 60034
Learn more about the Electric Drive System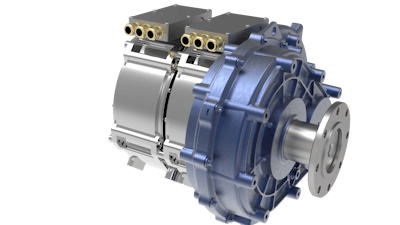 Michelin XDR 250+ Mining Tire
Michelin North America Inc. has introduced the MICHELIN XDR 250+, the next generation of its mining tire for 250-ton rigid dump trucks. Per the company's press release announcing the launch of the tire, it features improved wear resistance, optimized wear and increased aggression resistance.
"With rigid dump trucks playing such a critical part of open-pit-mining operations, the tires are key to meeting mine profitability targets through lower operating costs," said Sarah Robinson, Mining Marketing Manager, Michelin North America, in the company's press release. "As our most productive surface mining tire for 250-ton trucks, the XDR 250+ tire provides up to 15% more TMPH for the MB and MB4 compounds versus the competition."
Features of the mining tire include:
Incorporates the second generation of two compounds, MB4 and MB1, that provide improved wear resistance
New mixing process with superior level of carbon black dispersion creates a much more homogeneous mix that leads to a slower wear rate
Michelin multilayer technology provides optimized wear on front and rear axles
Learn more about the XDR 250+ Mining Tire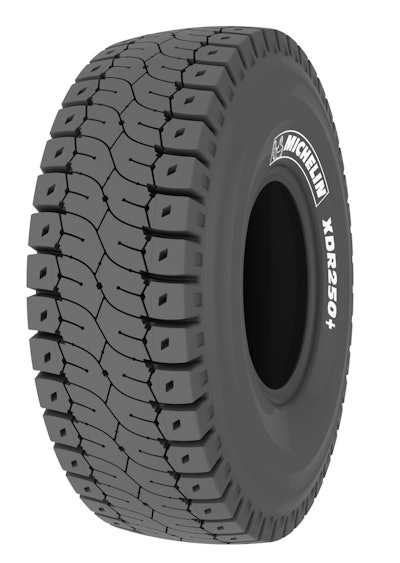 Companies in this article