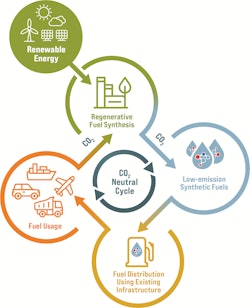 Tenneco
OEM Industry News Briefs provides a weekly round up of the latest news and company announcements you may have missed in the heavy equipment engineering and manufacturing industries.
Stoneridge CTO receives Automotive Hall of Fame Industry Influencers Award
Stoneridge has announced Laurent Borne, CTO and Divisional President, has been named a winner of the Automotive Hall of Fame Industry Influencers Award. The award honors those who are influencing and leading through their actions, innovation and visible positions on issues surrounding the automotive industry and its future, states Stoneridge in its press release announcing Borne's award.
Borne was one of six winners selected for the award, and was recognized during a ceremony held July 22.
He joined Stoneridge in 2018 as Chief Technology Officer (CTO) and appointed President of the Electronics Division in 2019. Borne helped transform the company's strategic direction which included reorganizing the engineering team to focus on developing systems-based solutions which would aid the commercial vehicle industry. He also led development of the MirrorEye Camera Monitor System, a technology that aims to improve the driving safety by replacing truck cab mirrors with advanced camera systems.
READ MORE: Mirrorless Vehicles are Closer Than They Appear
Volta Trucks partners with CPC Group for composite truck body parts
Volta Trucks has announced it will partner with CPC Group—known as Europe's largest composite manufacturing company—on the development and supply of sustainable and recyclable composite exterior body panels for the Volta Zero.
In addition to creating a zero-emissions commercial vehicle, Volta Trucks also wants to ensure it utilizes a sustainable supply chain and materials for the truck. Volta Trucks says the initial Volta Zero used sustainably-sourced flax and biodegradable resin composite panels. The fully natural, lightweight, high-performance fiber material is almost CO2 neutral over its lifecycle, and matches the stiffness and weight of carbon fiber but uses 75% less CO2 to produce, the company says in its press release announcing the partnership with CPC Group.
The two companies will work together to develop and industrialize the composite materials to meet the production volumes Volta Trucks is aspiring to with its fully-electric Volta Zero. Composite materials will be used throughout the body and trim; the first production vehicles will utilize the initial iteration of the composite with future material developments expected.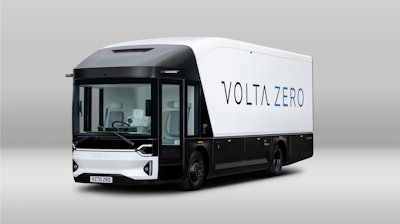 Cummins announces new hydrogen collaborations
Cummins has singed a memorandum of understanding (MOU) with Air Products to accelerate integration of hydrogen fuel cell trucks in the Americas, Europe and Asia. Cummins says in its press release announcing the MOU that it will provide hydrogen fuel cell electric powertrains which will be integrated into select OEM partners' heavy-duty trucks. The trucks will be used by Air Products, which is working toward converting its fleet of distribution vehicles to hydrogen fuel cells.
Once the demonstration and pilot phase of the project is complete, Air Products will convert its fleet of 2,000 trucks to hydrogen fuel cell operation. The demonstration phase is expected to begin in 2022.
The companies also plan to collaborate on increasing accessibility to renewable hydrogen as well as hydrogen infrastructure to help market uptake of fuel cell powered trucks.
"The best way to promote the adoption of hydrogen for mobility in heavy-duty applications is for us to have units on the road and lead by example. In addition to other heavy-duty applications like transit fleets, where we already provide fueling solutions, the semi-truck market is a major opportunity for hydrogen due to its rigorous requirements. Only hydrogen fuel cell vehicles can provide the necessary range, refueling time, and weight requirements to decarbonize this important transportation sector," said Eric Guter, Air Products' Vice President for Hydrogen for Mobility Solutions, in Cummins' press release announcing the MOU.
Cummins has also recently announced an MOU with Chevron to develop business opportunities related to hydrogen and other alternative energy sources. Per Cummins' press release on the subject, the companies will initially collaborate on four main objectives:
advancing public policy that promotes hydrogen as a decarbonizing solution for transportation and industry;
building market demand for commercial vehicles and industrial applications powered by hydrogen;
developing infrastructure to support the use of hydrogen for industry and fuel cell vehicles;
and exploring opportunities to leverage

Cummins

electrolyzer and fuel cell technologies at one or more of Chevron's domestic refineries.
"Working with Chevron to advance hydrogen technology and accelerate ecosystem development helps us continue our goal in enabling a carbon-neutral world," said Amy Davis, Vice President and President of New Power at Cummins, in the company's press release announcing the MOU with Chevron. "The energy transition is happening, and we recognize the critical role hydrogen will play in our energy mix. We've deployed more than 2,000 fuel cells and 600 electrolyzers around the world and are exploring other hydrogen alternatives including a hydrogen-fueled internal combustion engine as we continue to accelerate and harness hydrogen's powerful potential."
READ MORE: Hydrogen is Here for the Long Haul
Tenneco researching synthetic fuels
Tenneco has announced it is exploring the use of synthetic fuels (aka e-fuels) to increase efficiency while reducing the carbon footprint of internal combustion engines (ICE). Tenneco's Powertrain business will partner with academic and industry experts to determine the technical and commercial feasibility of e-fuels, the company says in its press release announcing the project which is known as NAMOSYN.
Synthetic fuels are believed by many to be one option for helping the transition to climate-neutral alternatives. They are are created using renewable energy sources such as solar and wind to create a closed CO2 cycle on a holistic well-to-wheel basis, explains Tenneco in its press release. In addition to reducing overall emissions, Tenneco says synthetic fuels can help better manage any remaining pollutants through the aftertreatment process.
These fuels can also be used in current gasoline and diesel engines with minor changes, making them easier for manufacturers to implement in the near term without dedicating a lot of engineering resources. Tenneco also notes in its press release that e-fuels can be made available using a good portion of the existing fuel distribution and filling station infrastructure, again with just a few minor adjustments necessary.
"It is widely acknowledged that solutions must be found to reduce a vehicle's carbon footprint. In addition to light vehicles, internal combustion engines are also popular in trucks, marine propulsion, construction equipment and agricultural machinery," explains Dr. Steffen Hoppe, Director Global Technology for piston rings and cylinder liners at Tenneco´s Powertrain business group in Burscheid, Germany, in the company's press release about the project. "Regardless of the differing opinions when full electrification will be reached, any technology that we can adopt now that enables a significant reduction in CO2 emissions, or even CO2-neutral operation of the IC engine, will be an essential contributor to the timely achievement of climate targets. We are excited to be an active part in the development of this type of technology."
As part of the NAMOSYN project, Tenneco will work with industry partners to better understand synthetic fuels as well as develop cost-effective and energy-efficient manufacturing processes for the fuel. The project will also test their use in IC engines.
Tenneco says its team in Burscheid, Germany, will research how the use of innovative piston ring designs in combination with synthetic fuels can help reduce emissions.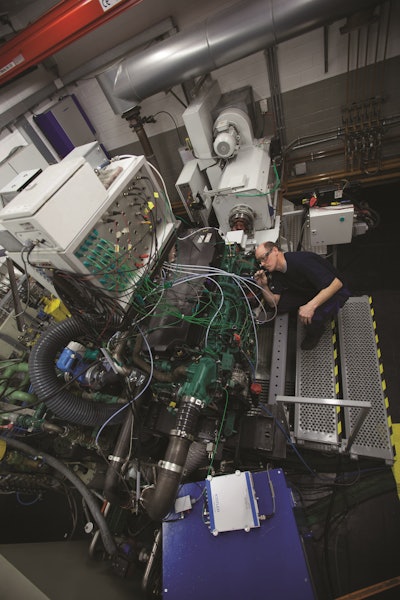 Kenworth Trucks collaborates with students to use AI as part of development process
Kenworth Truck Co. recently worked with computer science students from Seattle University to evaluate the use of artificial intelligence (AI) to help speed up the development process and improve accuracy. Specifically, the team looked at using AI when looking at reducing weight, an important factor for many customers.
"We often have large customers that have regional preferences for truck specs," said Reid Nabarrete, Kenworth's Assistant Chief Engineer, in the company's press release discussing the project with the university students. "They might run in a mountainous area, so they'll spec a bigger engine and different transmission – maybe even a different sleeper. Then, another terminal might run the Midwest – where they don't need as much horsepower and require different specs. We know the main weight difference between major components, but when spec'd, they have a cascading impact on all the subcomponents. That's when the challenge begins in calculating weight."
Typically hours of calculations are necessary to meet these regional customer requirements. Currently the company can calculate the weights with an accuracy of close to plus or minus 2%. But it has been looking at AI as a way to improve upon this further.
The company has worked with students from Seattle University on the use of AI for these calculations in the past; this year's team of four students was able to develop code and AI learning code to determine weights of the thousands of Kenworth truck models built each year. Kenworth says the team of students were able to develop a predictive modeling solution using AI that was very accurate. "When we audited their predictions, we found they were within 1% of our manual calculations. And, those were consistent calculations. So, a customer with a 'standard' truck weighing in at 16,000 lbs. for example, could give us a list of spec changes, and the students could come within 160 lbs. of the actual true build weight. And they could do it in minutes, not hours," said Nabarrete.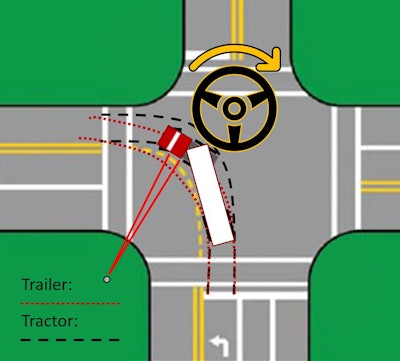 The company plans to refine this modeling further and expects to use AI more regularly in the future.
Kenworth also worked with another team of engineering students from Seattle University to determine how to predict and compensate for handling while driving. The company says this is particularly beneficial for driver assist automation and autonomous vehicles.
Per Kenworth's press release on the subject, the project's goal was to emulate how a professional driver handles turns. "Humans see, anticipate and have an understanding of road conditions – if the road is slippery, or if there is gravel or something on the road ahead, they'll make adjustments when cornering," said Kenworth Engineer Stan DeLizo. "We're trying to do that same thing through optical sensors surrounding the vehicle and trailer. Those sensors use image recognition and edge detection to inform the system of the truck's actual location on the turn-path. Then, through mathematical modeling, which uses the vehicle's known attributes, we're able to predict the minimum radius turn path in each direction."
Ultimately, the project aims to enable a Kenworth truck to automatically navigate a corner or turn in a safe manner, within a minimum turning radius.
The students created a 1/10th scale model equipped with sensors and cameras to demonstrate their results with which Kenworth says it was very happy. "What these students came up with is almost ready for bolting onto a full-size truck," said DeLizo.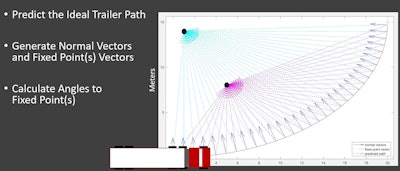 Companies in this article