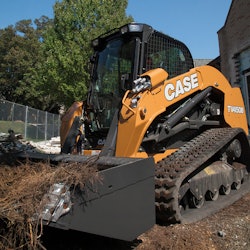 CASE Construction Equipment
OEM Industry News Briefs provides a weekly round up of the latest news and company announcements you may have missed in the heavy equipment engineering and manufacturing industries.
IVECO supplying gas-powered trucks for Amazon's European operations
CNH Industrial's truck brand IVECO has received an order from Amazon for 848 S-WAY trucks powered by compressed natural gas (CNG). These are in addition to the 216 units already delivered to the company; all vehicles will be used by Amazon's partners in Europe.
Delivery of the new trucks is expected to begin in the middle of 2022.
All 1,064 trucks ordered by Amazon are powered by engines from sister brand FPT Industrial. The Cursor 13 Natural Gas engines and 1,052 L CNG tanks integrated into the trucks are expected to provide a driving range of 620 km (approximately 385 mi.) between refueling.
"Collaboration with global leaders like Amazon is a testament to the robust capability of our innovative products and our unyielding commitment to the industry objective of decarbonizing transport by 2050. Iveco Group will continue leading the way in combustion engines running on renewable fuels, the only viable solution already available at scale on the market to reduce emissions. Let's not forget that a CNG truck powered by bio-methane can cut CO2 emissions by up to 95% from a well-to-wheel CO2 measuring approach, effectively contributing to the decarbonization process," said Gerrit Marx, designated Chief Executive Officer of Iveco Group, in the company's press release announcing the truck order.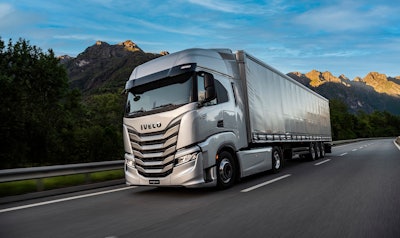 Hexagon Purus signs long-term agreement for hydrogen storage
Hexagon Purus has announced the signing of a long-term supply agreement with a European bus OEM in which it will provide hydrogen storage systems for the manufacturer's next generation 12 and 18 m fuel cell buses. Hexagon has worked with the OEM several times over the years, and expects deliveries to take place between 2021 and 2024.
Among the storage tanks provided will be Hexagon's lightweight type 4 cylinders which help provide a driving range of up to 350 km (217.5 ft.).
"We are happy that a growing number of countries are eyeing hydrogen technology, which is a superb, green solution to decarbonize public transportation," said Michael Kleschinski, EVP Hexagon Purus, in the company's press release announcing the new supply agreement.
"We now see the adoption of zero emission mobility solutions accelerating," said Morten Holum, CEO Hexagon Purus. "As more European countries and cities announce strategic policies to promote the decarbonization of mobility, more commercial vehicles—especially city buses—will be rapidly transitioned."
RISE Robotics awarded DOD feasibility study
RISE Robotics, developer of an electro-mechanical alternative to hydraulic cylinders, is one of eight companies chosen to take part in The Expeditionary Energy Campaign—an effort through the Air Force Research Laboratory (AFRL) to fund innovative energy technologies.
As such, RISE Robotics will conduct a feasibility study which evaluates the use of its RISE Cylinder technology to help electrify equipment for the U.S. Air Force.
The U.S. Dept. of Defense (DOD) is undertaking many initiatives to improve the safety and efficiency of its fleet through efforts such as this. Electrification of vehicles is one of the many aspects currently being evaluated in many DOD programs.
Learn more about the RISE Cylinder in our podcast interview with the RISE Robotics team.
New head of MAN Engines appointed
Mikael Lindner has been appointed head of MAN Engines where he will be responsible for the engines and components business of MAN Truck & Bus SE. The position is effective January 1, 2022.
In this position, Lindner will help lead business strategy and development as well as sales, finance and development at the company's international engine competence center in Nuremberg.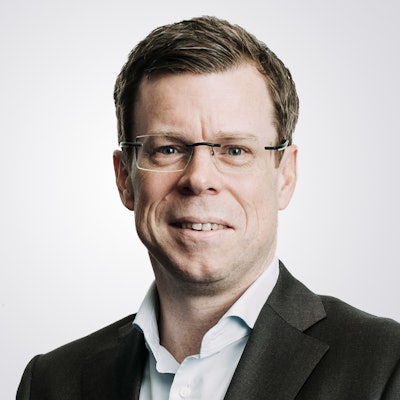 "MAN Engines is an integral part of MAN Truck & Bus and a reliable partner for all our customers. I want to maintain this and further expand our business for the future," said Lindner in the press release announcing his appointment.
Lindner brings with him several years of experience in the engine industry. Previously he headed up the national organization in Japan for the distribution and service of trucks, buses and engines from Swedish commercial vehicle manufacturer Scania, which, like MAN Truck & Bus, is also part of the Traton Group, the company noted in its press release.
Thomas Built Buses electric school bus demonstrates vehicle to grid capabilities
Thomas Built Buses' Saf-T-Liner C2 Jouley electric school bus features vehicle-to-grid (V2G) capabilities which enable it to provide unused power back to the energy grid during idle times. The company recently demonstrated this capability in Beverly, MA, where it provided electricity back to the grid for over 50 hours during the summer.
According to a release on the demonstration from Thomas Built Buses, this was the first time an electric school bus had been leveraged as an energy resource by the regional utility National Grid in New England and among the first of such instances in the United States when an electric school bus has supported the electric grid in this way.
The bus is equipped with a battery system from Proterra Powered—the battery supply division of electric bus manufacturer Proterra Inc. The battery system discharged close to 3 megawatt-hours of electricity stored on the bus to the grid, according to the press release.
Charging and discharging was managed by Proterra's bidirectional charging system integrated onto the school bus. Providing electricity back to the grid in this manner helped to meet power needs during periods of high cost and demand, helping the buses to reduce their local emissions by minimizing the need to fire up costly fossil fuel "peaker" plants.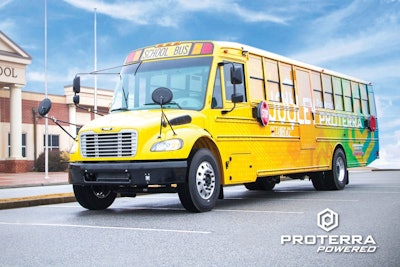 Cummins invests in Sion Power
Cummins Inc. has formed a battery design and supply agreement with Sion Power Corp., a developer of high-energy rechargeable battery technology. As part of the agreement, Cummins is also investing in Sion Power that will enable it to take a minority stake in the company. This will help Sion Power further it development efforts for lithium metal technology for commercial vehicles.
Per the new agreement, Sion Power will take part in a multi-year development program to design and supply large-format lithium metal battery cells for use in Cummins battery packs. The batteries developed by Cummins will be integrated in its electric powertrains for commercial vehicles, states Cummins in its press release announcing the new investment and supply agreement.
CASE donates compact track loader
CASE Construction Equipment has donated a TV450B compact track loader as well as several attachments to use with the machine to Camp Southern Ground, a Georgia-based non-profit organization with multiple missions. Per CASE's press release on the donation, Camp Southern Ground spends the majority of the year supporting veteran mental health and wellbeing with two programs that help veterans find community, direction, purpose and healing during—and even long after—their transition back to civilian life. During summer months, Camp Southern Ground is a residential summer camp serving kids from varied backgrounds and abilities. Camp Southern Ground's inclusive model brings together typically developing children, children with neurodevelopmental differences, children from underserved areas, and children from military and veteran families with programs that challenge, educate, and inspire.
Scott Wine, CEO, CNH Industrial, and Terry Dolan, CASE Construction Equipment Vice President for North America, delivered the CTL to the camp on December 2, 2021. According to CASE, the loader will be used in development and maintenance projects to expand facilities and capabilities at the camp.
"Really good things happen at this camp — healing, growth and education — giving veterans the skills to transition to the next stage of their careers, and giving kids the confidence and social skills to excel in their personal relationships," said Dolan in the company's press release announcing the donation. "At CASE, we talk a lot about building communities — and the strongest communities are built on the kind of strength and character that Camp Southern Ground provides. We're honored to be partners in this mission together."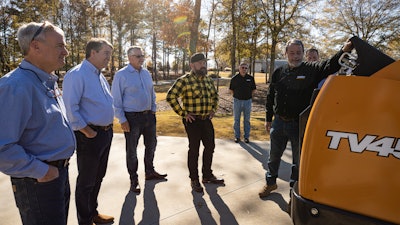 Companies in this article