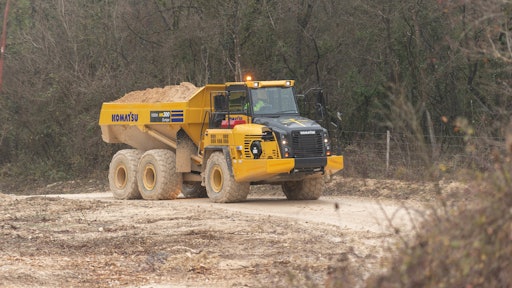 Komatsu Europe
OEM Industry News Briefs provides a weekly round up of the latest news and company announcements you may have missed in the heavy equipment engineering and manufacturing industries.
Titan International and Kubota Tractor enter tire supply agreement
Titan International and Kubota Tractor Corp. have signed an exclusivity agreement for the supply of select sizes of Titan's new Trac Loader II tires. The tires will be used on compact and utility tractor models used in residential, commercial, agricultural, and light construction applications. Per the exclusivity agreement, the tire will be branded Titan and Kubota on the sidewall.
The two companies tested the Trac Loader II tire to ensure it will provide optimal performance in various applications. According to Titan, the tire provides improved cleanout and roading due to the upgraded center lug design. It is also designed to offer increased stability and durability.
"We're excited to launch this innovative tire into the market that will perform well in diverse applications and do so with both the Titan and Kubota brands being represented. We have had a strong, long-standing relationship with Kubota and enjoy collaborating with their development teams. The Trac Loader II is a first for Titan as an OEM branded tire product in this space, but our second exclusivity agreement together with Kubota. Previously, Titan and Kubota partnered on the Goodyear R14T crossover tires, which was the first-time Kubota entered into an exclusivity agreement with a tire manufacturer," said Paul Reitz, President and Chief Executive Officer of Titan International Inc.
READ MORE: Agriculture Tire Offering Expands with Industry Partnership
Vanguard partnership to aid OEM electrification efforts
Briggs & Stratton has formed a partnership with MurCal Inc.—an integrator of controls and instrumentation for industrial applications—which plans to use the Vanguard Commercial Lithium-Ion Battery Packs in solutions developed for OEM customers.
"Through our battery technology partner program, we've been able to identify and partner with esteemed solutions providers like MurCal in a common goal of helping OEMs more easily electrify their equipment," said Chris Davison, Briggs & Stratton senior marketing manager, commercial power. "We are very excited about the opportunities that will come from aligning with MurCal and seeing how the company utilizes the Lithium-Ion technology from Vanguard to better serve its many stakeholders."
This is one of several partnerships Briggs & Stratton has formed recently in which its battery technology will be used in various applications to advance electrification efforts. These partnerships show the growing interest in battery technology and electrification in the heavy-duty equipment markets.
READ MORE: Briggs & Stratton Announces Partnership with JEM Technical
"Our customers - like the rest of the country - are navigating an increased need for electrification in the face of changing emission standards," said Jim Saunders, head of business development at MurCal. "By partnering with Vanguard, we're able to bring forward a trusted, standard solution for electrification that we can help our OEM customers implement quickly and consistently."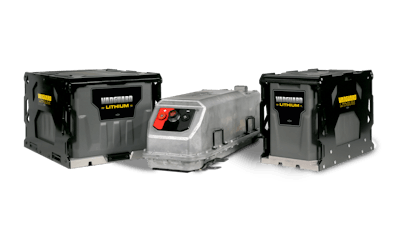 Engineered Seal Products acquires Swan Engineering
Engineered Seal Products (ESP) recently announced its acquisition of Swan Engineering and Supply Co., Inc., a distributor of sealing products for various industries including construction, mining, military, aerospace and more.
"This acquisition is another step that accelerates ESP's expansion into new markets and regions," stated Jeff Hamilton, CEO of Engineered Seal Products. "We're acquiring a very talented team of technical experts. We plan to invest in the Swan Engineering brand, serve and grow their customer base, and extend ESP's capabilities."
Deere adds seven companies to startup collaborator program
Deere & Co. has announced seven companies will join its 2022 Startup Collaborator program. Launched in 2019, the program aims to enhance relationships with startup companies developing technologies which could be of value to John Deere customers.
The year-long program enables John Deere and startup companies to test technologies with dealers and customers without forming a formal business relationship, enabling more flexibility in the working relationship and testing process.
The companies added to the startup collaborator program are: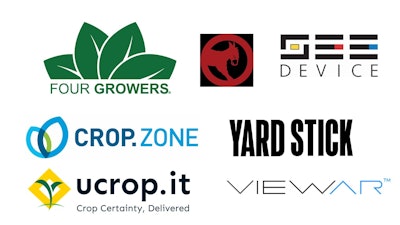 Burro – A company providing people-scale robotic platforms to help farm laborers work more productively today, while laying the base for comprehensive automation of the most labor-intensive on-farm tasks tomorrow.
CropZone.com – Crop.Zone is the electrifying solution available to every grower looking for a sustainable and reliable solution to control weeds and desiccate crops without residue.
Four Growers – A company providing robotic harvesting and analytics for high-value crops - starting with greenhouse tomatoes.
SeeDevice – A company working to provide enhanced CMOS SWIR image sensing capabilities and performance, using quantum-based photodetector technology for smart devices in automotive, biomedical, and machine vision applications.
Ucropit – A company bringing together farmers and companies to create, aggregate and share Crop Stories with verified sustainability traceability.
ViewAR – A company with more than 10 years of experience in creating Augmented Reality (AR) business solutions which address many customer pain points and use cases, like indoor navigation and AR for service, and allows them to easily create their own high-quality AR-Apps and start their augmented reality journey.
Yard Stick – A company developing low-cost, instant, in situ soil carbon measurement technologies to enable gigaton/year carbon removal via agriculture.
"The startup collaborator shows that part of our investment in technology is establishing a mechanism to help external ideas and knowledge collide with ours," said Julian Sanchez, director, emerging technology for John Deere. "Agriculture is a domain ripe for technology pioneering, and the startup collaborator program is a way to travel that journey together with others."
Cummins Inc. has closed its 50% equity interest in Momentum Fuel Technologies from Rush Enterprises Inc. This will create a joint venture between the two companies in which Cummins and Rush Enterprises collaborate on near-zero emissions natural gas powertrains. Cummins-branded engines will be fitted with natural gas fuel delivery systems developed by Momentum Fuel Technologies and put into the market for commercial vehicles in North America.
Momentum Fuel Technologies' fuel systems enable the use of compressed natural gas (CNG), as well as renewable natural gas (RNG). When the latter is produced from methane collected from organic waste, Cummins says in its press release announcing the acquisition the engines can be credited with a neutral to negative carbon index which results in net greenhouse gas (GHG) emissions at or below zero.
"This partnership will expand and improve the service and support for CNG and RNG customers," said Srikanth Padmanabhan, President of the Engine Business at Cummins. "The partnership will help us bring to market the highest quality, clean and efficient natural gas products, including the 15-liter natural gas engine we announced in October.
"Our range of natural gas powertrains, including our 15-liter engine, are important to advancing our path to zero emissions solutions strategy that reduces the greenhouse gas and air quality impacts of its products in a way that is best for our customers and all stakeholders," Padmanabhan added. "In order to truly achieve a zero-emission economy, we have to help customers transition seamlessly, which requires multiple solutions including natural gas, along with advanced diesel, electrified solutions, hydrogen fuel cell and other technologies."
Faresin to premiere new equipment, expand market presence
Faresin Industries, an Italian manufacturer of feed mixer wagons and other agricultural products, will be exhibiting at the 2022 World Ag Expo set to take place Feb. 8-10 in Tulare, CA. The company will showcase its mixer wagons and telehandlers. Faresin says it is doing so as part of its efforts to further expand its presence into the North American agricultural market.
During World Ag Expo, Faresin plans to premiere its new Commander line of high-capacity trailed mixer wagons designed for large farming operations. The wagons can hold a volume of 1,412.5 ft.3 while using just two augers, helping improve productivity for farmers.
According to Faresin, the Commander mixer wagon is suited for mixing high percentage hay. The geometry of the mixer's tub help farmers obtain homogeneous mixes in a short period of time. There is also a new version of a programmable weighing system to ensure optimal performance and crop quality.
Faresin also plans to exhibit its 7.35 HLS 74 telehandler model which the company says features 152 l/min. pump with Load Sensing system that allows the machine to work with low engine speeds to lift and load having up to three simultaneous movements of the boom.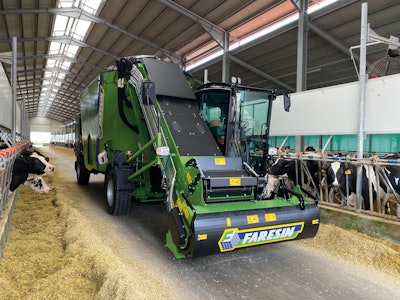 Komatsu Europe sells 1,000th HM300 ADT
Komatsu Europe has sold its 1,000th HM300 articulated dump truck (ADT) which was first introduced to the market in 2003. According to the company, the ADT's engine and Komatsu Traction Control System have helped to make it a useful tool for customers on work sites of various types.
To celebrate the sale, a special event was held Dec. 14 in which the 1,000th machine—a 30 tonnes ADT—as well as a PC360 hydraulic excavator were delivered to Komatsu's customer Imerys. "We are in clay quarries, with slippery ground and sometimes steep tracks," said Gérald Bihan, Exploitation Manager at Imerys. "We really needed trucks that have this all-terrain capability so we went for an articulated HM300, which has all the characteristics required for our extraction, under our conditions."
Komatsu says in its press release announcing the 1,000th machine that it has provided Imerys with machines for their many job sites in France, mainly rigid dumpers, dozers, wheel loaders and excavators. This partnership was further strengthened in 2019 and an agreement protocol was concluded between Komatsu and Imerys in 2020.
Philippe Haguenauer, President of Komatsu France, said during his speech at the machine delivery event that Komatsu's years of ADT development have enabled the company to create features such as the Komatsu Traction Control System. As the system automatically controls wheel slip, customers using machines equipped with the system like Imerys can more easily maneuver through difficult terrain and complete their work in a productive and comfortable manner.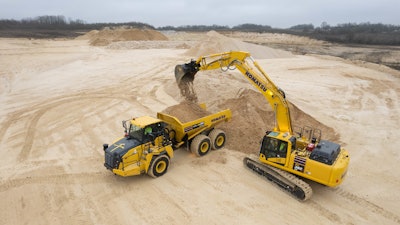 Companies in this article