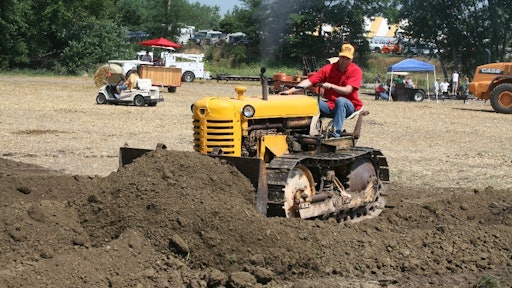 The Historical Construction Equipment Association (HCEA), a 501(c)3 non-profit organization dedicated to preserving the history of the construction, dredging and surface mining equipment industries, held its 26th annual International Convention and Old Equipment Exposition in early July, 2011. 
Hosted by the I & I Tractor Club at their Penfield, IL, showgrounds, the show featured products built by Cletrac and Oliver. Between construction equipment and related machines, over 140 exhibits from as far away as Alexandria, VA, joined hundreds of farm tractors shown by the I & I organization. Much of the construction equipment, which dated from throughout the early and mid 1900s, worked during the show in public demonstrations.
Several very rare machines were on hand, including: A Washington Scale Company crawler tractor; a 1951 Schield Bantam ABM51 truck backhoe that was built for military airborne service; a 1951 Ford 8N wheel tractor with a Dearborn motor grader conversion and berm leveler; and all three varieties of Cletrac's raised-sprocket model F crawler tractor from the early 1920s.
The HCEA's 27th Annual International Convention and Old Equipment Exposition will be held September 14 through 16 at the National Construction Equipment Museum in Bowling Green, OH. This will be a very special event, as the Antique Caterpillar Machinery Owner's Club will also be holding its annual show in conjunction with the HCEA. Over seventy machines from the museum's collection will be on display, with many of them being demonstrated, and the public is welcome to attend and to bring additional equipment.