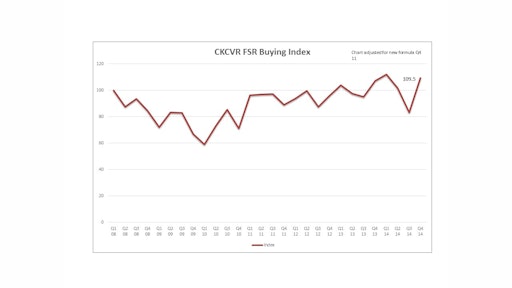 The Q4 2014 Fleet Sentiment Report survey conducted in October by CK Commercial Vehicle Research (CKCVR) shows solid fleet purchasing plans for first half 2015 Class 8 deliveries. The overall Q4 2014 FSR Buying Index of 109.5 is up 2% year over year. The index measures the number of fleets planning to place orders for trucks and trailers in the next three months as well as the expected volume of those orders.

While current purchase plans are strong, fleets continue to report that they cannot add any capacity due to lack of qualified drivers. Just 1% of planned Class 8 orders reported in Q4 are designated for fleet growth, the rest being for replacement. Chris Kemmer, consultant at CKCVR comments, "Over and over we hear from the fleets reporting 'we'd buy more equipment if we had more drivers.' Most are in a good place financially with plenty of available freight but without drivers, additional trucks don't make sense. Replacement demand for the time being remains strong."

Q4 survey respondents are positive about 2015 rating their expectations for next year an average 3.87 on a scale of 1 to 5.