According to a new research report by the market research and strategy consulting firm, Global Market Insights Inc, the Off-Road Vehicles (ORVs) Market will exhibit around a 5.5% CAGR from 2018-2024.
Rising recreational facilities and participants across the globe will boost the off-road vehicles market over the projected timeframe. Initiatives such as the National Wildlife Refuge System is attracting youth towards activities including hunting and forest trails. Growing high performance vehicle demand for rugged terrains will enhance product penetration. Further, increasing credit availability in conjunction with growing distribution channel for off-road vehicles in emerging regions will propel industry growth.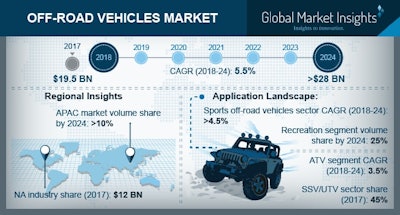 Improved fuel efficiency, low carbon emissions, advent electric powered alternatives, and lower maintenance costs of such vehicles will strengthen the product demand over the forecast period. Diversified applications including construction, agriculture, and sports activities owing to their superior technical advantages including advanced four-wheel drive systems, enhanced power and torque, and differential locking will fuel the off-road vehicles market share over the study timeframe.
Advancements in technologies including the emphasis on reducing the excessive sound from the engines of the off-road vehicles will propel the ORVs market share over the forecast timeframe. For instance, in 2015, Polaris Industries initiated work on hybrid off-road vehicle, Hybrid Utility Vehicle based on the Polaris MRZR 4 with enhanced noise damping capabilities and amplified power. Development of hybrid engines with improved efficiency and minimal emissions along with the introduction of light weight models will further stimulate the industry growth till 2024.
Increasing number of accidents and fatalities owing to user carelessness and lack of appropriate training will hamper the ORVs market growth over the forecast timeframe. For instance, as per the Consumer Federation of America, in 2017, ATV fatalities accounted for 104 persons in the U.S owing to not wearing helmets. However, regulatory bodies such as Society of Automotive Engineers (SAE), Federal Chamber of Automotive Industries (FCAI), British Colombia Laws, and The Specialty Vehicle Institute of America (SVIA) are addressing the safety concerns related to off-road vehicles by laying down regulations. These standards include the prohibition of such vehicles on roads and mandating safety equipment while driving of such rugged vehicles.
North America off-road vehicles (ORVs) market will exhibit around 5% CAGR from 2018 to 2024 owing to presence of major manufacturers such as Polaris Industries, Kawasaki and Bombardier Recreational Products (BRP). Growing consumer preference for leisure activities including mountain hiking, snow sports, adventure racing and motocross events will surge the regional demand.
Side by side vehicle segment will hold considerable volume share over the forecast timeframe owing to the added advantages such as higher safety and load bearing capacity as compared to its counterparts. These off-road vehicles are equipped with multiple seating configuration, seatbelts, windscreen, and roll cages that enhances the safety and improves the driving experience thereby positively influencing the off-road vehicles market growth in next six years.
Sports segment will account for more than 40% revenue share over the projected timeframe. This can be credited to proliferation of sport events such as woods and sand rides across the globe. Multiple configurations including enhanced power and torque outputs, diversified engine options coupled with lower maintenance costs are fueling the segment growth.
KTM, Yahama Motor Co., Suzuki Motors Corporation, Honda Motor. Co., Caterpillar, Bombardier Recreational Products, Kawasaki Motors Corp., Deere & Company (John Deere), and Polaris Industries Inc., are among the major ORVs market participants. Other players in the off-road vehicle market include Arctic Cat Inc., Wildcat, Kässbohrer Geländefahrzeug, Kubota Corporation, Massimo Motors and Tomcar Australia.
Industry leaders are actively working on introducing new products and expanding their portfolio to improve their market positioning. For instance, in 2018, Polaris Industries Inc. introduced advanced 2019 product line-up of their off-road vehicles including the RANGER, RZR, GENERAL and Sportsman series. The models with diversified configurations including exclusive half doors, water drains, enhanced suspension drive for smooth drive, electronic power steering, bronze tires, and varied power outputs ranging from 82 to 100 horsepower will cater to multiple price ranges, enhancing their market share over the forecast timeframe.