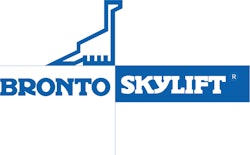 Federal Signal Corp., a provider of environmental, safety and transportation solutions, announces its Bronto Skylift Oy Ab subsidiary has entered into exclusive supply and distribution agreements with Pierce Mfg. Inc., a wholly-owned subsidiary of Oshkosh Corp. Under the terms of the agreements, Bronto will become Pierce's sole source of articulated aerial platform booms for firefighting applications in the North American market, and those devices will be distributed exclusively through Pierce's network of independent dealers.
"We are pleased to establish this important relationship with the leading North American manufacturer of custom fire apparatus," says Dennis J. Martin, Federal Signal's President and Chief Executive Officer. "Bronto's articulated hydraulic platforms are recognized around the world as best in class. When coupled with the build quality and innovation that Pierce is renowned for, we believe that North American fire departments will now have an opportunity to obtain the most capable high-access firefighting vehicles ever made."
"This new relationship with Pierce marks an important milestone in the growth of Bronto in North America," says Esa Peltola, Bronto's Managing Director. "We feel that each company will benefit from the other's reputation for high quality and innovation. But fire departments and those they protect, first and foremost, will be the biggest beneficiaries."
Bronto parts and service for firefighting applications will also be made available exclusively through Pierce's independent dealer network. New Bronto lift devices for wind power and electric transmission line maintenance and other commercial applications, as well as related parts and service, are unaffected by the new agreements with Pierce. These will continue to be made available through Bronto's existing distribution channels.