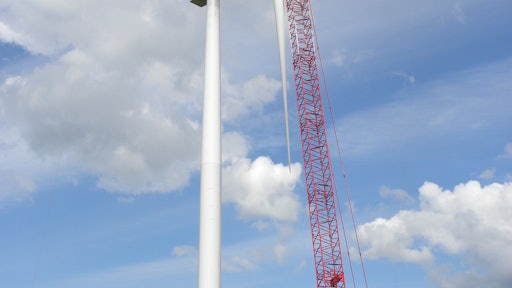 JPW Riggers, a crane rental company based in Syracuse, N.Y., will use Manitowoc's wind attachment for its Model 16000 to increase productivity with the 440-ton capacity crawler crane. The company plans to use the attachments on most of its wind power work in 2011.
The innovative attachment improves crane capacity by up to 49% and allows the crane to place heavier components of large wind turbines. JPW Riggers has already used the attachment to erect turbines in Maryland, and to help with maintenance work on a wind farm in Maine.
David Schwalm, executive vice president at JPW Riggers, says strength and cost savings were real advantages for the 16000 wind attachment.
"The wind attachment not only increases capacity, it also represents significant financial savings for our customers as well. Without the wind attachment, we would need to send a secondary high-capacity crane, which means extra cost and logistics headaches," he says.
"Manitowoc's wind attachment eliminates all of that and allows us to complete the work with one crane. The rigging process is very simple and does not require any modifications to the base crane.
"It's no surprise that approximately 80% of our 2011 quotes [for crane rentals] specify the wind attachment."
JPW Riggers has eight Manitowoc 16000 cranes – and four wind attachments. The modular design of the 16000 means it is simple to transfer the attachment between cranes in a fleet, sending the wind attachment wherever it is needed. The 16000 is quickly becoming the lift solution of choice for wind farm contractors. Most 16000s worldwide are used in wind power applications.
The wind attachment fits any 440 USt rated standard Manitowoc 16000. Lifting capabilities at shorter radii are the most improved, and at 59 ft, the crane has a capacity advantage of 49% compared with a standard Manitowoc 16000. This allows it to install most 2.5 MW wind turbines (and several larger ones) on towers between 262 ft and 279 ft.
Also, unlike other cranes suited to lifting large wind turbines, the attachment does not use longer fixed or luffing jibs. When working with cranes with longer jibs, problems arise when the wind is too strong. The attachment can avoid delays in erecting wind turbines.
Aside from the new attachment, the Model 16000 also has the best line pull in its class – 155 kN.