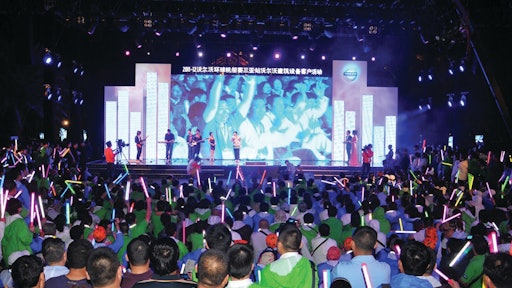 When the 2011-12 Volvo Ocean Race stopped over in Sanya, on the island province of Hainan, China, Volvo Construction Equipment (Volvo CE) took the opportunity to host its largest ever customer event in China. Nearly 3,000 dealers, customers, senior Volvo managers and Volvo Ocean Race team representatives were invited to the event as an appreciation of Volvo's ongoing relationship with its Chinese customers.
Volvo CE — together with its joint venture partner, the Chinese company SDLG — remains number 1 in the Chinese wheel loader and excavator market. The event, held in one of Sanya's many beach resorts, involved musical performances, a Q and A session with Team Sanya, and the launch of the Volvo Ocean Race Limited Edition excavators EC200B, EC210B, EC240B and EC290BLC models – designed with Volvo Ocean Race livery.
"It's been fantastic to see our customers so enthusiastic about this celebration," says Lawrence Luo, president of sales region China. "The beach party was a fun event, but we're very serious about our commitment to this market, and we hope that as we move into the future, our customers in China will continue to work even more closely by our side."
A powerful partnership
For Volvo CE, the event also saw the closure of five sizeable excavator deals, formalized at a deal signing ceremony attended by high-ranking industry representatives, key account holders and dealers who commended the company for its ongoing dedication to customer support in China. Members of Volvo CE's senior management called the deals a symbol of the strong link the company has with its Chinese customers.
"These deals are powerful evidence of Volvo CE's extraordinary performance in the Chinese market over the past few years," says Eberhard Wedekind, executive vice president of Volvo CE Sales and Marketing. "It's dedicated customers like these who have helped to make Volvo CE a top-selling construction equipment manufacturer in China. We're justly proud of our strong relationship with key customers and are dedicated to continuing to provide them with world-class equipment, customer service, parts and aftercare."
Care for the environment
And this wasn't the only signing ceremony to take place in Sanya. Volvo CE also demonstrated its dedication to the environment — along with SDLG and Volvo Buses — by signing an agreement with the World Wide Fund for Nature (WWF) to participate in Climate Savers, a program that asks companies to commit to reducing their carbon dioxide emissions. By signing the agreement, Volvo CE becomes the first construction equipment company ever to join the program, with SDLG as the first company in China to participate.