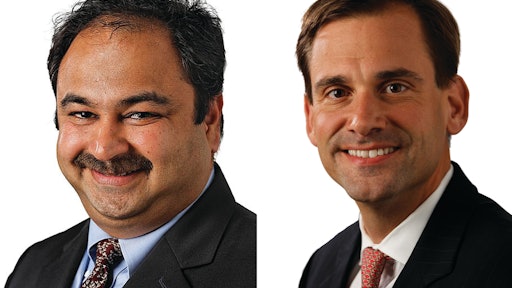 WABCO Holdings Inc., a global technology leader and tier-one supplier to the commercial vehicle industry, announces an executive appointment to the newly created position of Vice President, Americas and Mergers & Acquisitions, reporting to the Chief Executive Officer. It is another step in driving WABCO's commitment to its three-pillar strategy of technology leadership, global expansion and excellence in execution.
Nikhil Varty, who joined WABCO in 2001, is promoted to Vice President, Americas, effective immediately. He is also now responsible for Mergers & Acquisitions globally. Previously, Varty was Vice President of WABCO's Compression and Braking global business unit. He will be based in Rochester Hills, MI, at WABCO North America, the company's newly created regional headquarters for North and South America.
Michael Thompson, who joined WABCO in 2005, assumes the increased responsibility of Vice President, Compression and Braking, also effective immediately. Previously, Thompson was Vice President of WABCO's Car Systems global business unit. He will continue to lead the Car Systems business which is now integrated into the Compression and Braking business unit.
"This new executive role further demonstrates WABCO's commitment to the commercial vehicle industry in North and South America with our well anchored capabilities in vehicle safety and efficiency," says Jacques Esculier, WABCO Chairman and Chief Executive Officer. "WABCO technology breakthroughs and innovations are increasingly being adopted by manufacturers of trucks, buses, trailers and engines."
"Nik Varty's business leadership, deep regional knowledge and passion for customer satisfaction will create outstanding opportunities to further connect with our growing and increasingly diverse base of original equipment manufacturers in North and South America," says Esculier. "Mike Thompson's proven leadership will continue to strengthen WABCO's globally leading position in air management and braking technologies that help customers in every region to make safer, cleaner, greener commercial vehicles."