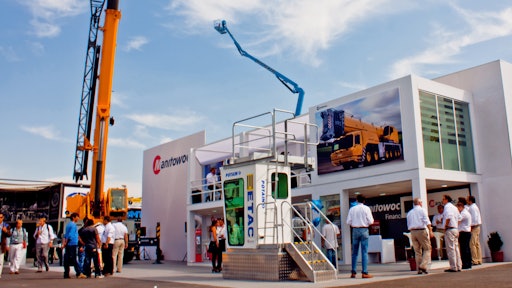 At this year's Expomin show, Manitowoc displayed one of its most innovative cranes yet, the Grove RT765E-2 rough-terrain crane. The show took place in Santiago, Chile from April 9 to 13.
Cristian Galaz, Manitowoc's general manager for South America, says the region's surging mining industry was generating much more interest in Grove's rough-terrain cranes than in previous years.
"Most of the customers at this year's Expomin show wanted to know about Grove's rough-terrain crane range, not only the RT765E-2 that we had at the booth," he says. "About 70% of the visitors to our stand are in the mining industry, and they all wanted information on cranes that can handle the rugged conditions of mine sites."
The RT765E-2 features a MEGAFORM boom design and the rugged chassis that customers expect from a Grove rough-terrain crane. Its four-wheel, multi-mode steering offers better handling and mobility than other models, while the Vision cab offers industry-leading comfort and visibility for the operator. Many of the features on the RT765E-2 make it especially adept at navigating rough conditions, such as those found at mining job sites.
Galaz says the Expomin show had expanded its regional appeal, and this year's event welcomed more customers from Peru, Argentina, Colombia and other countries.
"South America is one of the world's strongest markets, and many companies here are investing in and developing their facilities," he says. "Grove rough-terrain cranes have an excellent reputation and it was a timely opportunity to exhibit the latest crane in the range to a broad audience. Overall the feedback on the RT765E-2 was very favorable."
Manitowoc Crane Care was also represented well at Expomin, offering visitors information on its extensive services, such as 24/7 technical support, crane inspection and repair services, global parts and maintenance, training and more.
Jose Figueroa, Manitowoc Crane Care director for South America, says the program is an important competitive advantage in the region.
"We have a dedicated Manitowoc Crane Care staff and facility in Chile, both of which our customers make good use of," he says. "This is a tremendous benefit, especially to those working in demanding mining conditions, because we can arrive on site to help replace a part or repair a crane in relatively fast time."
Also represented at Expomin was Manitowoc Finance. The program helps customers purchase and finance new Manitowoc cranes or attachments. It enables companies to buy equipment as soon as they need it — often with only a small down payment.